Art Fair Philippines 2022 to Open this Week; Enjoy Physical and Virtual Events all at once
Art Fair Philippines 2022 to Open this Week; Enjoy Physical and Virtual Events all at once
The wait is finally over as the Art Fair Philippines 2022 confirmed the dates for this year's event.
Last Saturday, the Art Fair Philippines announced on their official Instagram account that this will take place from March 23 to April 1.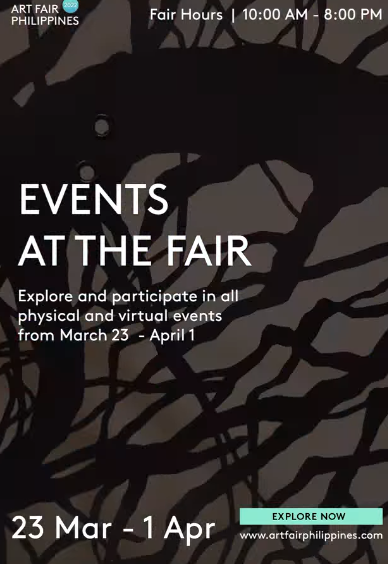 Screengrab from Art Fair Philippines 2022
And art enthusiasts are delighted and surprised as the Art Philippines 2022 shared that this year's event will go physical and virtual all at once. This answered the ongoing question and debate in the art community whether or not the event will go as a virtual or physical gathering.
WHAT CAN YOU LOOK FORWARD TO? 
After a two-year hiatus because of the pandemic, Art Philippines came prepared with full-packed activities that you can join and visit. In fact, several places in and outside Manila participated this year's event, but the art feast will take place mainly at the Ayala Triangle Gardens in Makati.
It will also introduce different sections where you can reflect, dive, and most importantly, connect to the medium of art that is closest to your heart.  Each section represents a story, reveals a purpose, and glorify the process of making an artwork.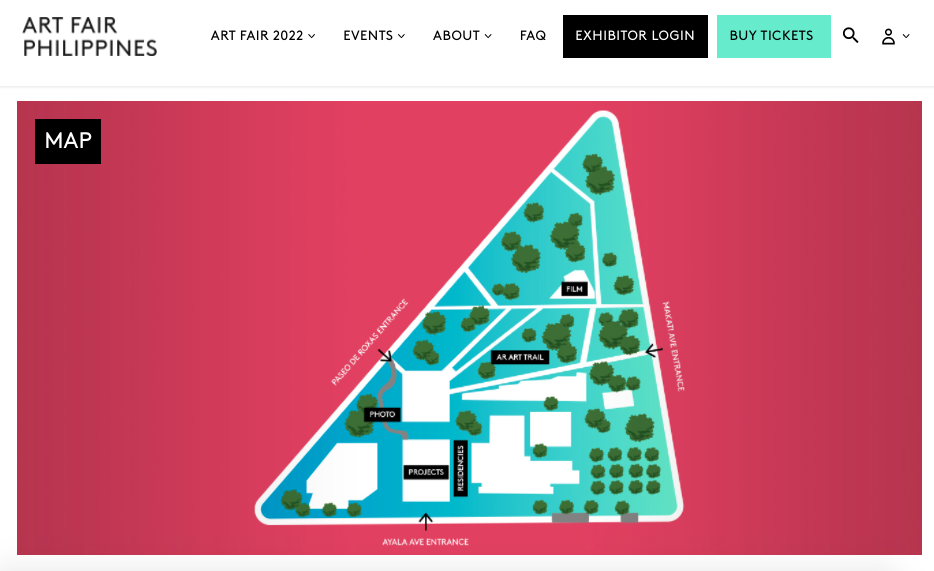 MAP for the art event/Screengrab from Art Fair Philippines 2022
Art Fair PH seized this opportunity of having a physical platform not only to showcase the works of artisans but also to let people experience art in its truest form. Roam around freely and choose their own path as they explore the Ayala Triangle Garden.
Here are a few places where you can explore: Art Fair PH/Projects, Art Fair PH/Film, Art Fair PH/PhotoArt Fair PH/Residences, and AR Art Trail.      
If by any chance you're not in Manila and yet still longing for some art to explore, Gallery Hop is perfect for you. In partnership with different museums in and outside of the Philippines, you can visit some of the featured artists within the area nearest to you. To check the list of participating art museums, click here.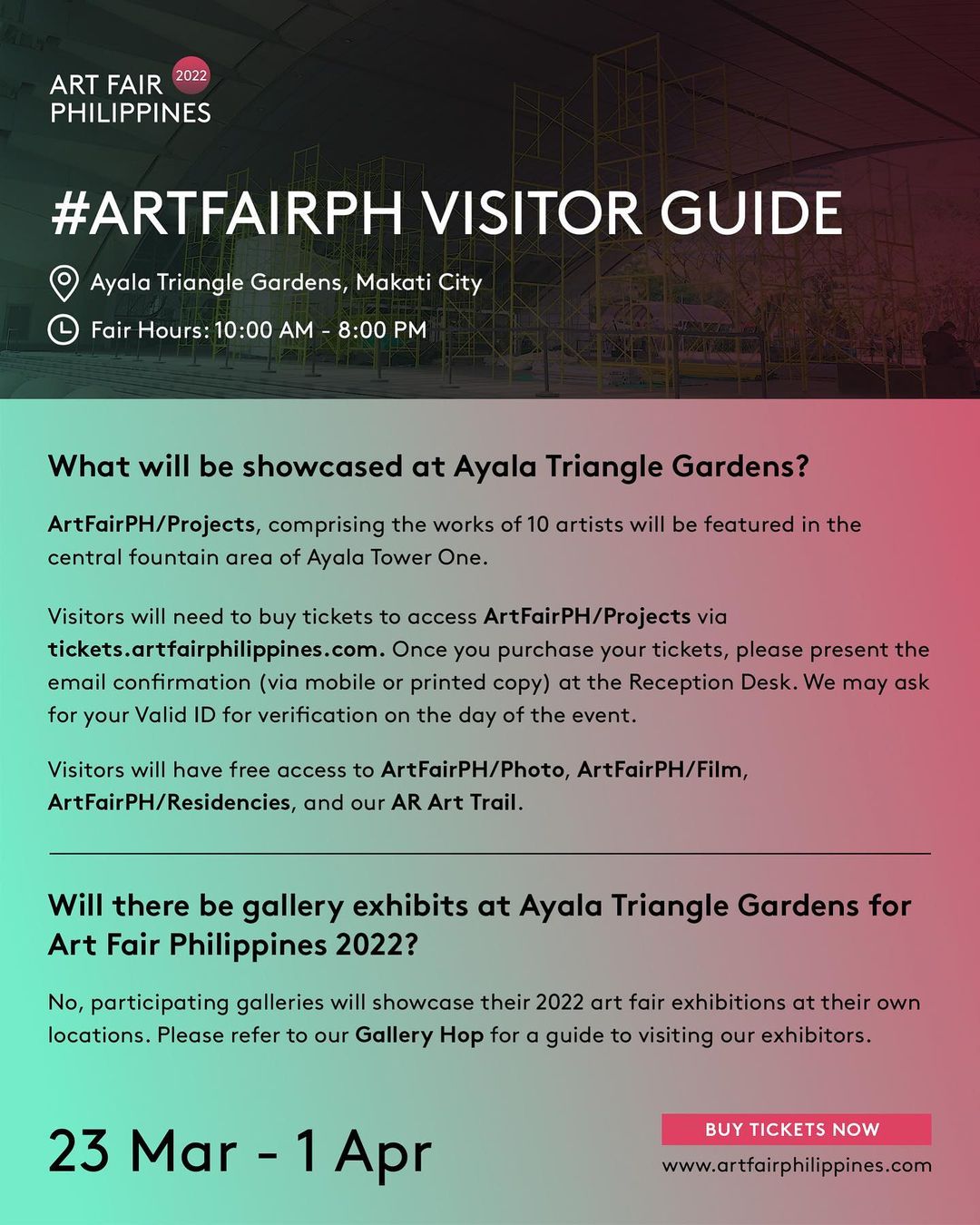 Screengrab from Art Fair Philippines 2022
Meanwhile, the virtual event will provide a Metaverse experience where you can explore virtually every section and join discussions about art and life with their open forum. You can click here to see the schedule of events that suits you.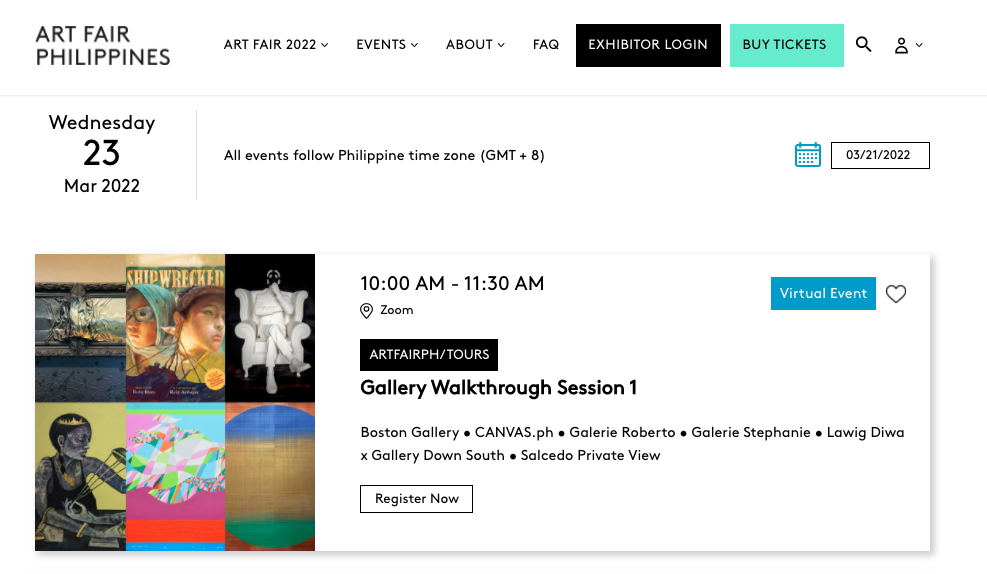 Metaverse Schedule/Screengrab from Art Fair Philippines 2022
To know more about the event and to book tickets, you can visit https://tickets.artfairphilippines.com.  
  *** 
About the Art Fair Philippines 
Back in 2013, the Art Fair Philippines envisioned a better platform for artists through exhibitions. It is also a venue where Filipino contemporary artists showcase their works.  With the help of the fair, it elevates the level of appreciation and awareness of Filipino and gives opportunities for all to connect not only within the local scene but also in the international art community.
"Art Fair Philippines makes art accessible to enthusiasts and those who want to discover one of Southeast Asia's most exciting art landscapes," Art Fair Philippines said.
To know more about Art Fair Philippines, click here.  
---
Source: Art Fair Philippines 2022 
Written by Cedie Salido