From Bean to Cup: The Journey of Coffee from Japan to PH this Nov 5
If there is one universal truth that Filipino and Japanese do agree upon it's the life coffee brings.
Recently, The Japan Foundation, Manila announced the last series of this Year's Itoteki Life lecture and workshop!
It will explore the coffee connections of Japan and the Philippines through the years.

IMAGE from The Japan Foundation, Manila
THE SPEAKERS 
Talking about their love of coffee and community on November 5, 5 p.m. will be Mariko Sorimachi of the Cordillera Green Network and Hirofumi Yamamoto of Uminomuko Coffee of Japan. The talk will be moderated by Kiddo Cosio of El Union Coffee.
The next day we'll be premiering a special coffee workshop by Kiddo san straight from La Union.
Register now for free via https://tinyurl.com/itotekicoffee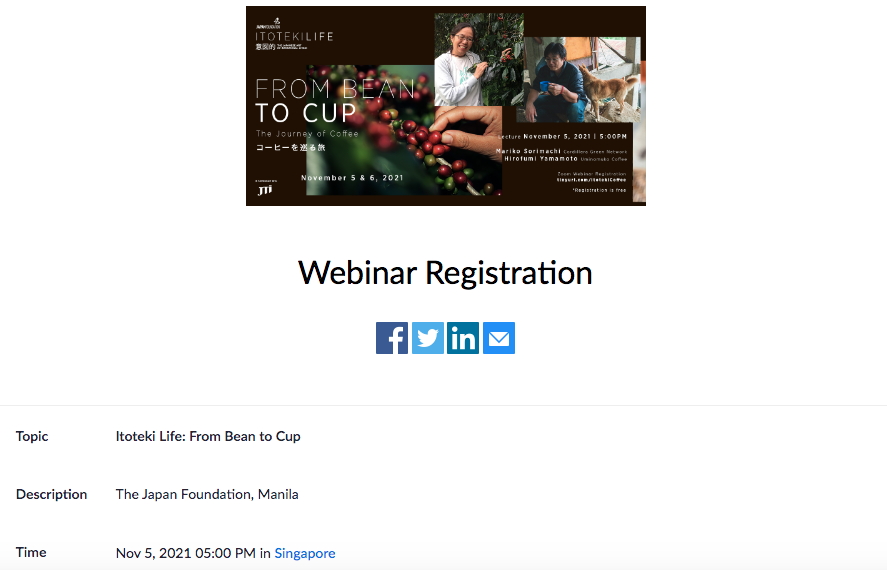 Screengrab from The Japan Foundation, Manila Registration
***
The Japan Foundation is an institution dedicated to carrying out comprehensive international cultural exchange programs throughout the world.
Established in 1996, the Japan Foundation, Manila has been fostering friendship and ties between the Philippines and Japan for more than two decades through various activities in three fields: Culture (arts and cultural exchange), Language (Japanese language education overseas), and Dialogue (Japanese studies and intellectual exchange)
---
Source: The Japan Foundation, Manila