NCCA Celebrates Filipino Food Month Through Online Food Symposium
Sentro Rizal (SR) celebrated this year's Filipino Food Month through Linamnam: A Philippine Culinary Heritage and Gastronomy Symposium.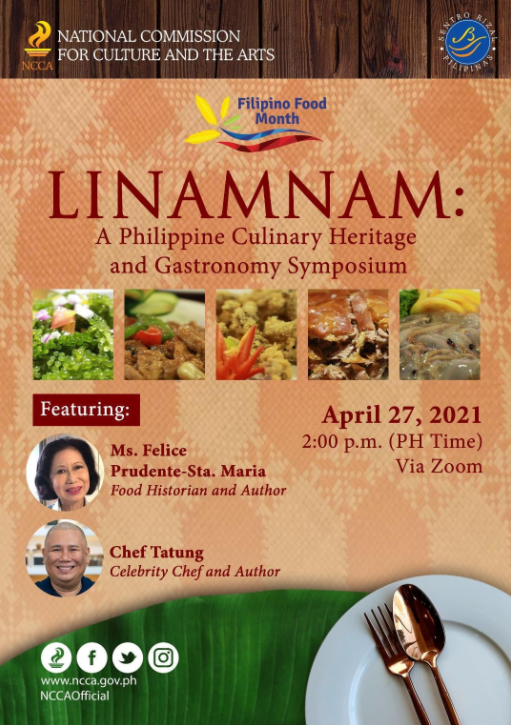 IMAGE from the NCCA Facebook page
SR, the National Commission for Culture and the Arts' (NCCA) cultural arm for the overseas promotion of Philippine culture, held Linamnam: A Philippine Culinary Heritage and Gastronomy Symposium to commemorate this year's Buwan ng Kalutong Pilipino or Filipino Food Month via Zoom last April 27.
Acclaimed food historian and author Felice Prudente Sta. Maria shared her knowledge on contemporary innovations in Philippine cuisine via online presentation. Here, she talked about the lessons we can pick up from food history, the influences of religion, location, and beliefs on our diet as a people, and insights on the ever-changing food choices of the Filipinos throughout history. She also shared how colonization and globalization altered the indigenous ingredients we used in our dishes such as using annatto seeds instead of soy sauce for adobo.
Meanwhile, celebrity chef Myke "Tatung" Sarthou demonstrated how to cook the Mindanaoan's piyanggang manok (blackened coconut grilled chicken) and kyuning (turmeric rice), and beef pot roast adobo, a modern take on the Filipino favorite.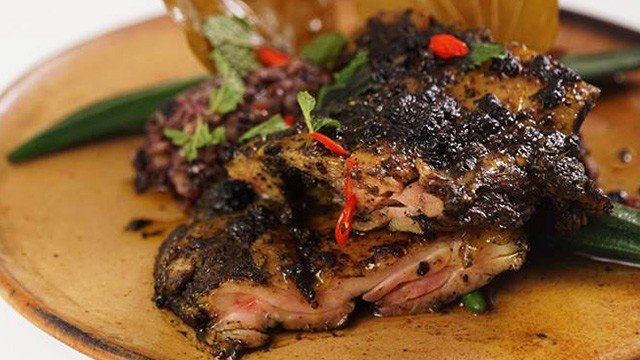 Piyanggang manok / IMAGE from Yummy.ph
Ms. Felice and Chef Tatung then answered questions coming from the Zoom participants and Facebook viewers concerning Filipino food and heritage in the webinar's question and answer portion.
The event concluded with a closing remark from Chef Jose Antonio Miguel Melchor about the importance of gastrodiplomacy in bringing countries together.
To those who are interested or have missed the online symposium, you may watch it here.
---
Written by Paolo Mabuyo