Virtual ArtistSpace Presents SHADOWPLAY Exhibition by Artist Nasser Lubay This December
Happening on December 4, 2020, Virtual ArtistSpace and District Gallery present SHADOWPLAY, a solo exhibition of Filipino visual artist Nasser Lubay as he looks into the allure of transitions, and the play of light and shadow.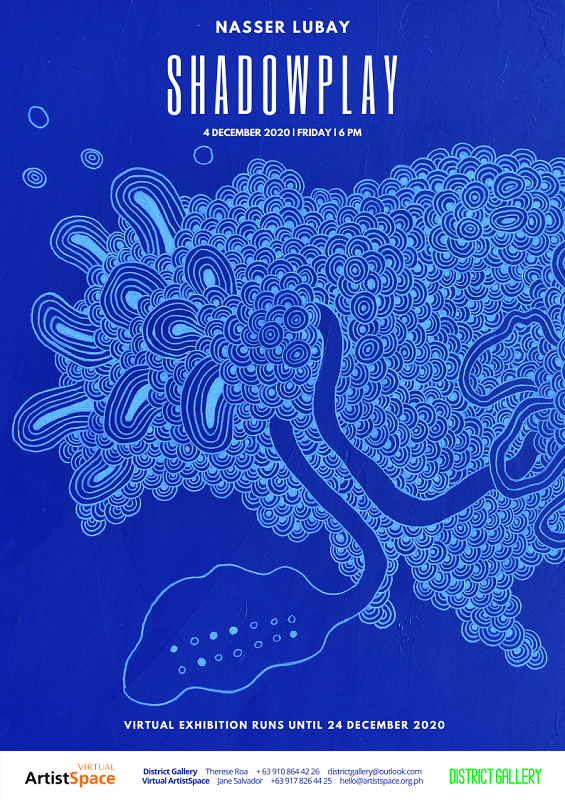 In Shadowplay, he offers a series composed of clusters of circular patterns that form like busy bubbles, tentacles, and other details which form these semi-abstract, semi-figurative doodles which we already find as composite elements of his more colorful and known paintings.
Through these artworks, we are invited to feel the enchantment of uncertainties and indeterminate gaps that trigger possibilities amid this climate of confusion and instability.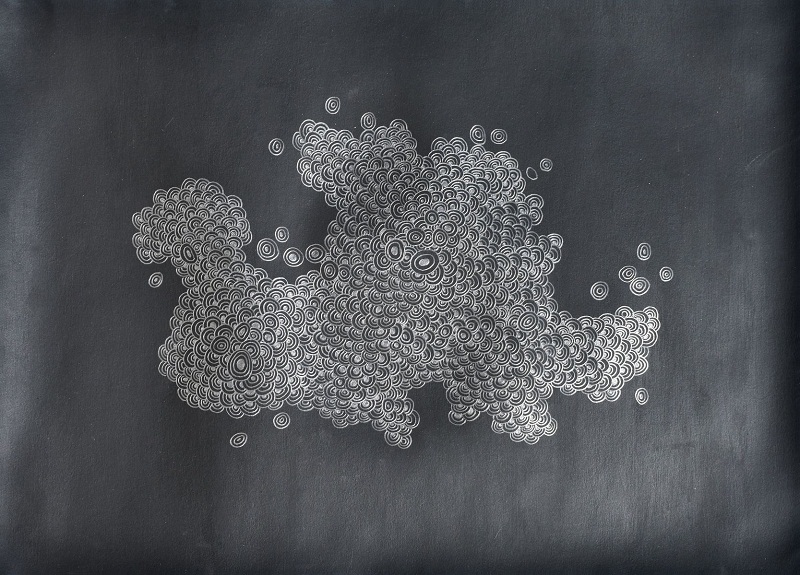 UNHURRIED (2020) Graphite and acrylic on mixed media paper 42 x 60 cm
Riddled with shifts from darkness and luminosity, these recurring patterns framed in stark and solid dark backgrounds overlaid with muted colors activate the optical play.
Often, these paintings do engage moments of pareidolia if not an outright suggestion of figurative information but they can also be fictive and malleable as they allow viewers to pinpoint forms and create their own meaning apart from the ideas of the artist.
ISOLATE (2020) – Acrylic and color pencil on canvas, 49 x 77 cm
As if the patterns and details continue to form something, which at times can be discernible and just lead to an interesting pictorial guessing game. They also evoke a sense of transit and movement that can prompt a disorientating gaze.
Lubay, who is very much interested in the idea and the acts of creation commits to the theme, and this series certainly provides a conscientious conversation on that. The darkness is Lubay's metaphor for these trying moments of uncertain times, which he uses to create a sense of hope and encouragement.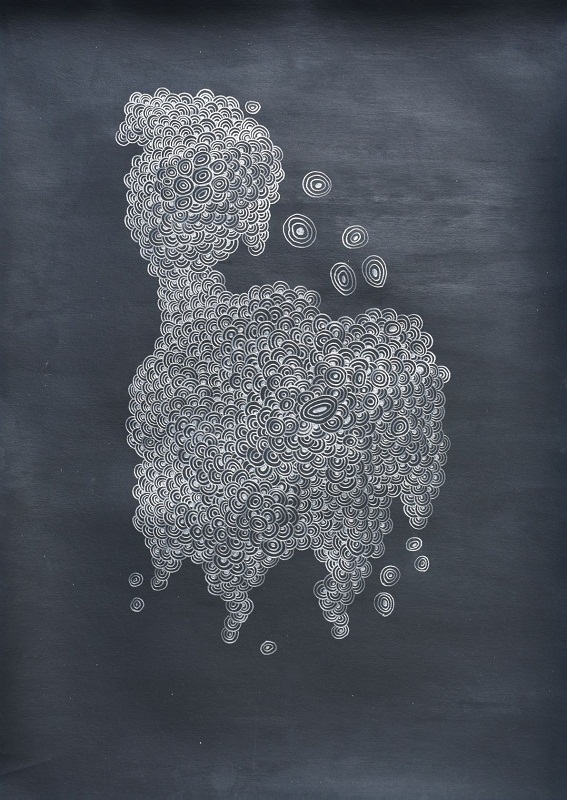 ANIMA (2020) – Graphite and acrylic on mixed media paper, 60 x 42 cm
In the context of his time, it is his attempt to collate his thoughts, emotions, and memories from this tumultuous year and beyond.
This series is partly driven by media and was done in graphite, acrylic, and other available media which were manipulated with deep care, rigor, and to a degree, a sense of experiment.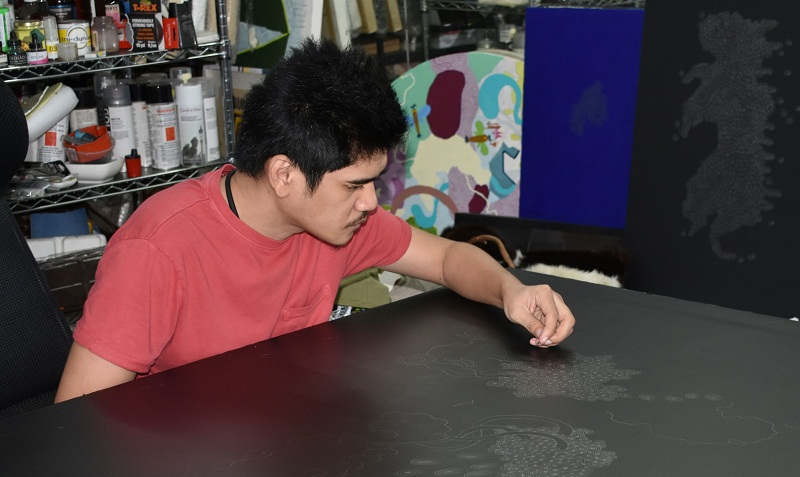 Nasser Lubay
As mentioned, Lubay started with this style but he continues to be attracted to this approach and stylistic habits because of its raw and intuitive hold and remains interested in its process which he continues to discover and negotiate with.
While the maladies of the pandemic have occupied Lubay's mind just like most of us, this climate of uncertainty has been the moving force behind the inception of these artworks. Clearly, Lubay is deeply inclined to being held somewhere between thought and image, and being able to create images that are urgent, flexible, and becoming.
About the artist
At a young age, Nasser Lubay had gone already to places abroad usually reserved for maturing artists. In 2009, he won the prestigious Celeste International Art Prize. That winning work entitled Rebirth, was exhibited at the Second Animamix Biennial at the Museum of Contemporary Art in Taipei, Taiwan.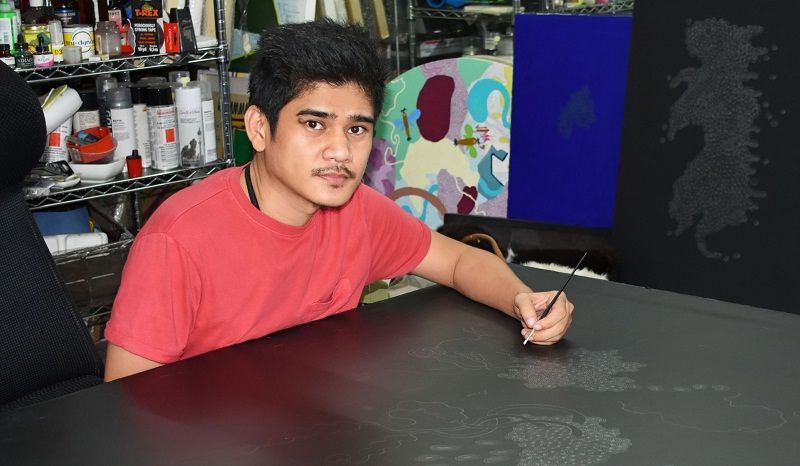 He was part of the 2010 Ondarte International Artist Residency in Akumal, Mexico. He was also chosen to be one of Jollibee's Young Ambassadors, cited for his achievements in the arts.
Lubay's art is marked by a rich sense of color and a dense imagination. With Nursery of Curiosities, the title of his first solo exhibition, he deepened his research into the theme of cosmic germination and enriched his positive inventiveness with hints of fear and horror. His portraits are remarkable and demonstrate his ability to expand his grammar to a purely figurative world.
Nasser Lubay is a master storyteller; he narrates using all the colors of the world. As with all stories that are told, heard, and are gone unless told again, the art of Lubay has that feeling of a moment, that mystical, magical point in space remarkable for its lack of permanence.
SHADOWPLAY will be on view virtually starting on December 4, 2020, at 6 p.m. and will run until December 24, 2020. The link to the exhibition will be posted on ArtistSpace's Facebook and Instagram pages.
For more information about the virtual exhibition, you may send an email at hello@artistspace.org.ph.
Details
What: SHADOWPLAY – A solo exhibition of Filipino visual artist Nasser Luba
Where: The link will be posted on ArtistSpace's Facebook and Instagram pages
When: December 4, 2020, 6 p.m. to December 24, 2020
Website: ayalafoundation.org
Facebook: facebook.com/artistspacegallery
---
This is a press release. Minor edits were made prior to publishing.