Estate Wine Hosts Ridge Vineyards Online Wine Tasting Webinar on August 29
Explore the great world of Californian wines as Estate Wine brings another unique online wine tasting experience featuring one of the most iconic wineries, Ridge Vineyards, happening on August 29, 1 p.m. via online platform Zoom.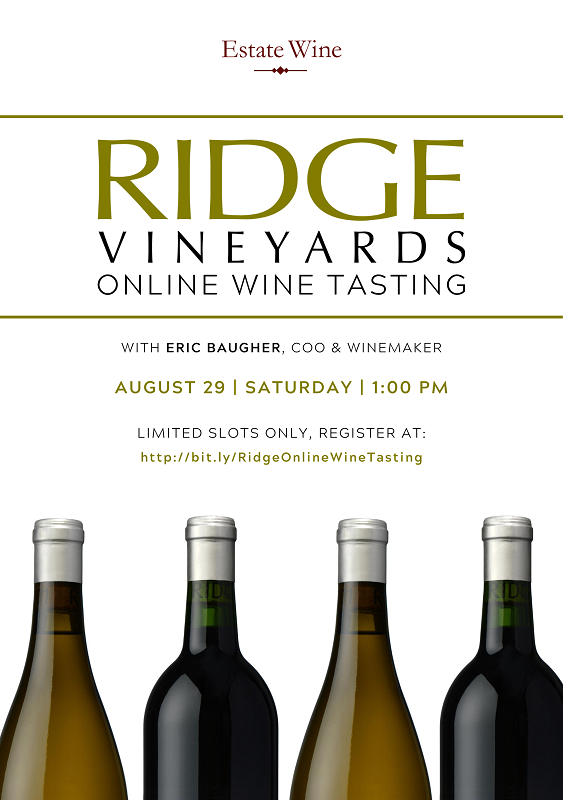 Ridge Vineyards was formed in 1962 and after stunning the world by their triumph in the 1976 Judgement of Paris tasting, Ridge Vineyards shot to fame and gained cult status almost overnight.
Since its establishment, Ridge Vineyards has been producing fine Bordeaux blends and Chardonnays from Monte Bello's exalted terroir as well as renowned Zinfandels from the Lytton Springs and Geyserville vineyards in Sonoma County.
In the webinar, Ridge Vineyards' COO and Winemaker Eric Baugher will walk participants through three of the winery's exceptional wines, namely the 2017 Ridge Vineyards Geyserville, 2017 Ridge Vineyards Estate Chardonnay, and 2016 Ridge Vineyards Estate Cabernet Sauvignon.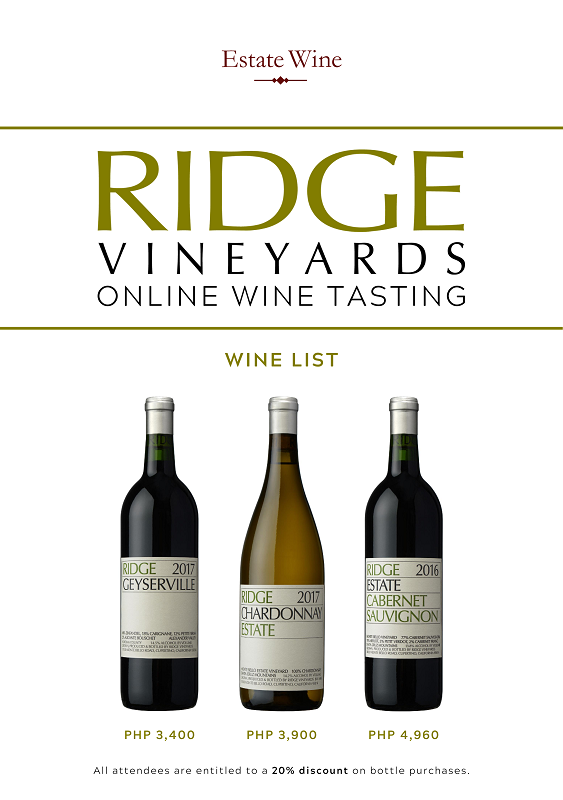 The 2017 Geyserville Proprietary Red Wine (Php 3,400) is an impressive class of wine offering complex aromas of raspberries, blackberries, and exotic spice despite having been in barrel for a mere six months.
On the other hand, the 2017 Chardonnay Estate (Php 3,900) has a soft, silky, and exceptionally polished flavor with striking aromatic top notes of white flowers, mint, orchard fruit, lemon confit, and white pepper.
Finally, coming from the Santa Cruz Mountain estate is the 2016 Cabernet Sauvignon Estate (Php 4,960) that follows its big brother Monte Bello's style with a terrific sense of elegance paired with richness.
The wines mentioned are included in Ridge Vineyard's new arrivals in Estate Wine. Wine enthusiasts can see the full list of new Ridge Vineyard wines here.
All attendees are also entitled to a 20% discount on all Ridge Vineyards wines, including the ones not featured in the webinar, upon registration for the event. Participants are likewise encouraged to purchase the wines for the full wine tasting experience at home.
There are only limited slots available for the webinar. To join, you may register for free here.
For more information about the webinar, you may call Estate Wine at 02-8804-5028 or email at events@estatewine.com.ph. Visit Estate Wine's website and social media pages on Facebook and Instagram for event updates.
Details
What: Ridge Vineyards Online Wine Tasting Webinar
Where: Zoom online meeting
When: August 29, 1 p.m.
Registration: Free (Ridge Vineyards Online Wine Tasting)
Facebook: facebook.com/estatewine