ICCPI to Host Mangiare Italiano Webinar on August 18
Aiming to promote the authenticity of Italian cuisine through a series of free webinars, the Italian Chamber of Commerce in the Philippines, Inc. (ICCPI), with the support of the Italian Embassy in Manila, the Philippine-Italian Association, and Società Dante Alighieri-Comitato di Manila, is set to host the first Mangiare Italiano webinar on August 18 via Zoom.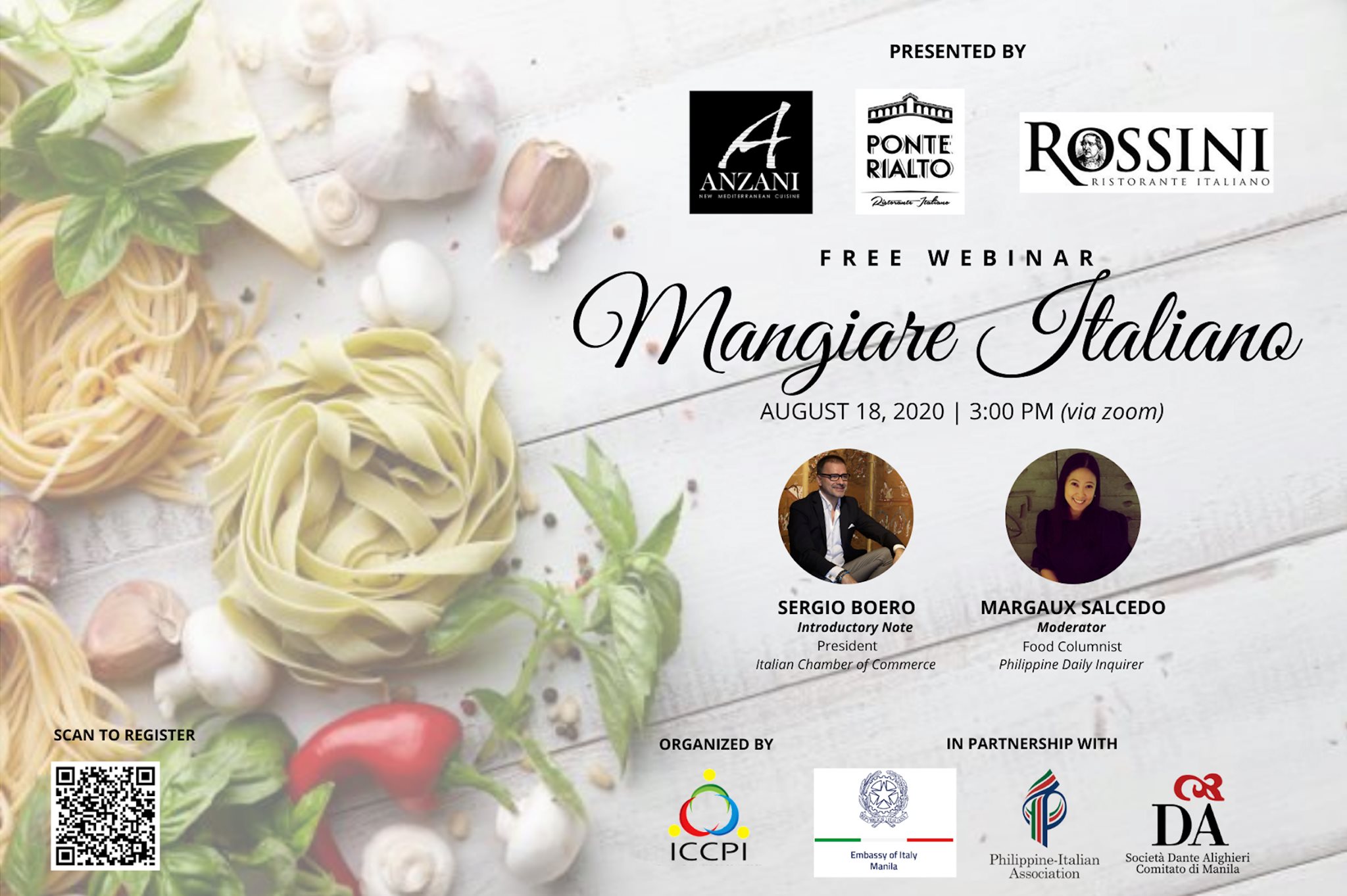 Mangiare Italiano, which translates into "eating Italian", features representatives from renowned Italian restaurants in the country, who will share interesting experiences and anecdotes on Italian food.
One of which is Chef Marco Anzani, who is regarded as one of the pioneer founders of "New Mediterranean Cuisine". With 35 years of experience in the industry, Anzani has traveled to 18 countries, 5 continents, and 30 cities and has also worked with many Michelin Chefs in the process. He is also known as the chef who introduced the coastal Mediterranean flavors in Cebu.
Another speaker to watch out in the webinar is Italian entrepreneur Giorgio Pascazio. He has extensive experience in the Maritime Industry, as he worked for known shipping companies such as Morfini S.p.A., Medcare Shipping S.A. and Millenia Maritime Inc.
around the globe. After moving to the Philippines in 2019, he then ventured into the Food and Beverage Industry as Consultant of Ponte Rialto Ristorante Italiano located in the Venice Grand Mall in McKinley Hill.
Lastly, co-owner and General Manager of Rossini Ristorante Italiano Thomas Moersheim will also grace the webinar, together with Chef Davide Lombardi.
The webinar will be moderated by Margaux Salcedo, author of the First Class, a business features column focusing on food, wine, and travel published on Philippine Daily Inquirer.
Mangiare Italiano is free for everyone to join. Registration is required for those who want to join. To register, click here.
For more information about the event, you may check ICCPI's website at or social media page on Facebook.
Details
What: Mangiare Italiano Webinar
Where: Online via Zoom
When: August 18, 2020, 3 p.m.
Website: iccpi.org.ph
Facebook: facebook.com/ItalianChamberPH

---
Source: Italian Chamber of Commerce in the Philippines' website