Japan Film Week 2020 To Screen Films Online for Free This July
The Japan Foundation Manila, in partnership with Solar Pictures, Inc., Sinag Maynila and the Film Development Council of the Philippines, is set to launch an online edition of the Japan Film Week for the first time beginning on July 22 to 26, 2020, following the successful run of Japan Film Week screenings in 2019.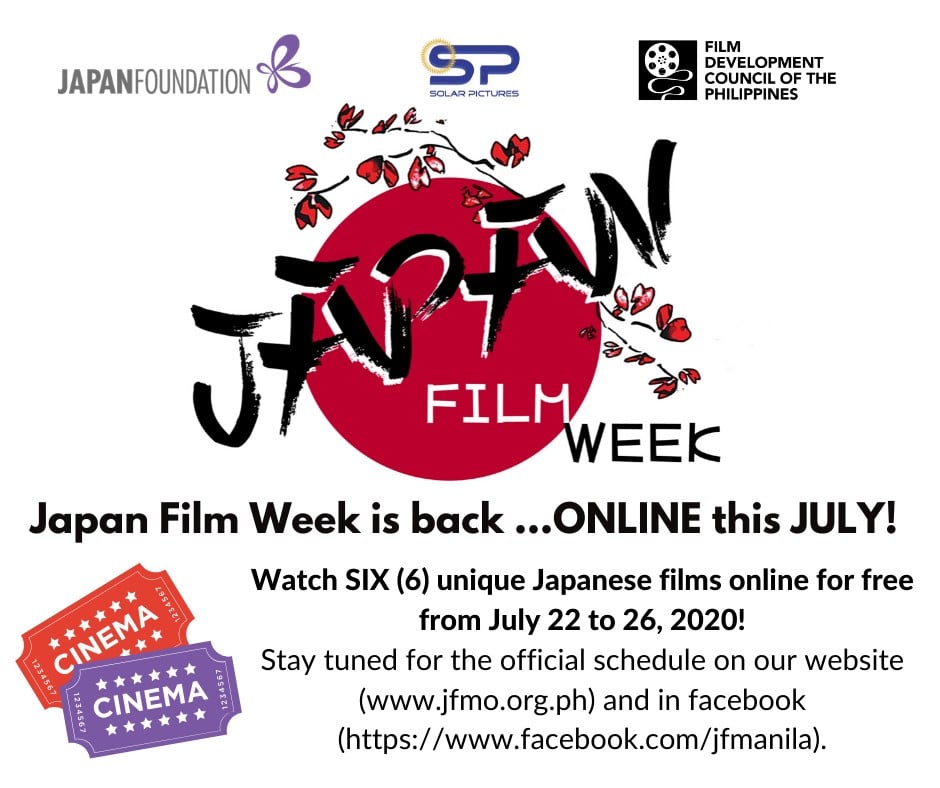 Featuring six unique Japanese films, the Japan Film Week is a spin-off of their well-loved annual Japanese Film Festival that aims to provide varied content to Filipino audiences nationwide who wish to expand their knowledge on Japanese arts, culture, and language.
A roster of animation, documentary, drama and feature films will be screened for free online on Vimeo.  The line-up includes films such as Bittersweet (Nigakute amai), The Takatsu River (Takatsugawa), Chieri and Cherry (Chieri to Cherry), From All Corners (Tabisuru danboru), Hana's Miso Soup (Hana-chan no misoshiru), and What's for Dinner, Mom? (Mama gohan mada?).
The film screening schedule is as follows: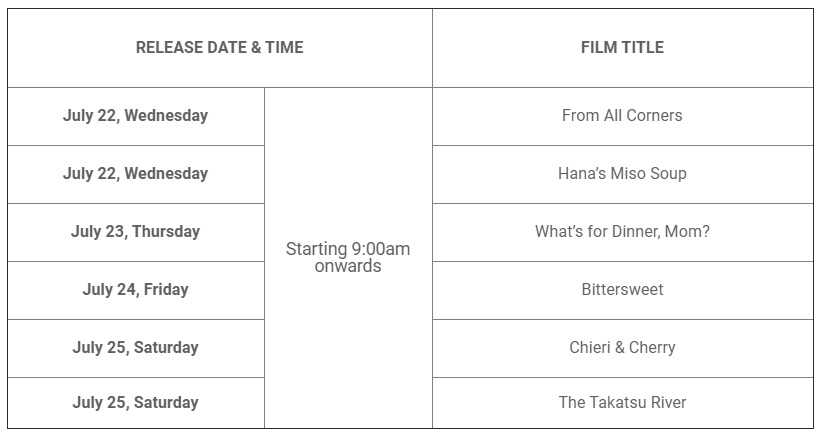 Viewers may access the films through Vimeo at bit.ly/Japan_Film_Week, after registering a free Vimeo account using the provided access code.
This online film screening is on a first-come, first-served basis and is subject to limited slot availability. All films except From All Corners and Hana's Miso Soup are available for limited screenings only, from 9 a.m. of date of release until the film has reached the maximum number of viewings or until July 27, 12 a.m., whichever comes ahead.
For more information, visit Japan Film Week's website or Facebook page.
Details
What: Japan Film Week 2020
Where: Vimeo
When: July 22 to 26, 2020, 9 a.m.
Website: vimeo.com/showcase/7265452
Facebook: facebook.com/jfmanila
---
This is a press release. Edits were made prior to publishing.