Fujifilm Philippines to Hold Free Webinars on Photography and Videography
While everyone is urged to stay inside in pursuance to the enhanced community quarantine, you may use this time to learn a new skill or two.
With Fujifilm Academy Online, you can learn photography and videography without leaving the comforts of your home! Stay tuned on Fujifilm Philippines' Facebook page on March 25 and 30, and April 1, 6, and 13 for different photography and videography webinars brought to you by some of the known experts in the industry.
Classes are scheduled at 2 p.m. and 5 p.m. on the said dates.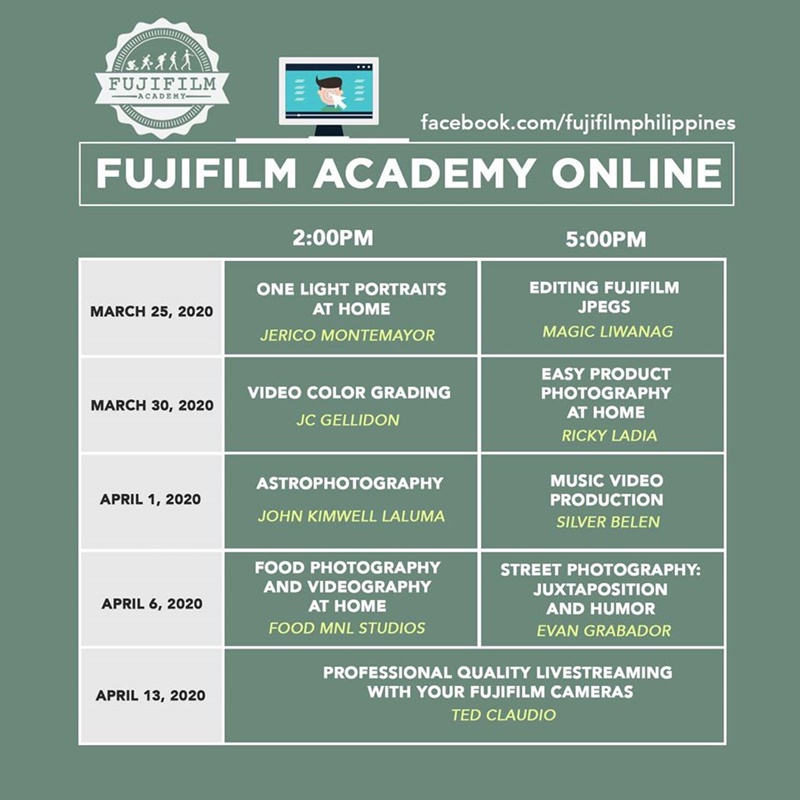 One Light Portraits at Home by Jerico Montemayor
Elevate your portrait-taking skills with Jerico Montemayor's class on one light photography. One light photography focuses on using a single light source for photos. With open windows and the sun, his tricks will surely work for your portraits at home.
Editing Fujifilm JPEGs by Magic Liwanag
Surely some of you have heard or read about Magic Liwanag and his incredible photos. Now you get the chance to earn from a Fujifilm-X photographer and level up your own photo editing skills.
Video Color Grading by JC Gellidon
For film buffs or aspiring video editors, JC's color grading classes could help you transform your video to whole new level. With color grading, you can play around the color of your film and recreate, for example, the 50s feels or even warm and sunny vibes for your videos.
Easy Product Photography at Home by Ricky Ladia
For those who happen to have online shops or even physical shops, you can learn how to shoot your products with Ricky Ladia. Capturing the exact look of the product is really important for customers especially with online shops.  With this class, your aim is to let customers can have a grasp of the real look and feel of the product you are presenting.
Astrophotography by John Kimwell Laluma
Isn't there something with the night that makes you want to capture the stars and how they look when everybody seems to be sleeping? More than his landscape and travel photos, John's astrophotography or his captured photos of celestial objects or phenomena will amaze you and will make you want to try doing it on your own.
Music Video Production by Silver Belen
As one of the country's pioneer filmmakers when it comes to directing commercials and fashion videos, Silver Belen will definitely ring a bell. If you don't know him, you can watch this video compilation reel featuring some of Silver's previous works and you might see some familiar commercials that amazed you!
Food Photography and Videography at Home by Food Mnl Studios
Since Instagram has evolved, people became more interested in capturing their food and sharing it to the world. You can learn more about tips and tricks in food photography through this class by Food Mnl Studios.
Street Photography: Juxtaposition and Humor by Evan Grabador
Evan Grabador has proven that the streets have always its own story to tell. After a month-long quarantine, being on the streets will excite you and you could definitely show off some skills you learned from Evan's street photography class!
Professional Quality Livestreaming with your Fujifilm Cameras by Ted Claudio
For Fujifilm camera users, it's time to learn a new skill using those cameras. Ted Claudio brings you a class of learning how to have conduct quality live streaming!
Fujifilm Philippines aims to remind that in critical situations, it is still a must to support one another. With these online classes, they want to uplift photographers and videographers and educate consumers at the same time.
For more information and inquiries, you can check out Fujifilm Philippines Facebook page.
---
Source Fujifilm Philippines
Feature image from Jericho Montemayor's Facebook, Ricky Ladia's Facebook