The First Sustainability Solutions Expo To Kick Off This May
UPDATED on April 1, 2020: Sustainability Solutions Expo has been postponed to a later date. The announcement of rescheduling will be announced on their social media sites.
There's a great number of exhibitions taking place in the country but it's wonderful to hear that an expo with sustainability as the focal point will take place in the country.
Thankfully, the very first Sustainability Solutions Expo (SSX) will kick off on May 21 to 23, 2020 at World Trade Center, Pasay City. To step up the game, the expo will showcase various sustainable solutions in Philippine food and beverage industry!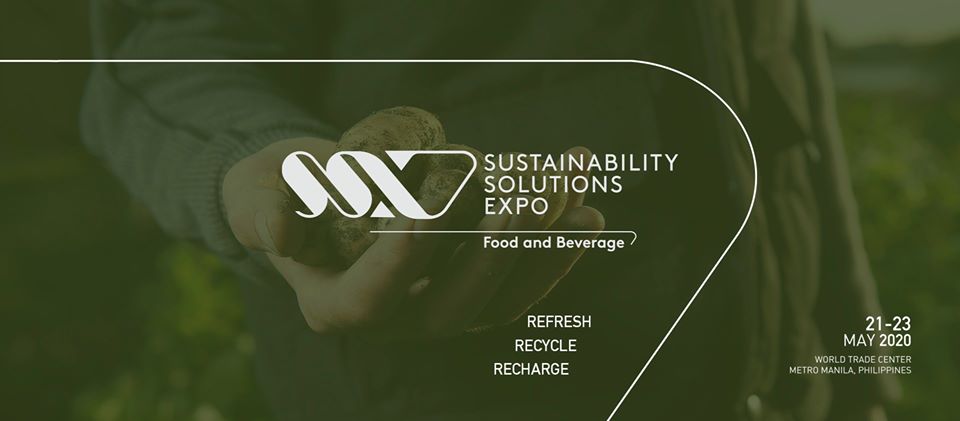 Spearheaded by Center for International Trade Expositions and Missions (CITEM), the latest international and trade event has a common purpose of boosting the sustainable solutions and technologies both at the same time,  encouraging companies to apply sustainable ways in food production and packaging.
SSX is comprised of four beneficial activities including the exhibition, conference, business-matching, and special events.
Featuring various natural products, the exhibition or Eco-Food Market will showcase HALAL or Kosher products. International exhibitors also feature the connection of food, technology, and solutions.
It will include the Green Inno-ventions, which is a special zone for advanced concepts on sustainable processing and packaging solutions. Sustainable Consumption and Production Special Setting, meanwhile, puts the spotlight on products that reflects the Responsible Consumption and Production.
Join the SMEs from Region IVA on the maiden edition of Sustainability Solutions Expo: Food & Beverage (SSX: F&B) on 21-23 May at the World Trade Center, Pasay City!#SSXPhilippines

Sustainability Solutions Expoさんの投稿 2020年2月28日金曜日
Additionally, they will also hold a conference named Sustainability Conference and Business Forum to further discuss the appropriate action in handling issues about Food and Beverage Sector in relation to sustainability.
For business owners, drop by at the Green Purchasing Village where buyers, large businesses, micro, small, and medium enterprises can communicate with one another. Lastly, there will be special events attended by various government officials and agencies.
Interested visitors may register at sustainabilityexpo.ph for free admission.
Be equipped with the latest sustainable solutions in food and beverage industry at the first Sustainability Solutions Expo.
For more information or inquiries, visit the Sustainability Solutions Expo website or Facebook page.
Details 
What: Sustainability Solutions Expo 2020
Where: World Trade Center, Sen. Gil J. Puyat Ave, Pasay City
When: May 21 to 23, 2020
Ticket information: Check out sustainabilityexpo.ph for free registration
Website: sustainabilityexpo.ph
Facebook: facebook.com/SSXPhilippines
---
Source: Sustainability Solutions Expo website or Facebook page
Images grabbed from Sustainability Solutions Expo website or Facebook page