French-Spanish Artist Manu Chao Performs Live in Manila on March 27
The Alliance Française de Manille (AFM) celebrates its centenary year with an exciting live acoustic by French-Spanish artist Manu Chao featuring Filipino rapper and songwriter Quest as guest performer. 
The special concert is happening on March 27, 2020 at the Samsung Hall, SM Aura Premier in Taguig City.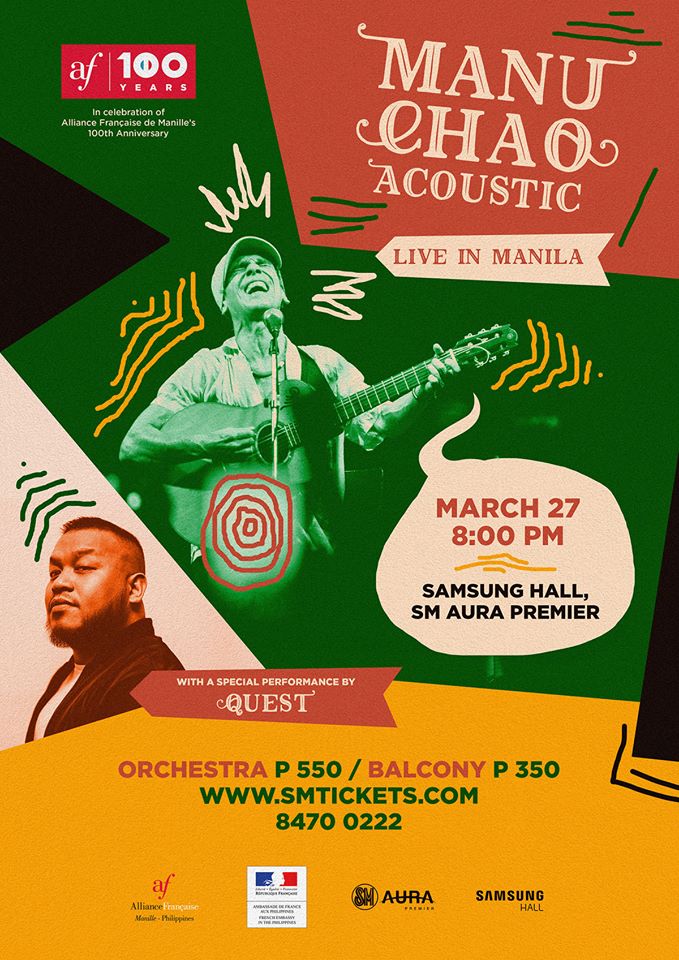 Manu Chao, together with his guitarist Luciano Falico, will perform acoustic French songs from his 2004 album Sibérie m'était contéee. 
The French-born musician of Spanish origin sings in many tongues: French, Spanish, English, Italian, Arabic, Catalan, Galician, and Portuguese and occasionally in other languages. His career in music started in Paris where he busked and played with a variety of groups showcasing different languages and musical styles.
It was in 1987 when he founded the band Mano Negra with his brother Antoine Chao and some friends. After a successful run in Europe, the band broke up in 1995 and Manu became a solo artist. He toured on a regular with Radio Bemba, his live band.
As a solo artist, he won a Latin Grammy for Best Alternative Song in 2007 for Me Llaman Calle and was nominated for Best Alternative Music Album and Best Music Video in 2008.
Tickets for the special concert are available at all SM Tickets outlets nationwide and online through smtickets.com. Orchestra tickets costs Php 550, while the Balcony is at Php 350.
The Alliance Française de Manille is one of the most distinguished foreign cultural institutions in the Philippines. It is a non-profit organization founded in 1920 committed to promoting the French language and culture. Through art and educational programs, AFM encourages friendly relations between the Filipinos and French.
For more information, you may visit their website at alliance.ph/accueil-en and follow their Facebook page.
Details
What: Manu Chao Acoustic Live in Manila
Where: Samsung Hall, SM Aura Premier, Taguig City
When: March 27, 2020, 8 p.m.
Ticket information: Tickets available at smtickets.com
• Orchestra – Php 550
• Balcony – Php 350
Website: alliance.ph/accueil-en
Facebook: facebook.com/alliancefrancaisedemanille