15th Israeli Film Festival Opens on March 13 to 14
The Embassy of Israel in Manila, in partnership with the Film Development Council of the Philippines (FDCP), brings four recognized and acclaimed Israeli films to be shown at Bonifacio High Street Cinemas from March 13 to March 14 in the 15th Israeli Film Festival.
Take note of the timeslots and immerse yourself in the cinematic world that these Israeli directors have created!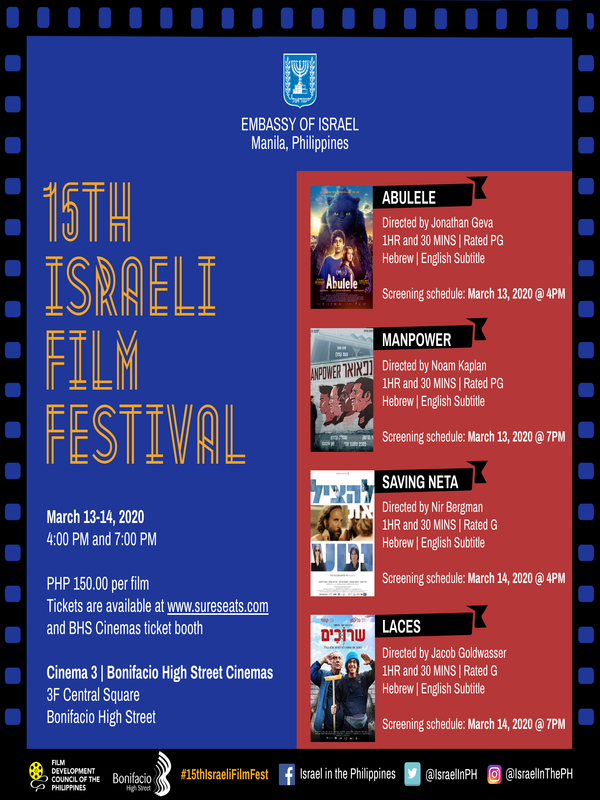 The films to be featured are:
Abulele
Shown in various international film festivals, Abulele is an animated family-friendly film directed by Jonathan Geva. The film talks about the story of Adam, a grief-stricken 10-year-old boy who lost his brother from a sudden car accident. He then found Abulele, a feared oversized furry monster ⁠who lives in the same building as his.
With a special bond forming between them, Adam is set to risk everything to save his friend who has been made a target of the elite special forces.
Manpower 
Directed by Noam Kaplan, Manpower is a riveting film that narrates, explores, and tackles the lives of the locals, migrant workers and African refugees living in South Tel Aviv.
Focusing on four characters whose narratives intertwine with each other, the film depicts the concept of placelessness of the migrants and the difficulties they face in trying to establish themselves in a foreign country.
Saving Neta
Saving Neta tackles the stories of four women: a single mom who has a conflictive relationship with her daughter, a lesbian musician who is still unsure of having a family, a woman taking responsibility for her mentally challenged sister after the death of their mother, and a wife undergoing a divorce.
In the midst of their struggle, they encounter Neta⁠—a man whose presence helped them gain illumination through brief encounters.
Shoelaces
Directed by Jacob Goldwasser, Shoelaces is an honest storytelling depicting the reality of having a son with special needs based on a true story of Goldwasser and his son.
Not a reconstructed plot, the story revolves around the life of an aging ill father and his special-needs son whom he abandoned at a young age. The son, upon being informed of his father's illness decides to willingly donate his kidney despite the medical authorities' rejection.
For those who are interested to watch these four amazing films, here is the schedule of the screening at Bonifacio High Street Cinema:
| | |
| --- | --- |
| Movie | Schedule |
| Abuele | March 13, 4 p.m. |
| Manpower | March 13, 7 p.m. |
| Saving Neta | March 14, 4 p.m. |
| Shoelaces | March 14, 7 p.m. |
Tickets cost Php 150 per film available at Sureseats online and Bonifacio High Street Cinemas ticket booth.
For more information, visit Israeli in the Philippines' Facebook page.
Details
What: 15th Israeli Film Festival
Where: Cinema 3, Bonifacio High Street Cinemas,
When: March 13 to 14, 2020
Ticket information: Php 150
Facebook: facebook.com/IsraelinPhilippines
---
Source: Philippine Information Agency website