Splash in the Fun at Songkrun 2 This May
The biggest water party and fun run is coming back to Manila this summer! Get ready for Songkrun 2 on May 17, 2020 at the CCP Complex in Pasay City.
Now on its 2nd year, Songkrun is back to help you get fit and at the same time, get wet this summer.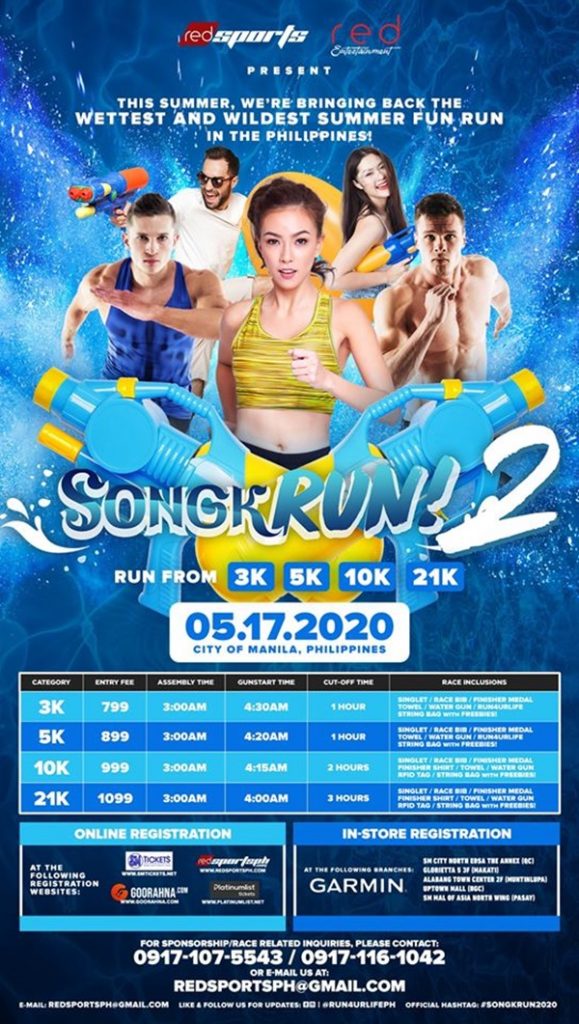 Adapted from Thailand's Songkran Festival, it depicts the beginning of the traditional Thai New Year. The festival is not just an excuse to throw water at the people. As part of Thai tradition, water is splashed as it washes the old misfortunes in the past year and welcomes the coming of the new year.
In a recent expansion, event organizer—Run4UrLife, decided to adopt the idea and turn it into a fun run.
Runners can choose to run from the 3K, 5K, 10K, and 21K races. Gunstart time varies for all, as well as the cut-off time. Here's the full list of the details:
| | | | |
| --- | --- | --- | --- |
|  Race | Assembly Time | Gun Start Time | Cut-Off Time |
| 3K (Php 799) | 3:00 a.m. | 4:30 a.m. | 1 Hour |
| 5K (Php 899) | 3:00 a.m. | 4:20 a.m. | 1 Hour |
| 10K (Php 999) | 3:00 a.m | 4:15 a.m. | 2 Hours |
| 21K (Php 1099) | 3:00 a.m. | 4:00 a.m. | 3 Hours |
If you want a glimpse of this wild event, here is last year's wrap up video.
SongkRUN WaterFestivalRUN Recap Video

Relive the fun of Songkrun PH Event Video!Congratulatiolns to all the participants, partners and sponsors who madeRed Sports PH RUN4urlifeph #SongkRUNPH a huge success!#SongkRUN#SongkRUNPH#WaterFestivalRUN

RUN4urlifephさんの投稿 2019年8月19日月曜日
Songkrun 2 is part of Run4UrLife Quadrilogy along with Animal Run, Shake Rattle and Run, and Singles Run. If you're a competitive one, completing the event series gives you the chance to become a medal holder and have your own custom holder base. Surely a collector's item for runners!
The first leg of the series the "Singles Run: Di na Natu2" was held last February, to be followed by Songkrun as the second leg. The Shake Rattle and Run and Animal run will be held on October and December this year, respectively.
Songkrun is organized by Run4UrLife and Red Sports. For registration, you can buy your tickets in three ways: Red Sports, SM Tickets, and Goorahna.
Details
What: Songkrun 2
Where: CCP Complex, Pasay City
When: May 17, 2020
Ticket Information: Tickets are available at Red Sports, SM Tickets, and Goohrana
•3K – Php 799
•5K – Php 899
•10K – Php 999
•21K – Php 1099
Facebook: facebook.com/Run4UrLifePH/