Kang Gary Is Coming for a Fan Meet at Manila and Cebu This April
Updated as of March 20, 2019. The Gary Philippine Fanmeeting Tour has been postponed in light of the COVID-19 situation. As per the announcement made by CDM Entertainment on their official Twitter page, the event is set to be rescheduled to July 3 in Cebu and July 5 in Manila. 
South Korean rapper Kang Gary is warming up the lonely nights of his Filipino fans for his first-ever fan meeting not only for one but two nights!
Catch him at the Mediterranean Room, Waterfront Hotel & Casino, Cebu City on April 24 and at the New Frontier Theater, Quezon City on April 26.
You guys guessed it rightㅡKang Gary is coming to see us! 👏 And because we know how much you miss him, we're bringing him…
Gary started his career in 2002 together with Gil Seong-joon as a hip-hop duo known as Leessang but in 2014, he went on to have a solo career and released his solo album Mr. Gae, which topped music charts in South Korea.
He is also known to be one of the original members of a popular TV Show titled Running Man, where he became regular from 2010 utill 2016.
After the controversy of his sudden actions to leave the popular TV Variety Show and changing his number, Gary steps out of the limelight slowly. Many were shocked and confused but all is well as his former duo as well as his former co-workers at Running Man who is still friends with him.
In April 2017, Gary got married and live up into the family life. He soon had his first son in November that same year and gave a glimpse of him through frequent Instagram posts.
Currently, Gary and his son Kang Ha Oh are starring in a Korean TV Show The Return of Superman, which showcase the lives of celebrity dads and their kids. Gaining 286,000 subscribers, Gary also continues to share his trips with his family as well as his personal lives through his YouTube channel.
Presented by Yangbansnation and promoted by CDM Entertainment, Kang Gary comes to the Philippines for a two-city performance. Both the Cebu and Manila stop will start at 8 p.m.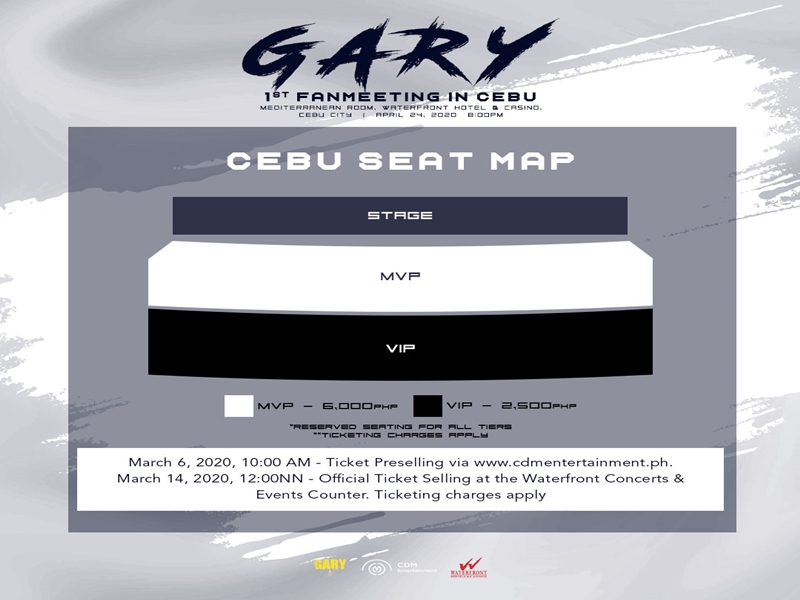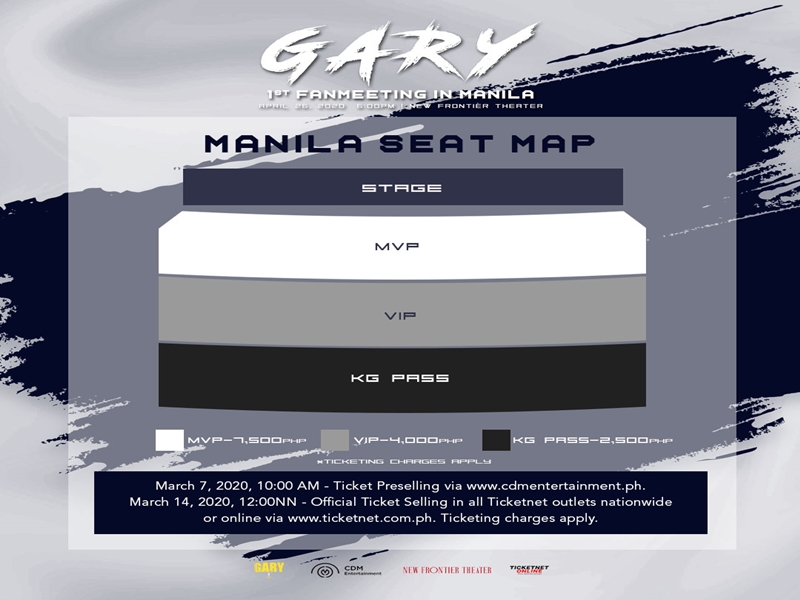 Tickets will be available at Ticketnet Online. Pre-selling of tickets for Kang Gary's Cebu show begins on March 6 at 10 a.m. and for his Manila show on March 7 at 10 a.m.
For more information, you may check out the Facebook page of CDM Entertainment or you may email them at cdmentph@gmail.com.
Details
What: Gary Philippine Fanmeeting Tour
When & Where:
• April 24, 2020 – Mediterranean Room, Waterfront Hotel & Casino, Cebu City
• April 26, 2020 – New Frontier Theater, Quezon City
Ticket Information: Tickets for Cebu show will be available starting March 6 (10 a.m.) and for the Manila show March 7
(10 a.m.) at Ticketnet Online.
For Manila Show:
• MVP – Php 7, 500
• VIP – Php 4, 000
• KG PASS – Php 2, 500
For Cebu Show:
• MVP – Php 6, 000
• KG Pass – Php 2, 500
Website: CDM Entertainment
---
Source: CDM Entertainment Facebook Page
Images grabbed from CDM Entertainment