Empower Women's Talents at CCP's Festival of Plays by Women This March
As we celebrate women empowerment this March, join the Cultural Center of the Philippines (CCP) in cooperation with Women Playwrights International-Philippines (WPIP) as they put the spotlight on inspiring women playwrights and theater practitioners at the Festival of Plays By Women.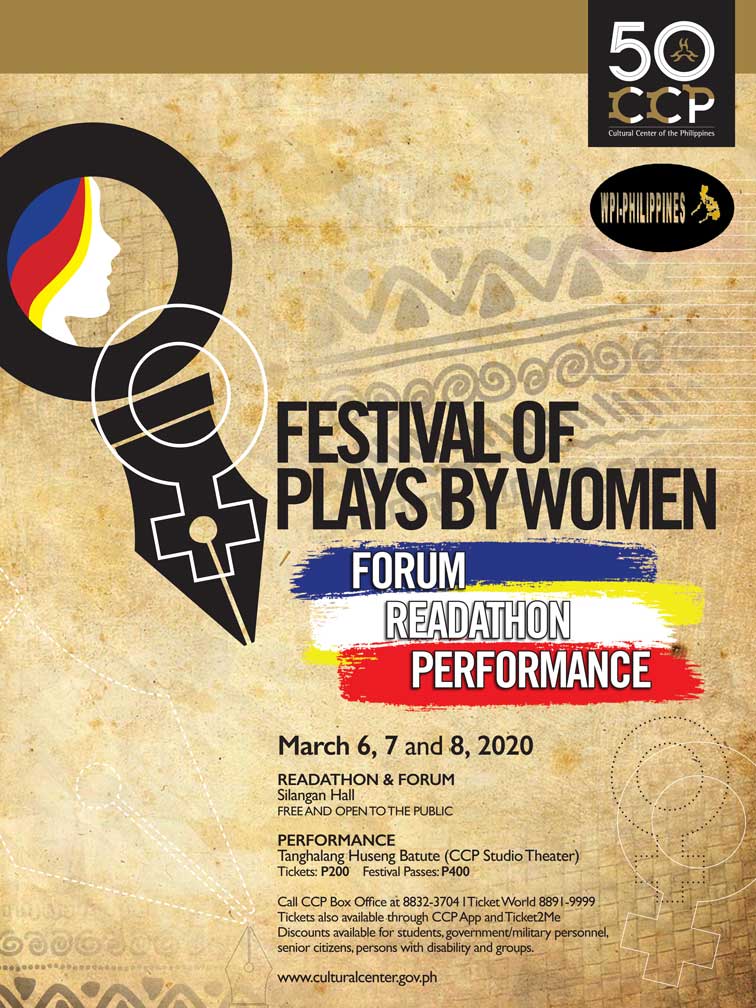 Happening from March 6 to 8 at the CCP Studio Theater, the three-day event will feature stories by women through forums, readings, and featured performances.
With the theme "Empowerment, Diversity and Equality," the event aims to inspire and encourage more women to write their own stories and believe in their own talents in the fields of writing, producing, and acting.
It is also the flagship project of the CCP's Gender and Development Committee for this year.
Expected to grace the event are over 20 local and international speakers who will share their own stories of empowerment in their respective fields such as theater, dramatic readings, and talks.
Included in the list of speakers are International Theatre Arts Educator from Argentina Leticia Arbelo, playwright Liza Magtoto, Dean of College of Liberal Arts from De La Salle University Dr. Jazmin B. Llana, international playwright and theatre artist from Uganda Achiro P. Olwoch, and playwright and founder/president of WPIP Malou Jacob among others.
Meanwhile, the featured performances will be performed by different theater groups from various places around the country. Workshops, a creators' market, and interviews with renowned playwrights will also be held during the festival.
Here's the performance schedule for the Festival of Plays by Women on March 6 – 8, 2020, 7:30pm at the Tanghalang Huseng…
The forum will start at 9 a.m. to 12 n.n. followed by the Readathon, while the featured performances will commence at 7:30 p.m. To see the full festival schedule, click here.
Tickets for the Festival of Plays by Women are available at Ticket2Me, Ticket World online and outlets, and CCP App. Performance tickets are priced at Php 200 for free seating, while festival passes are priced at Php 400.
For more information, contact CCP Box Office at 02-8832-3704 or 02-8832-1125 local 1409. Visit their website at culturalcenter.gov.ph or social media pages on Facebook, Twitter, and Instagram.
Details
What: Festival of Plays by Women
Where: Cultural Center of the Philippines, Roxas Blvd., Pasay City
• Forum and Readathon – Silangan Hall
• Featured Performances – Tanghalang Huseng Batute (CCP Studio Theater)
When: March 6 to 8, 2020
• Forum – 9 a.m. to 12 p.m.
• Featured Performances – 7:30 p.m.
Ticket information: Tickets are available at Ticket World online and Ticket2Me.
• Forum and Readathon – Free
• Performance tickets – Php 200 (free seating)
• Festival tickets – Php 400
Website: culturalcenter.gov.ph
Facebook: facebook.com/culturalcenterofthephilippines
---
Source: Cultural Center of the Philippines
Images grabbed from CCP's Official website