Eat, Shop, and Learn at the 2020 National Food Fair This March
Take out your trusty reusable eco-bags and get ready to shop for local products and ingredients at the 2020 National Food Fair on March 12 to 15, 2020 at Megatrade Halls 1-3, SM Megamall.
The event is organized by the Department of Trade and Industry (DTI) Bureau of Domestic Trade Promotion (BDTP) in partnership with the DTI Regional and Provincial Offices.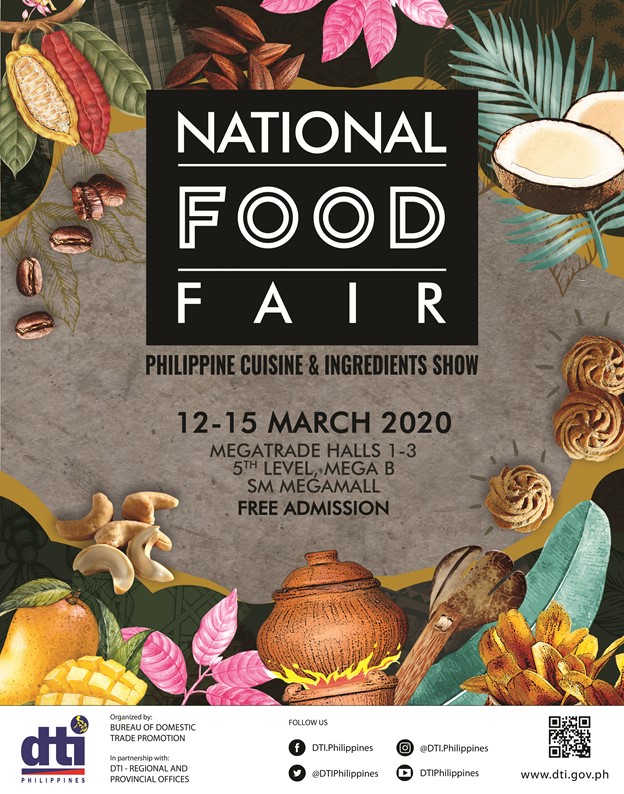 Also known as the Philippine Cuisine and Ingredients Show, the four-day event will feature over 280 food entrepreneurs from all over the country that will showcase their prime food products ranging from processed food, beverages to halal products and health and wellness items. Some of the best regional cuisines will also be featured at the food fair.
Aside from the exhibitors, there will also be special settings and pavilions for different organizations and categories such as:
Rural Agro-Industrial Partnership for Inclusive Development (RAPID) Growth (focus on cocoa, coffee, processed fruits and nuts, and coconut industries)
Integrated Natural Resources and Environmental Management Project
Brunei Darussalam-Indonesia-Malaysia-Philippines East ASEAN Growth Area
KAPEtirya Coffee Pavilion

Halal Food Plaza

Philippine Island Bar (local wines)

Kusinang Filipino (on-site cooking demonstrations)
Farm tourism and culinary tour packages booths
To know what more to expect, here is a short compilation of what went down at last year's event!
Attendees who aspire to create a business of their own can also ask for assistance with business requirements and start-up concerns with DTI's one-stop Negosyo Center at the venue.
Admission for the 2020 National Food Fair is free. Fair hours are from 10 a.m. to 9:00 p.m.
For more information, contact DTI-BDTP at telephone numbers 02-7751-3223 and 02-7791-3102, or email bdtp@dti.gov.ph. You may also follow DTI-BDTP on Facebook, Instagram, Twitter, and YouTube to get the latest news and updates.
Details
What: 2020 National Food Fair
Where: SM Megatrade Halls 1-3, 5th level, Building B, SM Megamall, Mandaluyong City
When: March 12 to 15, 2020, 10 a.m. to 9:00 p.m.
Admission: Free
Contact: 02-7751-3223/02-7791-3102
Website: dti.gov.ph
Facebook: facebook.com/DTI.BDTP
---
Source: dti.gov.ph