Stray Kids' District 9: Unlock World Tour in Manila This April
Updated as of March 20, 2019. The Stray Kids District 9: Unlock World Tour has been postponed in light of the COVID-19 situation. As per the announcement made by PULP Live World on their official Facebook page, the event is set to be rescheduled to June 20. Official ticketing is set on April 19, 12 n.n. via SM Tickets outlets nationwide.
Stray Kids is coming back to Manila for their District 9: Unlock World Tour on April 25, 2020 at the SM Mall of Asia Arena, Pasay.
Fulfilling their promise to Filipino STAYs, they are once again hitting the road with Manila as one of their stops from their world tour.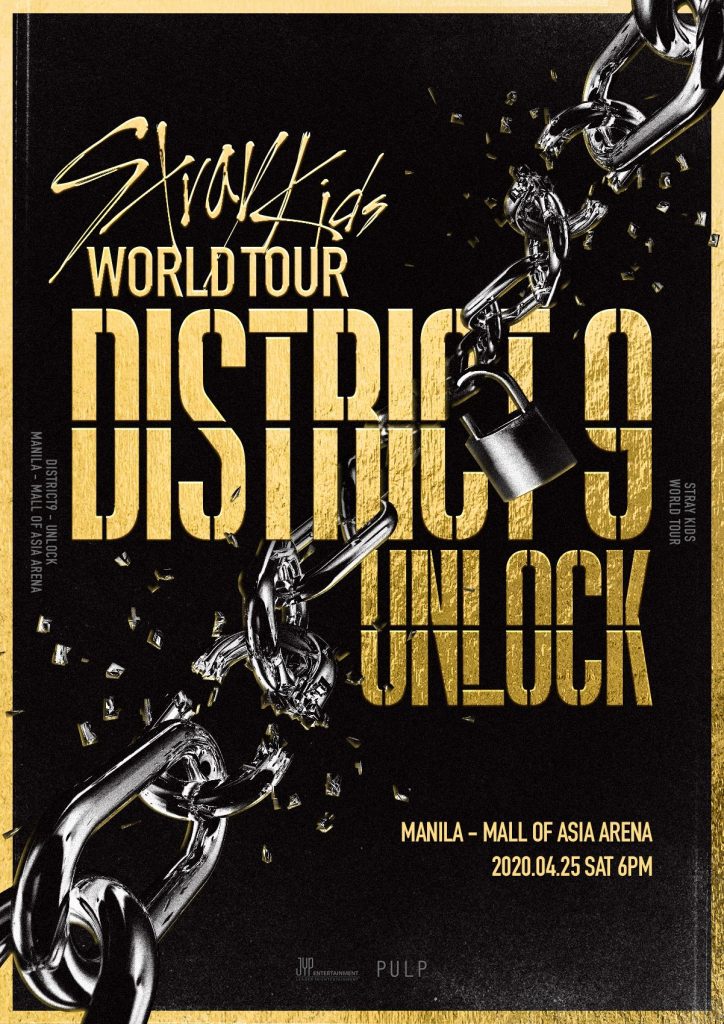 Back in 2017 the group debut from the reality show of the same name of their group. The 8-man group is composed of Bang Chan, Chang Bin, SeungMin, Lee Know, Han, Felix, I.N., and HyunJin.
Since then, the group captured a lot of hearts from across the globe leading from one trip to another. Their world tour traverses from South Korea, the US, Europe, and other parts of Asia.
In addition to their successful concerts, they have also accumulated several awards such as Best New Artist Award at the 2019 Golden Disc Awards in Korea and New Star Award at the 2019 Asia Model Awards.
Even if they started from only a few years back, the group never fails to connect with their fans. Through their songs, they were able to depict personal struggles that most people can relate to. In recent months, they have also released an English version of their songs "Double Knot" and "Levanter" to connect more with their international fans.
The first time the group was in the country was a year ago with a full house concert at Araneta Coliseum. The group was overwhelmed by how their fans were excited and dedicated to seeing them perform.
This year, Stray Kids is set to open their doors for Filipino STAYs to an epic unlocking of the district specially curated for their fans. District 9: Unlock is said to be a remarkable one as the group continuously breaks the boundaries from being rookies to gents.
Other than Manila, Stray Kids would also be visiting Singapore, London, Osaka, Bangkok, and Jakarta on different days for the District 9: Unlock World Tour.
Presented by JYP Entertainment and PULP Live World, the manila leg of the world tour will start at 6 p.m. 
Tickets will soon be available at SM Tickets online and outlets nationwide on March 15, 2020. Prices start from Php 2,500 for Upper Box D to Php 13,500 for Royalty Seated/Standing.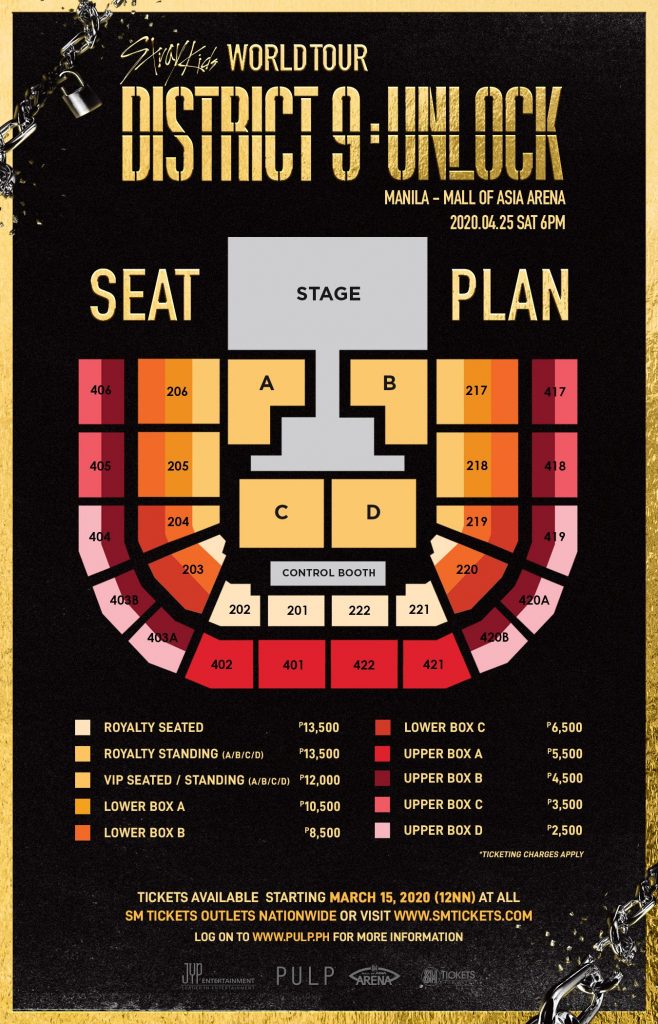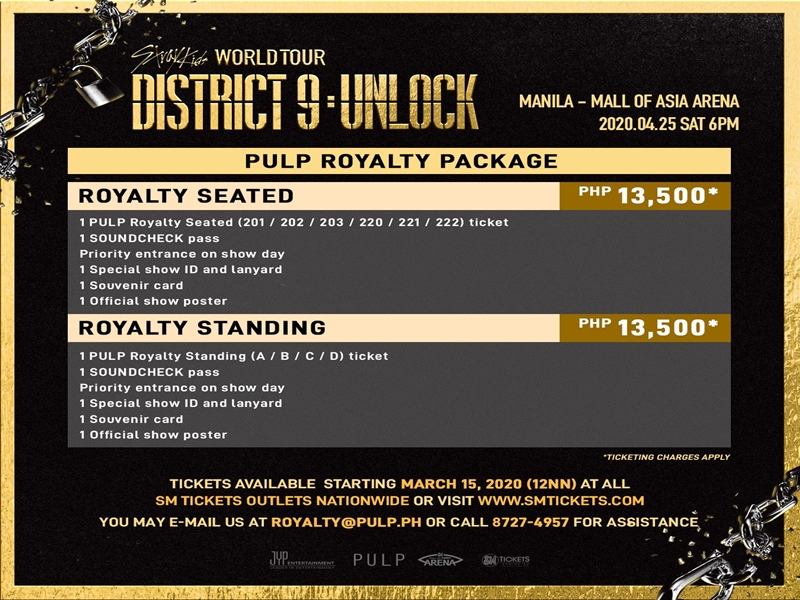 For more information, you may e-mail PULP Love World at royalty@pulp.ph or call 02-8727-4957. You may also visit their social media page on Facebook.
Details
What: Stray Kids District 9: Unlock World Tour
Where: Mall of Asia Complex, J.W. Diokno Blvd, Pasay
When: April 25, 2020, 6:00 p.m.
Ticket information: Tickets are available at SM Tickets starting March 15, 2020 (12 nn)
• Royalty Seated/Royalty Standing – Php 13,500
• VIP Seated/VIP Standing – Php 12,000
• Lower Box A – Php 10,500
• Lower Box B – Php 8,500
• Lower Box C – Php 6,500
• Upper Box A – Php 5,500
• Upper Box B – Php 4,500
• Upper Box C – Php 3,500
• Upper Box D – Php 2,500
Website: pulp.ph
Facebook: facebook.com/JYPEStrayKids
---
Source: Pulp
Images grabbed from Pulp, Stray Kids Website