Harness Your Baking Skills at Sourdough Bread Masterclass This February 29
You can now make your own sourdough bread at the comfort of your own home when you join The Ancient Bakery's Sourdough Bread Masterclass happening on February 29, 2020, at the Ametta Place Function Rooms, Mercedes Ave., Pasig City.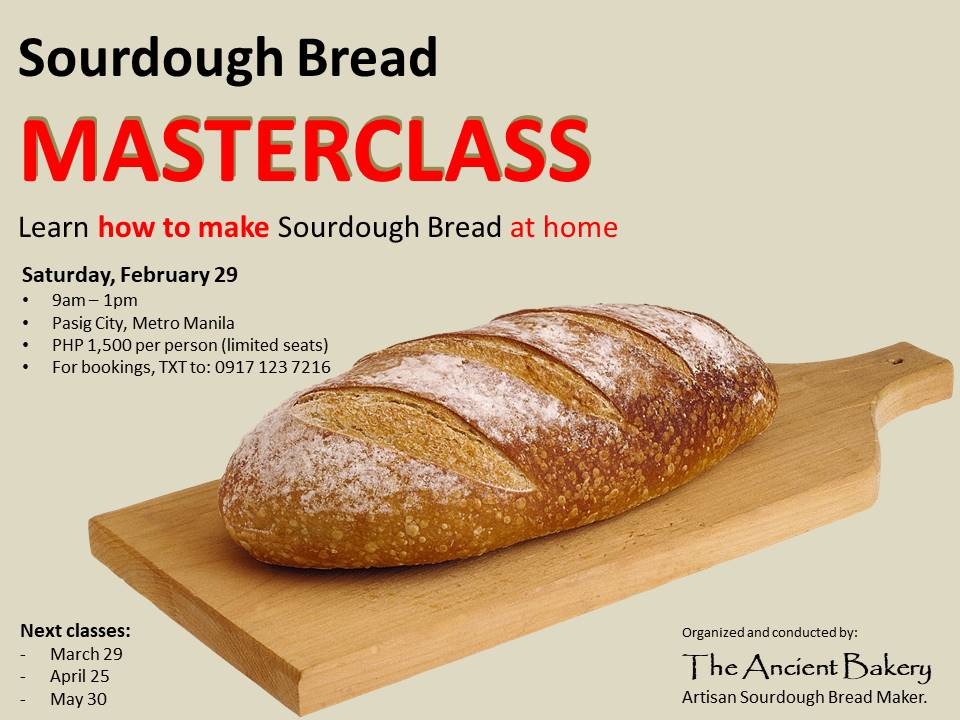 The Ancient Bakery offers Artisan Sourdough Bread made with 100% nutritious and delicious ingredients such as Sourdough Starter and a variety of whole wheat and ancient grains.
In this baking class, one doesn't need to have prior or special knowledge in baking per se as The Ancient Bakery will guide students on the step by step process of making delicious sourdough.
The master is comprised of lectures such as the history of sourdough bread, grains and flours, gluten, and more. There will also be hands-on sections like how to create a Sourdough Starter, how to manage the dough, and how to bake bread. 
Of course, students will get to eat hearty and healthy sourdough bread during the baking class session.
Join our Sourdough Bread Baking Class and learn how to make great bread at home. No baking knowledge required – we guide…
The class will start from 9 a.m. to 1 p.m. The admission fee is priced at Php 1,500 per seat, inclusive of hand-out materials, baking materials, and bread tasting. Pre-registration is required. Reserve your seat via text message at 0917-123-7216.
This is your chance to harness your baking prowess! Sourdough Bread Making Workshop course is organized by The Ancient Bakery – Artisan Sourdough Bread Maker. Next classes will be held on March 19, April 25, and May 30.
For more information, you may visit The Ancient Bakery's Facebook page or text them at 0917-123-7216.
Details
What: Sourdough Bread Making Workshop
Where: Ametta Place Function Rooms, Mercedes Ave., Pasig City
When: February 29, 2020, 9 a.m. to 1 p.m.
Admission fee: Php 1,500 (inclusive of hand-out materials, baking materials, and bread tasting)
Facebook: facebook.com/TheAncientBakery