The 11th Market Masters Conference Is Happening on March 18
Bringing 15 CEOs of the country's big companies, the 11th Market Masters Conference will be happening on March 18, 2020 at Resorts World Manila.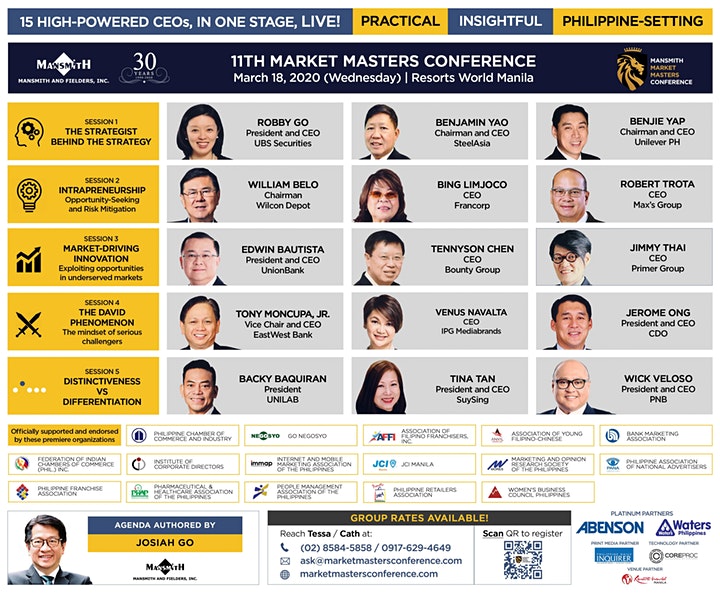 Organized by Mansmith and Fielder Inc., the conference highlights five impact sessions focusing on the strategies in attaining a successful business.
The first session titled "Behind The Scene: The Strategist Behind the Strategy," discusses various strategies in achieving better results than the competitors and needed capabilities to be an efficient chief strategy officer.
Here, the participating panelists are President and CEO of UBS Securities Mr. Robby Go, Chairman and CEO of Steel Asia Mr. Benjamin Yao, and Chairman and CEO of Unilever Philippines Mr. Benjie Yap.
The second session is named "Intrapreneurship: What Marketers Can Learn from Entrepreneurs about Opportunity-Seeking and Risk-Mitigation." Panelists Chairman of Wilcon Depot Mr. William Belo, CEO of Francorp Philippines Mr. Limjoco, and CEO of Max's Group Mr. Robert Trota will be tackling on ways to handle new business opportunities.
On the other hand, the third session is called "Market Driving Innovation: Exploiting Opportunities in Underserved Markets," which concentrates on the innovative approaches for the company's progress.
Panelists include President and CEO of Union Bank Mr. Edwin Bautista, CEO of Bounty Fresh Group Mr. Tennyson Chen, and CEO of The Primer Group Mr. Jimmy Thai.
The fourth session "The David Phenomenon: The Mindset of a Serious Challenger," highlights tips for startups on how to compete in the marketplace. Vice-Chair and CEO of East West Bank Mr. Tony Moncupa Jr., CEO of IPG Mediabrands Ms. Venus Navalta, and President and CEO of CDO Foodsphere Mr. Jerome Ong will be panelists for this session.
Lastly, the fifth session "Distinctiveness vs. Differentiation: Competing in an Increasing Commoditized Market" revolves around methods on how to establish the identity of a company and how to maintain market relevance.
The featured panelists are President of UNILAB Inc. Mr. Backy Baquiran, President and CEO of SuySing Ms. Tina Tan, and President and CEO of PNB Mr. Wick Veloso.
For this year, the panelists will share their insights on the relevant components of a progressive business such as strategy, marketing, innovation, and execution.
For more information and inquiries, visit Mansmith and Fielders, Inc. Facebook page and the official website of the Market Masters.
Details
What: 11th Market Masters Conference
Where: Resorts World Manila, 2012 Andrews Avenue, Pasay
When: March 18, 2020
Ticket information:
• SVIP Red Ticket- Php 13,440
• VIP Green Ticket- Php 11, 200
• Gold Ticket- Php 8,690
• Silver Ticket- Php 7,840
Website: marketmastersconference.com
Facebook: facebook.com/MansmithAndFielders
---
Source: Mansmith Market Master Conference website
Images grabbed from Mansmith Market Master Conference website