Ballet Manila Closes 24th Season With Carmina Burana & La Traviata This March
Witness a fusion of ballet and classical music as Ballet Manila (BM) closes its 24th season, On Pointe, with the staging of Carmina Burana & La Traviata (A Double Bill) on March 7 and 8, 2020.
Happening at the Samsung Hall at SM Aura, Taguig City, the performances are choreographed by BM artistic director Liza Macuja-Elizalde (La Triviata) and former BM principal dancer Rudy De Dios (Carmina Burana).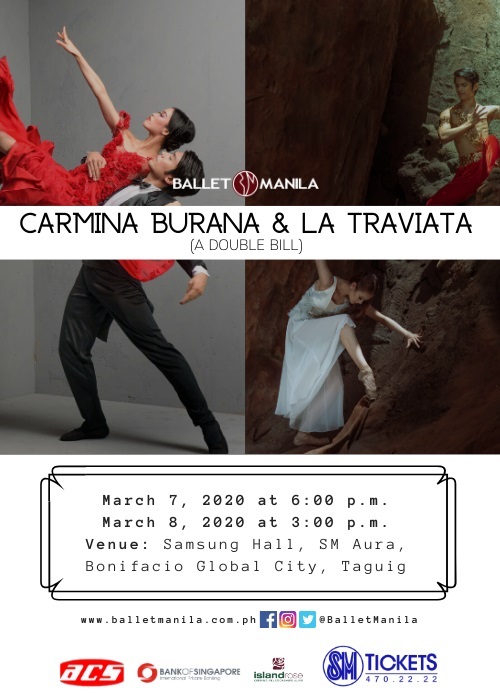 La Triviata, which is based on an opera of the same name, revolves around Violetta, Alfredo, and their complicated romance thwarted by outside forces and a character named Baron.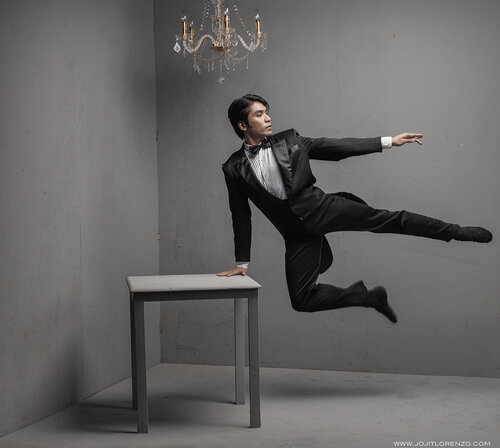 BM principal dancer Romeo Peralta casted as Alfredo/ IMAGE Jojit Lorenzo for Ballet Manila
In an interview on BM's website, Macuja-Elizalde shared that the opera is a favorite of hers, describing its story as a perfect fit for a ballet.
"It's simply so romantic and every aria is just so beautiful and moving," she said.
On the other hand, Carmina Burana is Rudy De Dios's first full-length ballet that is based on medieval Latin poems highlighted with the dramatic music by Carl Orff. It depicts an epic battle between good and evil as Spero, with the divine help of Atheos, leads his people away from the villainous Atheos.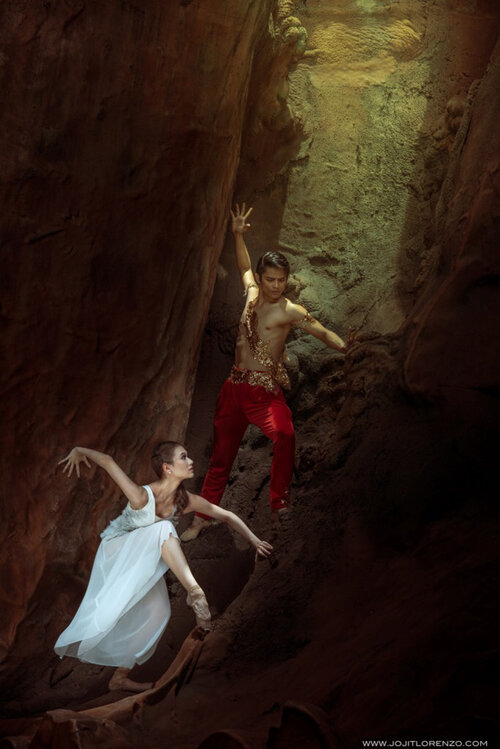 IMAGE Jojit Lorenzo for Ballet Manila
Originally, Carmina Burana & La Traviata was supposed to be accompanied by live orchestra music and singing, but as the company copes with the recent unfortunate incident that damaged the Star Theater and Aliw Theater, they decided to scrap it off and stick with a more modest staging.
Nonetheless, Ballet Manila will finish the season strong despite the challenges that came their way.
"Nothing can take the place of an excellent performance and great dancing–the kind of dancing that takes many years of practice to achieve," Macuja-Elizalde said.
Tickets for Carmina Burana & La Traviata are available at SM Tickets outlets and online via smtickets.com starting at Php 1,000 for Gold seats to Php 3,000 for VVIP.
For more information, visit Ballet Manila's website at balletmanila.com.ph or follow all their social media pages.
Details
What: Carmina Burana & La Traviata (A Double Bill)
Where: Samsung Hall, SM Aura, Taguig City
When:
• March 7, 2020 – 6 p.m.
• March 8, 2020 – 3 p.m.
Ticket information: Available at SM Tickets nationwide and online
• Gold – Php 1,000
• VIP – Php 2,000
• VVIP – Php 3,000
Contact: 02-8355-3088 / 02-8400-0292
Website: balletmanila.com.ph
---
Source: balletmanilaarchives.com
Images grabbed from Ballet Manila