Witness Sandbox Fest 2020 This March
Catch two plays of English playwright Duncan Macmillian at Sandbox Fest 2020 happening from March 7 to 29, 2020, at the Maybank Performing Arts Theater, BGC. This theater festival features reruns of two sold-out plays namely Every Brilliant Thing and Lungs.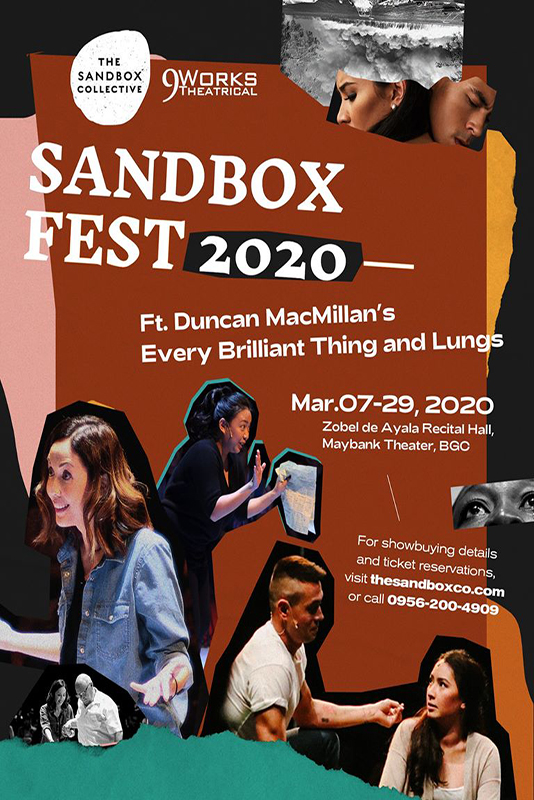 Every Little Thing is a play that follows the life of a young girl trying to ease her mother's depression at the start of the play. Throughout her life, she gathers a list of things that are worth living for and find its deep significance in her life. The play is a tribute to the resilience inside us and our capacity to find delight in every day.
It will be directed by Jenny Jamora and will star Teresa Herrera and Kakki Teodoro. Every Little Thing is a funny and moving play that tackles mental health that calls upon its audience to help tell its story.
#EveryBrilliantMNL: a sneak peek

A look at some of the brilliant things that went down during a special sneak peek of Duncan Macmillan's Every Brilliant Thing. Starring Teresa Herrera and directed by Jenny Jamora, Every Brilliant Thing tells the story of a young girl who chronicles all the little things that make life worth living for. The show doesn't romanticize nor gloss over the issue of mental health. Instead, it paints an honest portrait of someone suffering from a mental health issue by taking us through the peaks and dips of her story. Just like life, #EveryBrilliantMNL shows that things are better experienced with a helping hand from your friends.#EveryBrilliantMNL

The Sandbox Collectiveさんの投稿 2019年1月20日日曜日
The second play in the festival is Lungs starring Jake Cuenca and Sab Jose with the direction of Andrei Pamintuan.
The play follows a young couple who find that the decision to have a child is no longer a simple decision to make. With many things to consider such as capability, readiness, fear, and even the current sociocultural landscape—is it truly safe to raise a child in the midst of turmoil, climate change, conflict, and violence?
Lungs examine adulthood and a true partnership as well as choices and compromise.
"It's probably one of the realest things I've seen in Manila." Don't miss the show everyone's thinking and talking about. For tickets, call Ticketworld or 0956-2004909. Must close Oct. 7. #LungsMNL

The Sandbox Collectiveさんの投稿 2018年9月29日土曜日
Tickets are available at TicketWorld online and outlets nationwide, priced at Php 1,363 and Php 1,704 for Regular and VIP, respectively.
Sandbox Fest 2020 is presented by 9 Works Theatrical and The Sandbox Collective.
For more information, you may visit The Sandbox Collective's official website and Facebook page.
Details:
What: Sandbox Fest 2020
Where: Zobel de Ayala Recital Hall, Maybank Performing Arts Theater, BGC Arts Center, 26th St., BGC, Taguig City
When: March 7 to 29, 2020
Ticket Information: Tickets are available through TicketWorld Online and TicketWorld outlets nationwide.
• VIP – Php 1,704
• Regular – Php 1,363
Website: thesandboxco.com
Facebook: facebook.com/TheSandboxCollective
---
Images grabbed from The Sandbox Collective's official Facebook page.