Aurora 2020 to Happen This March in Clark, Pampanga
Up for a new identity, Clark, Pampanga invites everyone to Aurora 2020: Music and Food Festival from March 13 to 14, at the Clark Global City, Pampanga.
Clark, Pampanga has been a home of great, fun-looking, and exciting hot air balloons for several years. No doubt, that is the reason why when one hears "Clark, Pampanga", there is nothing else people could think of but amazing aerial shows.
But this year, a whole lot of adventure awaits for the frequent-goers of Clark as they bring the biggest summer event of this year!
Aurora 2020 is the "newest, biggest, and mega" festival in Clark, Pampanga this year. It is a two-day music and food festival which also offers a hot air balloon display and night glow for everyone.
Other than these four exciting adventures, it will also be a festival of arts and all-day activities. Two of which are the 4×4 Production Challenge and the Car Show.
The 4×4 Production Challenge has three things to enjoy—Big Production Class, Novice Production Class, and Open Production Class.  With an entrance fee of Php 1,500, this activity also comes with a cash prize and freebies. Joiners can register from 7 a.m. to 10 a.m. and enjoy the race proper that will start by 11 a.m. 
Info for the 4×4 Production race
On the other hand, the Car Show will take place right after—at 1 p.m., with an entrance fee of Php 1,500 with free two General Admission tickets.
There will also be a Firework Display and Inflatables for each goer to relax in. Expected to be flooded by many festival people, there will be more than 100 food stalls and bazaar where delish food and fun stuff can be grabbed.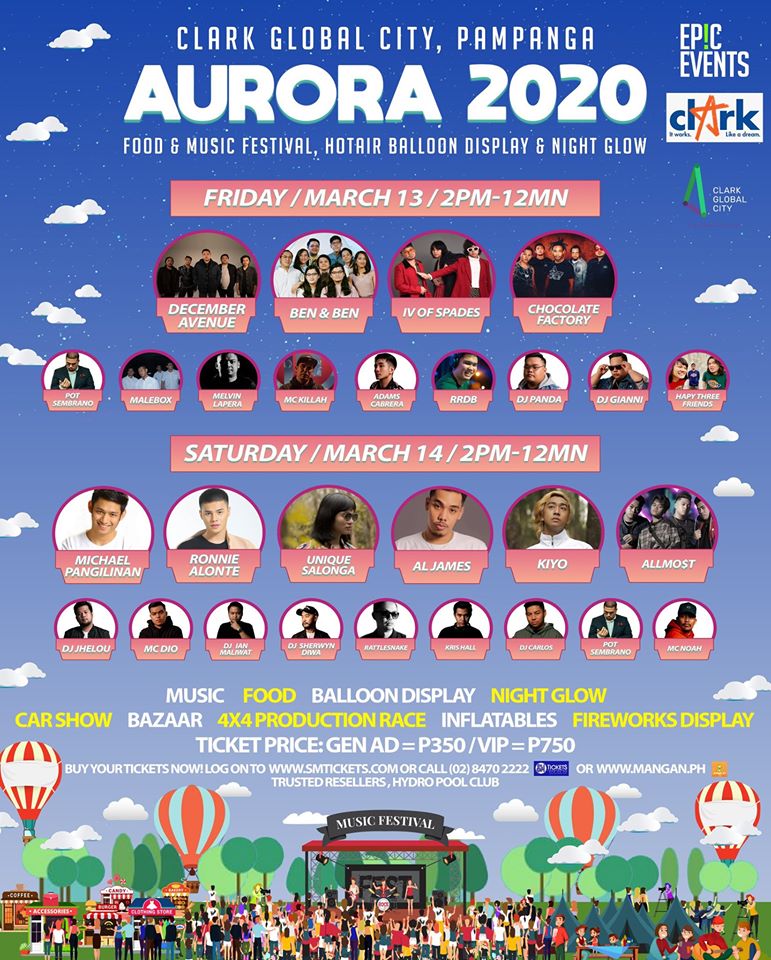 Of course, the highlight of this big summer event is the music festival wherein 30 performers were invited to play and sing for the crowd.
From bands like Ben&Ben, December Avenue, IV of Spades, and Chocolate Factory to single performers like Unique, Al James, Kiyo, and, Michael Pangilinan, this festival will surely bring out the best of Original Pinoy Music where the crowd could sing along alive and aloud.
Other performances will be delivered by Allmost, Male Box, and Happy Three Friends and several DJ's like DJ Jhelou, DJ Carlos, DJ Sherwin Diwa, and DJ Ian Maliwat.
This event is headed by Epic Events, Hydro Pool Club, and Clark Development Corporation. Tickets can be availed for Php 350 (Gen Ad) and Php 750 (VIP) via SM Tickets or visit mangan.ph.
For more information about this event, you can check Clark Aurora Fest on Facebook.
Details
What: Aurora 2020 Music and Food Festival
Where: 10F One West Aeropark, Clark Global City, Clark Freeport, 2023 Pampanga
When: March 13 to March 14, 2020
Ticket information: You can get your tickets via SM Tickets or mangan.ph
Music Festival:
• Gen Ad – Php 350
• VIP – Php 750
• 4×4 Production Challenge – Php 1,500
• Car Show – Php 1,500
Facebook: facebook.com/ClarkAuroraFest
---
Sources: Official Facebook page of Clark Aurora Fest
Images grabbed from the official Facebook page of Clark Aurora Fest