Franchise Asia Philippines Is Happening This March
Franchising is a popular term in businesses, allowing entrepreneurs to expand their business. However, there are many things to consider. If you've been thinking of starting your own business or maybe invest in the right franchise, here's a free event that might be helpful to you.
Asia's leading franchise show, Franchise Asia Philippines 2020 is happening on March 25 to 29, 2020 at SMX Convention Center, Pasay.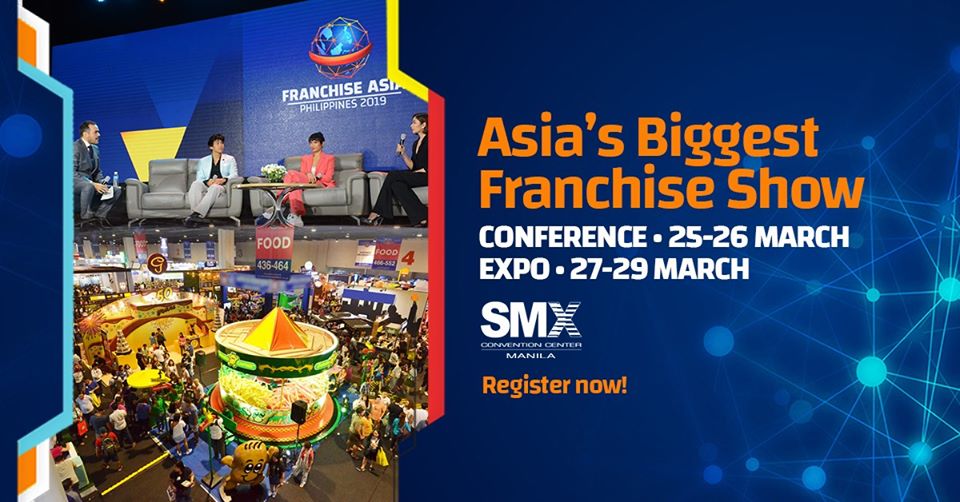 The event features two categories: the International Franchise Conference and the International Franchise Expo.
The International Franchise Conference puts the spotlight on notable personalities who made an impact on the business industry. Learn from the keynote speakers Senator Koko Pimentel III, Ms. Catherine Monson as well as international speakers Mr. Greg Nathan, CFE, and Mr. Scott Friedman, CSP to name a few.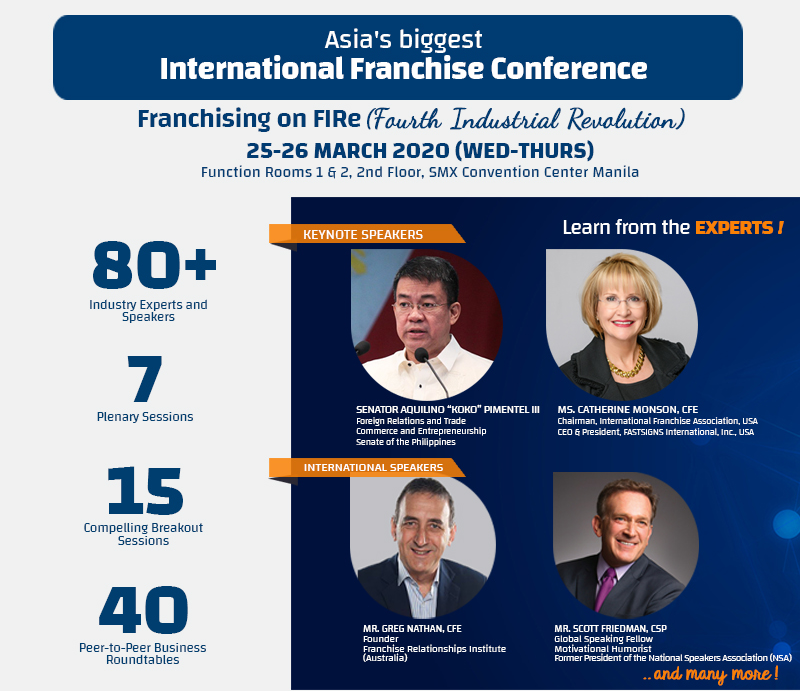 The conference will take place from March 25 to 26, 2020 at Function Rooms 1 and 2, 2nd Floor, SMX Convention Center Manila.
Aiming to be an aid to aspiring franchisors, Franchise Asia Philippines will also be holding How to Franchise Your Business Seminar and How to Invest in the Right Franchise Seminar on March 27 to 29, 2020. Book your spot now as you'll definitely have a deeper understanding of the business industry.
On the other hand, the International Franchise Expo will start on March 27, featuring over 800 participating brands. Some renowned brands that will be present on the Franchise Expo are Beanleaf, Farron, Quicklean, Khaleb, Crystal Clear, and Hotel 101.
Named as the country's pioneer and largest franchise association, the Philippine Franchise Association (PFA) is a self-regulating governing body for franchising in the Philippines, with the main goal of providing beneficial events to uplift the Philippine market in the Asia Pacific region.
Details
What: Franchise Asia Philippines
Where: SMX Convention Center, Pasay, Manila
When: March 25 to 29, 2020
Ticket Admission: Free
Website: franchiseasiaph.com
Facebook: facebook.com/franchiseasiaph