Donizetti's Lucia Di Lammermoor to Be Staged at CCP
The Cultural Center of the Philippines (CCP) presents Gaetano Donizetti's tragic drama Lucia Di Lammermoor at the CCP Main Theater, Pasay City.
The gala night will take place on January 31, 2020 at 8 p.m. while the matinee will be held on February 2, 2020 at 3 p.m.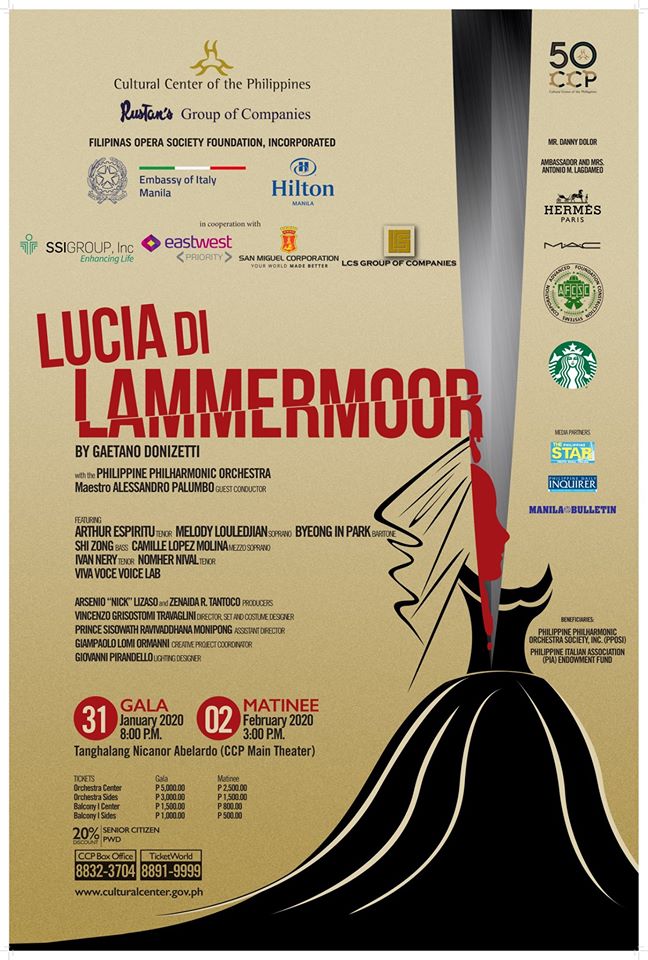 Lucia Di Lammermoor revolves around the story of Lucia Ashton who's having a secret affair with Edgardo Ravenswood due to conflict between their families. Lucia was forced by her brother Enrico to marry another nobleman, Arturo who then told Lucia that Edgardo has married someone else.
Because of deep sadness, Lucia lost her sanity. Edgardo finds out about the wedding and cursed Lucia on the day of the wedding.  After the wedding, Lucia kills Arturo in their wedding bed while Edgardo meets Enrico at the tombs of Ravenswood for a duel. Lucia collapses and dies. When Edgardo knows of her death, he stabs himself to join Lucia in heaven.
REHEARSALS IN FULL BLAST! 😁I'm very excited to reprise the role of Edgardo in Donizetti's Masterpiece, LUCIA DI…
French soprano Melody Louledjian will take the leading role of Lucia while Filipino-American bel canto tenor Arthur Espiritu will star as Edgardo.
The rest of the outstanding cast, which is mainly composed of performers from Italy and Manila, includes Korean Baritone Byeong In Park, Chinese Bass Shi Zong, Filipina mezzo-soprano Camille Lopez Molina, Filipino tenor Ivan Nery, Viva Voce, and the country's pioneer orchestra, the Philippine Philharmonic Orchestra.
Lucia Di Lammermoor is conducted by Maestro Alessandro Palumbo and is directed by Vincenzo Grisostomi Travaglini with Assistant Director Prince Sisowath Ravivaddhana Monipong.
You may avail tickets for the show at culturalcenter.gov.ph. Take note that ticket prices for Gala and Matinee shows vary.
For ticket information and inquiries, visit the Cultural Center of the Philippines' website or Facebook page. 
Details
What: Lucia Di Lammermoor by Gaetano Donizetti
Where: Tanghalang Nicanor Abelardo, Cultural Center of the Philippines, Pasay City
When:
•Gala Night- January 31, 2020, 8 p.m.
•Matinee- February 2, 2020, 3 p.m.
Ticket Information:
• Orchestra Center – Php 5,000 (Gala), Php 2,500 (Matinee)
• Orchestra Sides – Php 3,000 (Gala), Php 1,500 (Matinee)
• Balcony I Center – Php 1,500 (Gala), Php 800 (Matinee)
• Balcony I Sides – Php 1,000 (Gala), Php 500 (Matinee)
Website: culturalcenter.gov.ph
Facebook: facebook.com/culturalcenterofthephilippines

---
Source: Cultural Center of the Philippines website 
Images grabbed from Cultural Center of the Philippines website and Facebook page