Expand Your Network at Filipino Franchise and Business Expo 2020
The longest-running business exhibition in the Philippines is back! Discover more about Filipino entrepreneurs and expand your network as the Filipino Franchise and Business Expo 2020 is happening from February 28 to March 1, 2020 at the World Trade Center Manila.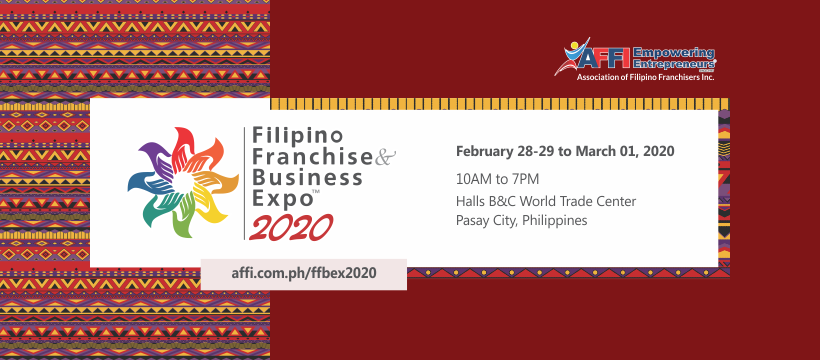 Organized by Association of Filipino Franchisers, Inc., the expo takes pride in its line-up of new entrepreneurs as well as notable companies in the country at the present time.
The expo's primary goal is to be an aid to aspiring entrepreneurs who aim to establish their own business by conducting a series of beneficial activities and seminars. This will not be possible without the help of partner organizations, government agencies, and other entrepreneurs.
Meanwhile, Filipino Franchise and Business Expo featured the Filipino-owned oil company SeaOil. The company shared the big contribution of the anticipated expo in promoting their franchise system and brand.
SEAOIL Testimonial | Filipino Franchise and Business Expo 2020

"When we started years ago, as a single unit franchisee, we are a David in the land of Goliaths. Now that we are one of the Top 50 Largest Corporations (in the Philippines), it's a testimony also of what our partnership with AFFI has been able to do."Learn how their partnership with AFFI helped SeaOil expand their business.Grab this chance to visit the SeaOil booth, one of the Philippines' Top 50 Corporations, at the FFBEX 2020 this coming February 28, to March 1, 2020 at the World Trade Center, Manila.affi.com.ph/ffbex2020

Filipino Franchise & Business Expo 2020さんの投稿 2019年12月13日金曜日
Apart from that, Filipino Franchise and Business Expo continually post tips and guides on how to keep your business successful on their Facebook page. They post content regarding how to save your business from failing and helpful tips for those first-time investors.
The Double Take: How to Save a Dying Business

Starting a business comes with risks and failure is one of them. If this happens to you, don't be disheartened! It is never too late to rescue a failing business. There are plenty of ways that can help your business recover from the blow.There are no Revive potions in the business world but there certainly are other things that you can do to save a dying business.𝟭. 𝗙𝗶𝗻𝗱 𝗼𝘂𝘁 𝘄𝗵𝗮𝘁 𝘄𝗲𝗻𝘁 𝘄𝗿𝗼𝗻𝗴 – There are 2 ways to identify the problem. First, you can investigate and check every part of your business, from your inventory to your employees. Second, you can ask your customers directly through surveys and feedback forms. If you do not know what the problem is, how are you going to solve it?𝟮. 𝗔𝗰𝗰𝗲𝗽𝘁 𝗮𝗻𝗱 𝗮𝗰𝗸𝗻𝗼𝘄𝗹𝗲𝗱𝗴𝗲 – Some business owners refuse to believe that there is something wrong in the way they handle their business. After identifying what's wrong, clear your mind and start thinking of possible solutions to address the problem. You won't be able to move on if you're always in denial.𝟯. 𝗗𝗼𝗻'𝘁 𝗣𝗮𝗻𝗶𝗰 – Deep breathes in, deep breathes out. If you let panic settle in, it can lead to making rash decisions that you will only worsen your situation.𝟰. 𝗥𝗲𝗴𝗿𝗼𝘂𝗽! – You should talk about the problems with your team because it is also very important that they are aware of what's going on. Meeting with your employees will make it easier for you to implement new rules as well as gain other important knowledge that you may have missed after looking at things from their perspective. Let them speak and suggest!𝟱. 𝗥𝗲𝗯𝗿𝗮𝗻𝗱 – If you think you need a fresh start, do not be afraid to rebrand. Changing the image of your business will also change the way people view you! You don't have to resort to rebranding right away and there's absolutely no pressure to do it. But if the situation calls for it, give it a go!Learn more by joining the annual Filipino Franchise Business Expo!To get tickets visit – https://www.eventbrite.com/e/filipino-franchise-business-expo-2020-tickets-71623236027. To register as an Exhibitor – https://tinyurl.com/ffbex2020bookingform

Filipino Franchise & Business Expo 2020さんの投稿 2020年1月13日月曜日
Drop by at the biggest exhibition in the country as the 3-day expo features over 200 exhibitors and will be expecting up to 20, 000 visitors!
For more information and inquiries, visit their official Facebook page  or you can register here. 
Details
What: Filipino Franchise and Business Expo 2020
Where: World Trade Center Pasay Manila
When:  February 28 to March 1, 2020
Admission: Free
Facebook: facebook.com/FilipinoFranchiseBusinessExpo2020

---
Source: Filipino Franchise and Business Expo 2020 Facebook page
Images grabbed from  Filipino Franchise and Business Expo 2020 Facebook page