Celebrate the Best Works of Ludwig Van Beethoven at Beethoven Festival 2020
Experience and appreciate the works of Ludwig Van Beethoven at the Beethoven Festival 2020 happening from February to May at Manila Pianos in Makati.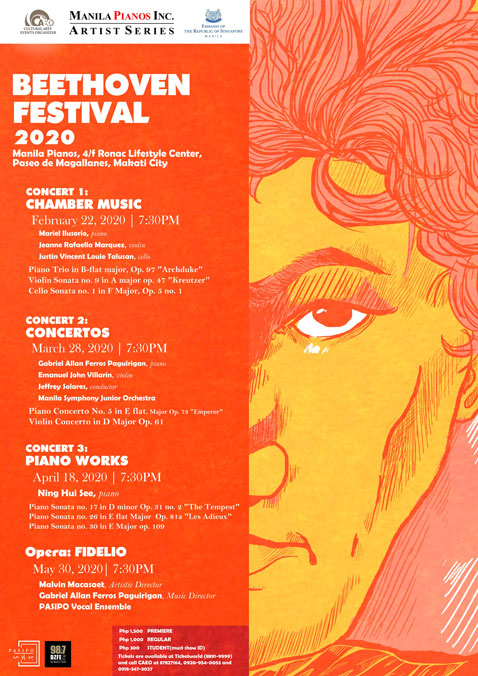 Beethoven Festival 2020 is a celebration of the 25oth birth anniversary of Ludwig Van Beethoven. Once a month from February to May, a cross-section view on the different genres of Beethoven's music will be presented, namely:
Chamber music on February 22
Concertos on March 28
Solo Piano on April 18
Sole opera "Fidelio" in Chamber form on May 30.
The festival will feature some of the country's seasoned pianists Mariel Ilusorio and Gabriel Ferros Paguirigan, young violinists Emanuel John Villarin and Jeanne Rafaella Marquez, and cellist Justin Vincent Louie Talusan.
Also included in the event are Singapore's young pianist Ning Hui See, soprano Jane Wee and Angeli Benipayo, tenor Nomher Nival and Jan Briane Astom, baritone Jec Retulla, and the vocal ensemble PASIPO.
Beethoven is known as one of the music pillars who left his mark on all subsequent composers and shaped the entire institution. A singularity in the history of art, he is a phenomenon of brilliant and eccentric force and is one of the most important figures in classical music.
Tickets for Beethoven Festival 2020 is available at Ticketworld outlets and online starting at Php 1,000 for Regular Seats.
This event is made possible by Manila Pianos in partnership with the Embassy of Singapore and Cultural Arts and Events Organizers as well as with the support of DZFE.FM The Master's Touch.
For more inquiries, you can send an email at josephuy2004@yahoo.com or visit ticketworld.com.ph. You may also call Cultural Arts Events Organizer at 02-8782-7164.
Details
What: Beethoven Festival 2020
Where: Manila Pianos, 4/F Ronac Lifestyle Center, Paseo de Magallanes, Makati City
When: February to May 2020, 7:30 p.m.
Chamber music on February 22
Concertos on March 28
Solo Piano on April 18
Sole opera "Fidelio" in Chamber form on May 30
Ticket information: Tickets are available at Ticketworld outlets and online
Premiere – Php 1,500
Regular – Php 1,000
Student – Php 300
Website: ticketworld.com.ph
Facebook: facebook.com/CulturalArtsEventsOrganizer