The Women 2020 Entrepreneurship Summit Happens This March
One of the events you shouldn't miss this coming International Women's Month is the Women 2020 Entrepreneurship Summit.
It is slated to be the biggest and most inclusive women entrepreneurship summit organized by the ASEAN Business Advisory Council Philippines in partnership with Go Negosyo happening on March 3, 2020 at the World Trade Center in Pasay City.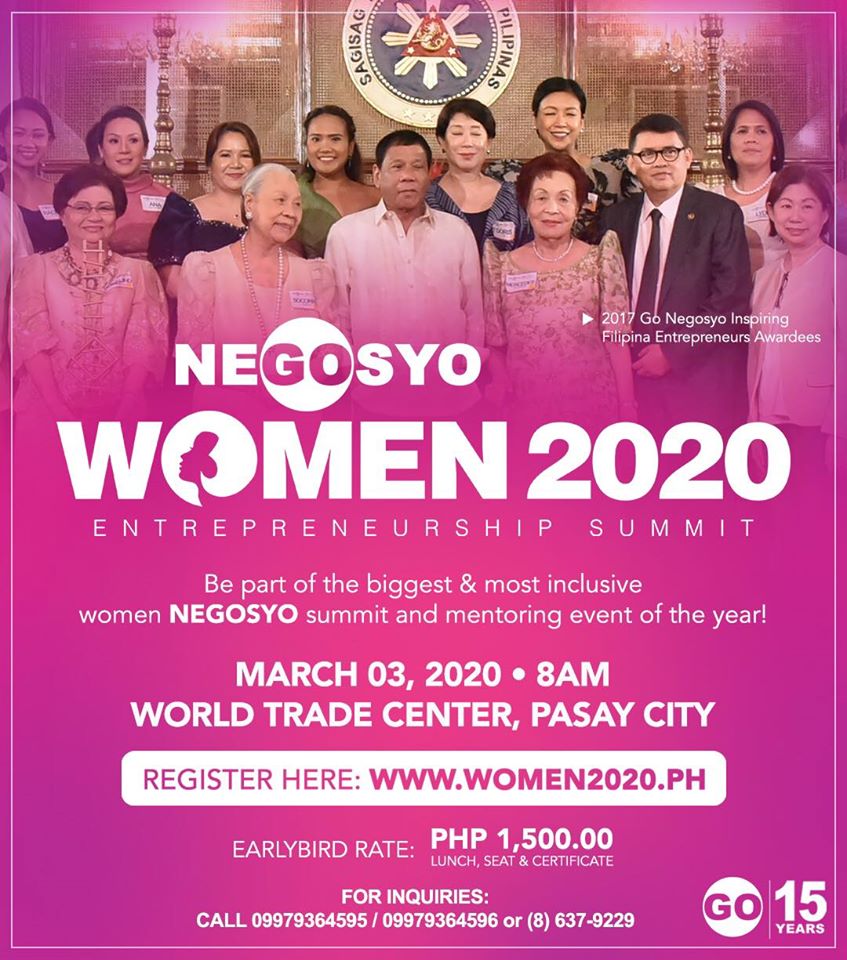 The role and identity of women in the business landscape will be the central point of discussion in Women 2020, particularly in the Summit/Plenary where ASEAN speakers will talk about the opportunities for women to unleash their full potential in the said field.
Specifically, there are six facets of women to be discussed, namely Women of Impact, Women of Legacy, Women of Style and Substance, Women of the Earth, Women of Travel, and Women of the Future.
FORUM 1: WOMEN OF IMPACTThe narrative of women in the global economy has changed over the years. In the past, women…

Go Negosyoさんの投稿 2020年1月7日火曜日
"Majority of the 99.6% micro and small entrepreneurs are women. They are natural-born entrepreneurs. We are proud to honor their passion and perseverance that greatly contributed to the country's growth towards prosperity for all," said Go Negosyo founder Joey Conception in a statement.
This will be simulcasted and aired in select regions in Luzon, Visayas, and Mindanao, providing the opportunity for those who cannot attend and those who live outside of Metro Manila to learn from the speakers.
Aside from the plenary session, another highlight of Women 2020 is the awarding of exceptional ASEAN women entrepreneurs who have made an impact and notable contributions to the region's economy.
Don't miss this opportunity to meet and learn from some of the best women entrepreneurs in the ASEAN region. Register now at women2020.ph and reserve a seat for only Php 1,500 (early bird rate) inclusive of lunch and certificate.
Women 2020 is included in the year-long celebration of the 15th anniversary of Go Negosyo.
For more information, visit Women 2020's website at women2020.ph or follow Go Negosyo's Facebook page. You can also contact them at 02-8637-9229 or send an email to womensummit2020@gmail.com.
Details
What: Women 2020 Entrepreneurship Summit
Where: Halls A, B & C World Trade Center, Pasay City
When: March 3, 2020
Registration: Register at women2020.ph for Php 1,500 (early bird rate)
Contact: 02-8637-9229
Email: womensummit2020@gmail.com
Website: women2020.ph
Facebook: facebook.com/gonegosyoofficial
---
Source: women2020.ph