Okada Manila's La Piazza Ristorante Italiano Hosts Château La Nerthe Wine Dinner
Fancy a wine dinner, anyone? Look no farther than Okada Manila as one of its home restaurants, La Piazza Ristorante Italiano, hosts an installment to the Okada Manila Wine and Dine Series called Château La Nerthe Wine Dinner, this coming January 15, 2020.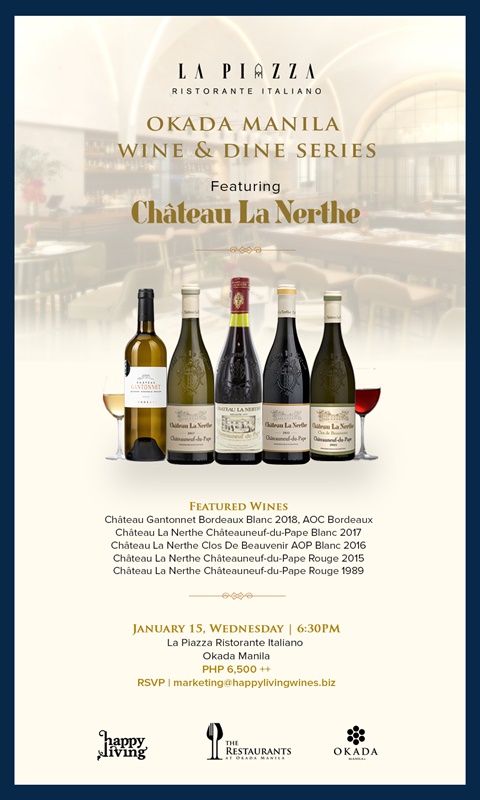 Treat yourself to an intimate five-course dinner where you will get to enjoy not only Chef Gleb Snegin's signature Italian dishes but Château La Nerthe's fine selection of wines as well, which will be paired up with each dish!
For starters, the Canapés will take centerstage together with Château Gantonnet Bordeaux Blanc 2018, AOC Bordeaux. This will then be followed by the entrance of the salad that is delectably made up of duck meat, baby spinach, and saffron poached apples. Château La Nerthe Châteauneuf-du-Pape Blanc 2017 will complement the said dish.
Château La Nerthe is in contention for being one of the oldest estates in Châteauneuf-du-Pape. The historic château was…

Happy Livingさんの投稿 2020年1月6日月曜日
The risotto with mushrooms and prawn, meanwhile, will be accompanied by Château La Nerthe Clos De Beauvenir AOP Blanc 2016; whereas the roasted chicken drizzling with creamy wine sauce among others, is paired with Château La Nerthe Châteauneuf-du-Pape Rouge 2015. 
Lastly, the braised pork rib with spaetzle and vegetable ragout will come together with Château La Nerthe Châteauneuf-du-Pape Rouge 1989. And capping the dinner off will be the classic tiramisu.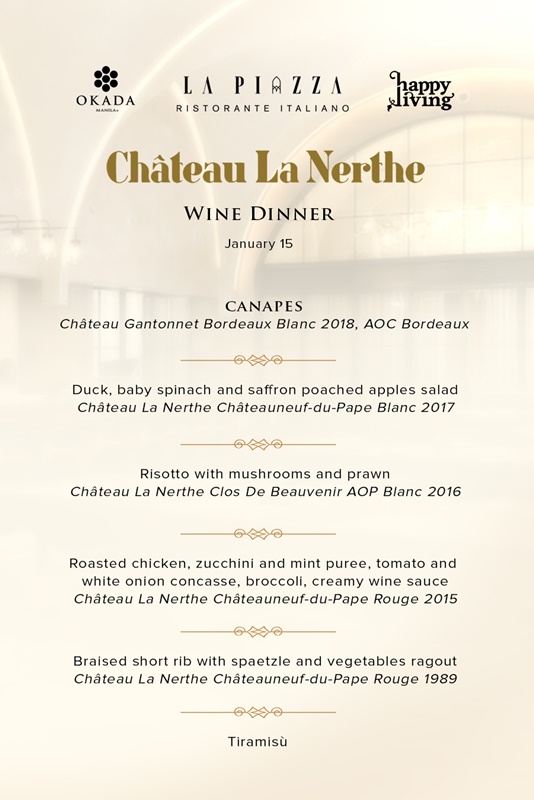 The man of the hours, Chef Gleb Snegin, is the mind behind the restaurant's authentic Italian experience who started his culinary career at age 29 and trained in Milan, Italy. He was also chef de partie at the one Michelin-starred Terrazza restaurant at Galaxy Macau.
Chef Gleb Snegin
Meanwhile, Château La Nerthe is a wine estate that dates back to the far-flung times of the 12th Century, which undoubtedly managed to be consistent in all its aspects hence its favorable reputation until now.
If these are not enough to convince you to partake in the event, the dinner also features a brief talk with regard to the five-century-old history of the winery with Brand Ambassador Christophe Briestiel.
Also read: La Piazza Ristorante Italiano in Okada Manila: The Sweetness of Italian Dining at Its Finest
Reserve your seat now for the price of Php 6.800++.
For more information, you may visit Happy Living's Facebook page.
Details
What: Okada Manila Wine and Dine Series: Château La Nerthe Wine Dinner
Where: La Piazza Ristorante Italiano, Okada Manila, Parañaque City
When: January 15, 2020, 6:30 p.m.
Reservation fee: Php 6,800++
Website: facebook.com/OkadaManilaPH
Facebook: facebook.com/HappyLivingPH
---
Source: Happy Living
Images grabbed from Happy Living