Join the World Marketing Summit 2020 This February
Harness Filipino marketing creativity at the World Marketing Summit 2020 happening this February 22, 2020, at The Theatre at Solaire, Parañaque City.
The World Marketing Summit is the brainchild of Dr. Philip Kotler that unites innovative minds from different files to explore ways that can be integrated into marketing solutions.
The summit not only aims to develop new approached to marketing but also aims to shape the future of marketing by inspiring and empowering students and professionals alike.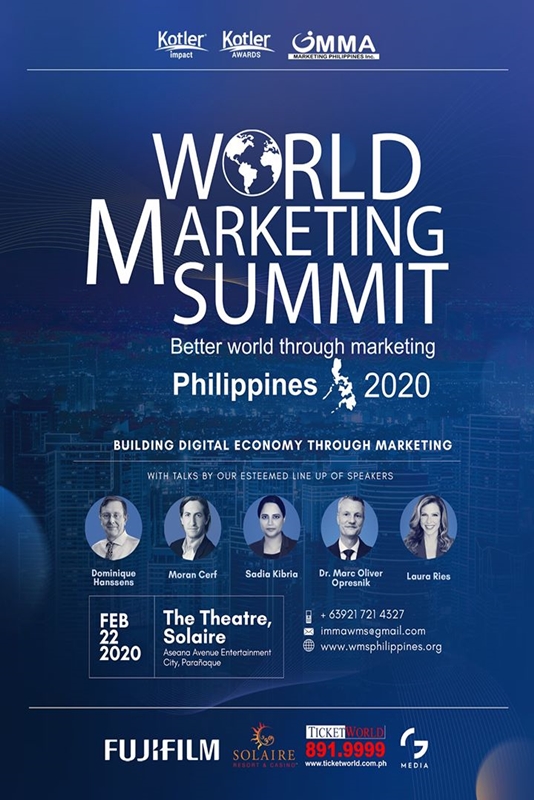 With a goal to create a poverty-free world, the World Marketing Summit engages with entrepreneurs and global-leaders alike to help improve the state of the world.
In a series of talks led by speakers such as Ries & Ries Leading Marketing Strategist Laura Ries, CEO of World Marketing Summit Sadia Kibria, and Marketing Professor at Luebeck University of Applied Sciences Mark Oliver Opresnik among others, guests will surely learn a thing or two not only in their own professional careers but also help them make a difference for a better world.
World Marketing Summit Philippines – February 22, 2020The World Marketing Summit (WMS), a legacy of the World's most influential marketing guru Professor Philip Kotler is designed to be an inclusive platform of developing and developed countries to solve the world's critical challenges through the effective and efficient lens of marketing.LOOKING FORWARD….For more details: http://wmsphilippines.org/

World Marketing Summit – Philippinesさんの投稿 2019年11月12日火曜日
The event is ideal for marketing academics, digital marketers, CEOs, brand managers, advertisers, salespeople, policymakers, and marketing/Ph.D. students. The event starts at 8 a.m.
Tickets start at Php 6,000 and can be purchased through TicketWorld Online or TicketWorld outlets nationwide. Do take note that VVIP seats for the event are already sold out as of writing.
For more information, you may visit the World Marketing Summit's official website and Facebook page. You may also e-mail them at immawms@gmail.com or call 0921-721-4327.
Details
What: World Marketing Summit
Where: The Theatre at Solaire, Aseana Ave., Entertainment City, Parañaque City
When: February 22, 2020, 8 a.m.
Ticket Information: Tickets can be purchased through TicketWorld Online and TicketWorld outlets nationwide.
VVIP – Php 40,000 (Sold Out)
VIP – Php 30,000
CIP – Php 20,000
Executive – Php 10,000
Standard – Php 6,000
Website: wmsphilippines.org
Facebook: facebook.com/wmsphil