Gear Up for SEVENTEEN's Ode to You Tour Live in Manila in February 2020
Updated as of January 2, 2020
Carats, get ready for an amazing night as SEVENTEEN is set to capture hearts in the Manila leg of their Ode to You World Tour! Happening on February 8, 2020, at the Mall of Asia Arena, Pasay City, the group will surely captive everyone's heart during the month of love.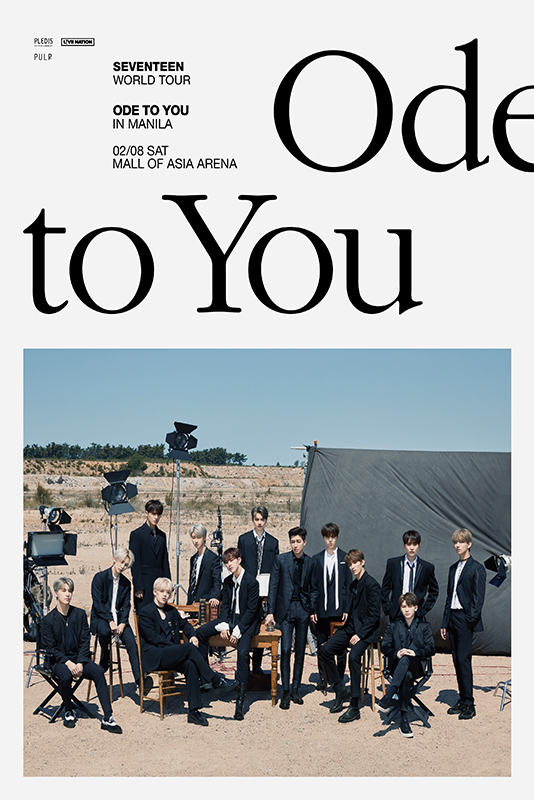 SEVENTEEN recently made a comeback with "An Ode," their third full album that not only conquered music charts but garnered back-to-back accolades such as Album of the Year at the 2019 Asia Artist Awards as well.
"An Ode" also surpassed 160,000 album sales in just 24 hours after its release, making it the group's best of all time.
The Ode to You Tour will showcase the songs included in the said album. This marks SEVENTEEN's third tour following 2018's Ideal Cut, which was brought to eight different countries across Asia.
SEVENTEEN debuted in 2015 with the song "Adore You," which later became the lead track for their first album, 17 Carat. The group had a total of 13 members divided into three sub-units (Hip-Hop, Vocal, and Performance Units).
They are known to be a "self-producing" group as the members are actively involved in production aspects such as composing and choreography among others.
You wouldn't want to miss out on the chance to reunite with S.Coups, Jeonghan, Joshua, Jun, Hoshi, Wonwoo, Woozi, The8, Mingyu, DK, Seungkwan, Vernon, and Dino at the Ode to You Tour in Manila!
Ticket-selling starts on January 12, 2020, at 12 p.m., at SMTickets outlets nationwide and SMTickets Online. Ticket prices start at Php 2,000. Royalty Packages (Royalty Soundcheck and Royalty Send-off) priced at Php 15,000 each will also start selling on January 12.
CARATs, SEVENTEEN will surely make the month of February beaming with love. Make sure you grab your tickets for their…
Join the ocean of rose quartz and serenity as SEVENTEEN serenades their Carats at the Ode to You Tour Live in Manila on February 8, 2020, at the Mall of Asia Arena, Pasay City. Ticket prices, seat plan, and selling dates are yet to be announced.
For updates and information, you may visit PULP Live Word's official website. You may also follow them on Facebook, Twitter, and Instagram.
Details
What: SEVENTEEN "Ode to You" World Tour Live in Manila
Where: Mall of Asia Arena, Mall of Asia Complex, J.W. Diokno Blvd., Pasay City
When: February 8, 2020
TicketInformation: Ticket selling starts on January 12 at 12 p.m. and will be available via SM Tickets Online and SM Tickets outlets nationwide.
Royalty (Soundcheck/Send-off) – Php 15,000
VIP Standing (A/B/C/D) – Php 12,500
VIP Seated – Php 15,500
Lower Box A – Php 10,500
Lower Box B – Php 8,500
Upper Box A – Php 5,500
Upper Box B – Php 4,500
Upper Box C – Php 3,500
General Admission – Php 2,500
Generic Admission – Php 2,000
Website: pulp.ph
Facebook: facebook.com/pulpliveworldprod