Catch Jimmy Eat World Live for the First Time in Manila This March
The long wait is over as American rock band Jimmy Eat World finally makes its way to the Philippines for Surviving: The Asia Tour 2020 happening on March 12, 2020, at the New Frontier Theater, Quezon City.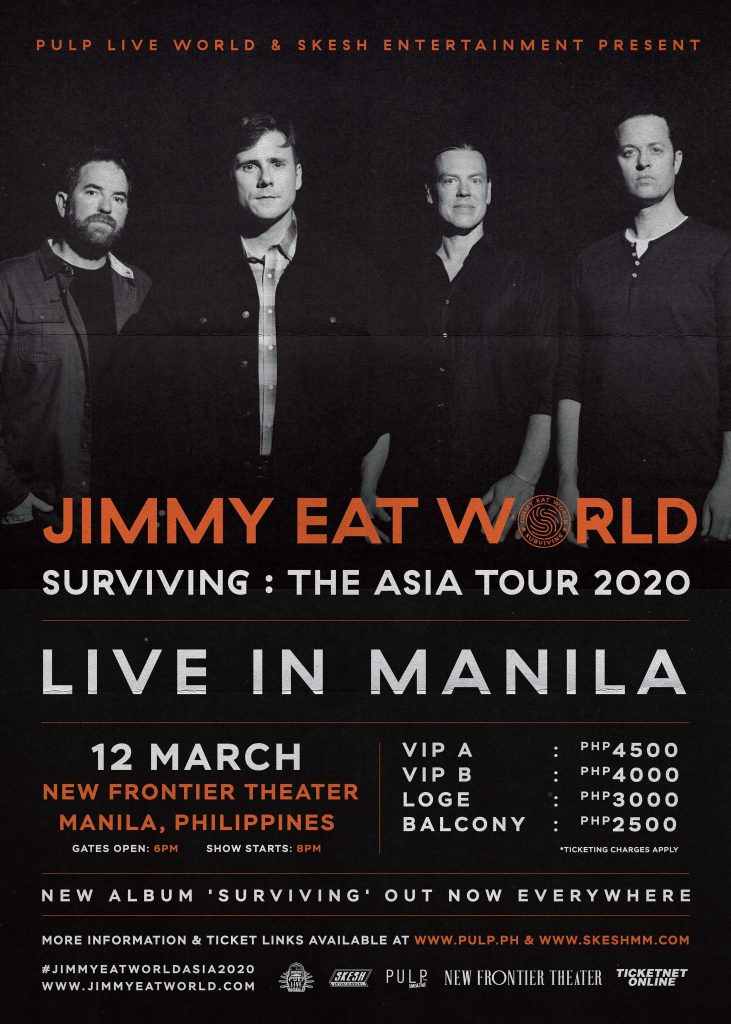 Formed in 1993, Jimmy Eat World has made a name in the emo/alternative rock scene with 10 albums under their belt including Bleed American, the band's breakthrough album, which also carries perhaps their most successful hit "The Middle".
The band composed of Jim Adkins, Tom Linton, Rick Burch, and Zack Lind has bested the test of time by staying dynamic amidst the ever-changing music landscape. They have broken off from the "emo" label were known the most and has evolved into a band that continues to create relevant and resonant music.
With the release of their 10th album Surviving, fans can expect a fresh yet familiar sound from Jimmy Eat World with tracks like "All The Way (Stay)," "555," "Criminal Energy," and more. Of course, they will also include classic hits in the mix, which will surely make everyone in the crowd feel nostalgic.
Tickets for Surviving: The Asia Tour 2020 Live in Manila are on sale starting December 30, 2019 at all Ticketnet outlets nationwide and online. Prices start at Php 2,500 for Loge.
This show is presented by Pulp Live World and Skesh Entertainment.
For more information, visit Pulp's website at pulp.ph or their Facebook page.
Details
What: Jimmy Eat World Surviving: The Asia Tour 2020
Where: New Frontier Theater, Araneta City, Quezon City
When: March 12, 2019, 8 p.m.
Tickets: Tickets are available at Ticketnet outlets and online
VIP A – Php 4,500
VIP B – Php 4,000
Balcony – Php 3,000
Loge – Php 2,500
Website: pulp.ph
Facebook: facebook.com/pulpliveworldprod
---
Source: pulp.ph
Image grabbed from pulp.ph