Catch the CIF Kids Christmas Recital at the TIU Theater
Fuel the festive season and bring your family to witness a spectacular performance by the kids from the Creative Image Foundation (CIF)! They will be holding their Christmas Recital at the TIU Theater, Makati on December 21, 2019.
The CIF kids have tirelessly practiced throughout the year to give the audience a dynamic performance divided into three–rap, drums, and dance!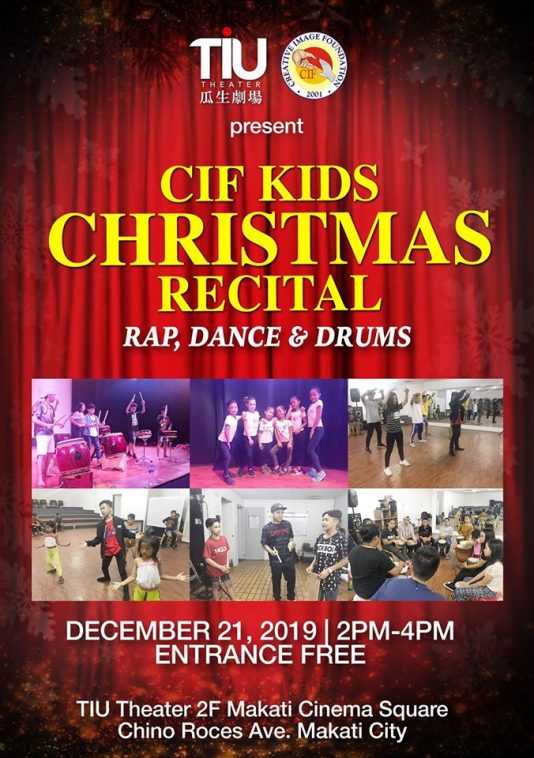 In preparation, rapper and actor Pio Balbuena taught the kids how to write lyrics and properly pronounce their rap verses. They were also mentored by Utsuwa on how to play Japanese Drum (Wadaiko) while they learned djembe with the help of Anima Tierra.
CIF is a non-profit organization established in 2001 by Toshihiko Uriu that supports children from Manila's biggest dumpsites—Payatas and Smokey Mountain.
This happened with a strong belief that to be able to preserve the cultural diversity of the Philippines, talented urban poor children should be given a chance to develop their skills, and quality works of aspiring filmmakers should be shown on the big screen.
With this, TIU Theater—CIF's sister facility has become a venue for indigenous groups and regional community theaters to proudly perform their cultural enactment, a free training facility for talented urban poor children to develop their performing skills, and a cinema for aspiring filmmakers to showcase their masterpiece.
Here is a look at one of the past performances of CIF Kids entitled "Repablik Ak."
Admission for CIF Kids Christmas Recital is free!
For more information, visit TIU Theater's website at tiu.makati.jp or their Facebook page.
Details
What: CIF Kids Christmas Recital
Where: TIU Theater, Makati Square, 2/F Chino Roces Ave, Legazpi Village, Makati City
When: December 21, 2019, 2 p.m. to 4 p.m.
Website:  tiu.makati.jp
Facebook: facebook.com/TIUTheater
Ticket: Admission is FREE
---
Source: tiu.makati.jp
Images grabbed from tiu.makati.jp and TIU Theater's Facebook page