Catch Lee Jin Hyuk's 1st Solo Fan Meeting in Manila This December
South Korean singer Lee Jin Hyuk is set to brighten your days as he holds his first-ever solo fan meeting titled S.O.L. on December 14, 2019 at the New Frontier Theatre in Quezon City.
Presented by Top Media and Ganada Company, and organized by CDM Entertainment, fans of Lee Jin Hyuk have the chance to see him in person for his first solo fan meeting in Manila.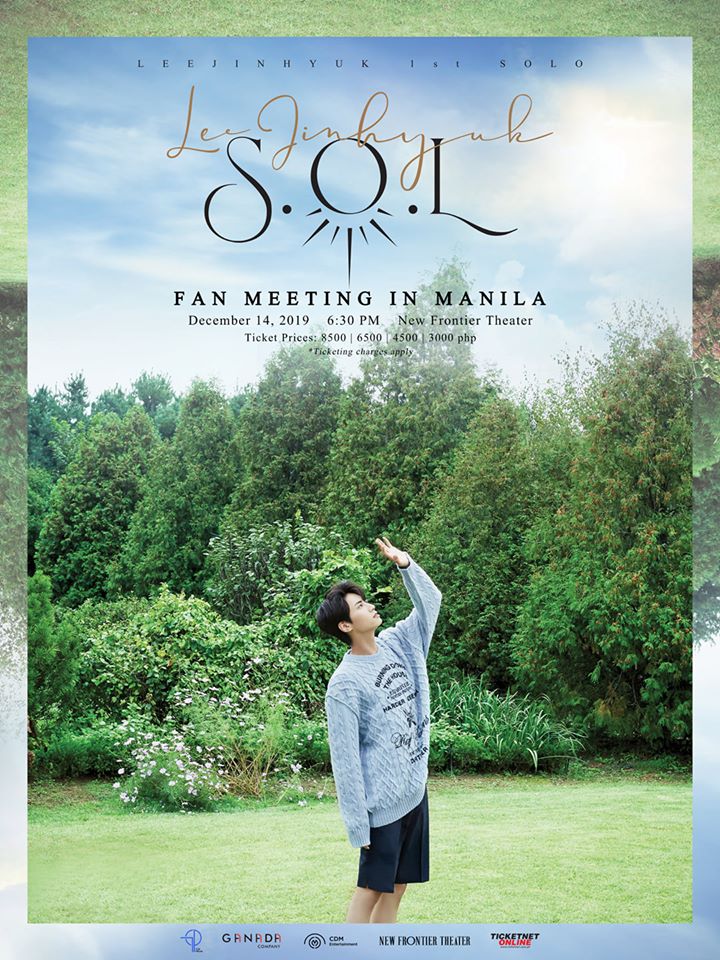 In 2015, Lee Jin Hyuk debuted as a member of South Korean boy band UP10TION formed by TOP Media under the stage name Wei.
Along with other members Jinhoo, Kuhn, Kogyeol, Lee Jin-hyuk, Bitto, Wooshin, Sunyoul, Gyujin, Hwanhee, and Xiao, the group released their extended play titled Top Secret.
Jin Hyuk then took a hiatus from UP10TION and joined Produce X 101 early this year where finished at 14th place.
#ILikeThat Let's support his upcoming event PH V-dans!Grab your Lee Jin Hyuk 1st Solo "S.O.L" Fan Meeting in Manila…
After Produce X 101, the signer went on with his first solo fan-meeting in Seoul, South Korea, Thailand, and Taiwan. He is bound to meet his Filipino fans this December to be followed by another fan-meeting in Macau. Also this year, Jin Hyuk debuted his solo album S.O.L carrying the title track "I Like That".
Tickets for the fan meet are available at all Ticketnet outlets nationwide or online starting from Php 3,000 for the balcony to Php 8,500 for MVP. Each ticket comes with freebies, official merchandise, and a chance to have a group photo op with Lee Jin Hyuk. Check the full ticket details here.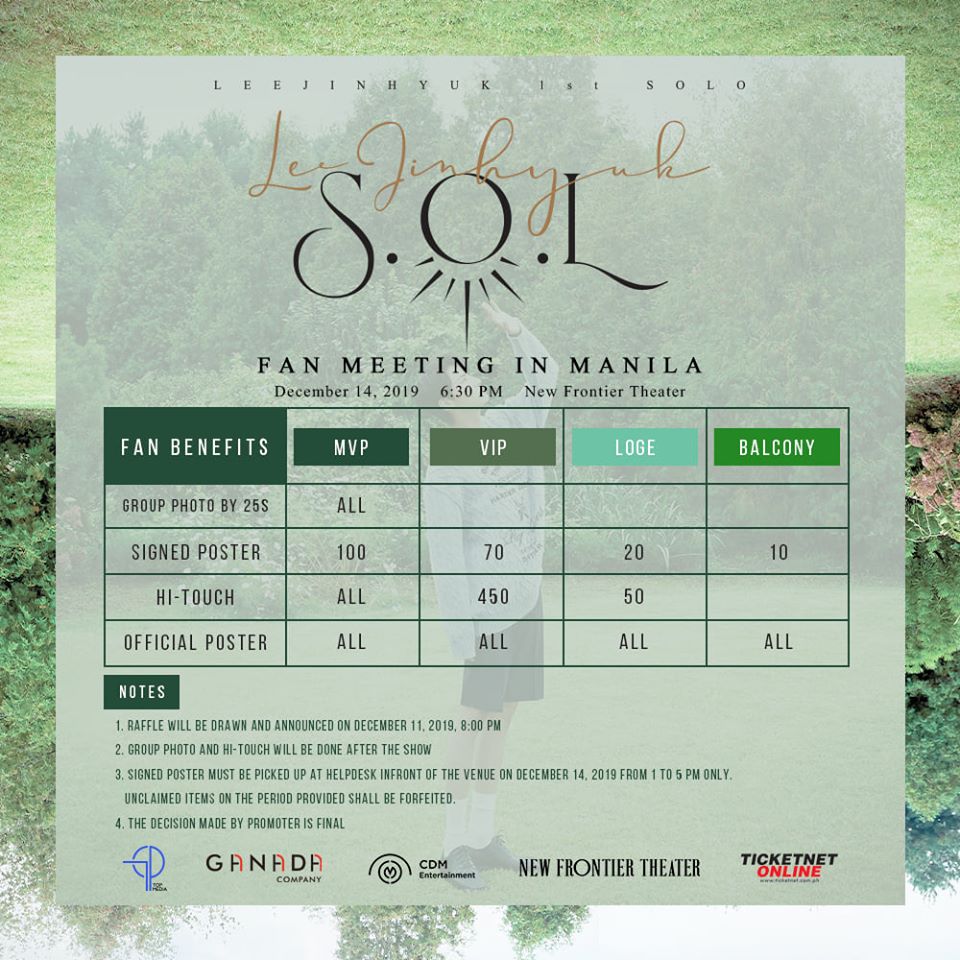 For more information, visit CDM Entertainment's Facebook page.
Details
What: Lee Jin Hyuk S.O.L 1st Solo Fan Meeting in Manila
Where: New Frontier Theatre, Araneta Center, General Mc Arthur Avenue, Quezon City
When: December 14, 2019, 6:30 p.m.
Ticket information: 
Balcony – Php 3,000 (with official poster and a chance to win one of 10 posters signed by Lee Jin Hyuk via raffle draw)
Lodge – Php 4,500 (with a raffle of Hi-touch, official poster, and chance to win one of 20 posters signed by Lee Jin Hyuk via raffle draw)
VIP – Php 6,500 (with a raffle of Hi-touch, official poster, and chance to win one of 70 posters signed by Lee Jin Hyuk via raffle draw)
MVP – Php 8,500 (with a group photo op with Lee Jin Hyuk, Hi-touch, official poster, and a chance to win one of 100 posters signed by Lee Jin Hyuk via raffle draw)
Facebook: CDM Entertainment