Witness PH First Original Full-Length Flamenco Ballet La Luna Roja This November
Dubbed as the Philippines' first original full-length flamenco ballet, La Luna Roja is set to take the stage on November 23 to 24, 2019 at the Carlos P. Romulo Auditorium, RCBC Plaza, Makati City.
The performance is directed by Leo Rialp and produced by Emma Estrada, Fundacion Centro Flamenco's artistic director.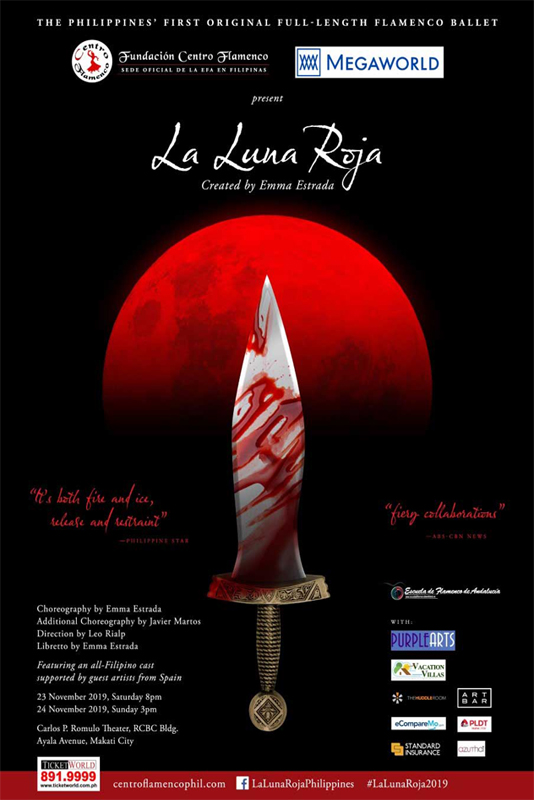 La Luna Roja or The Red Moon is a tale of love and betrayal as a sorceress bestows a curse upon a village out of revenge when her son falls victim to the charms of one of the village locals.
Whenever the red moon rises, women are doomed to desire after the men who enter the village—then try to kill them. The sorceress' curse can only be broken by an act of true love.
Catch the stunning performance of Maestra Emma Estrada's La Luna Roja, the Philippines' first full length flamenco ballet!At the Carlos P. Romulo Theater, RCBC Makati, 8:00pm on Saturday November 23 and 3:00pm on Sunday, November 24.Ticket prices start at P1,000. Get yours now at Ticketworld https://www.ticketworld.com.ph For more details visit – https://www.facebook.com/LaLunaRojaPhilippinesSpecial thanks to Fundación Centro Flamenco and Megaworld Corporation.

La Luna Rojaさんの投稿 2019年10月22日火曜日
La Luna Roja was first staged in 2012 as a condensed version of the entire story during the annual performance of Fundacion Centro Flamenco. Said version only featured the second act of La Luna Roja and focused on the village centuries after the curse has taken hold of it.
It wasn't until 2017 that the production was presented in its entirety. This version delved into the origins of the curse, making it more poignant. It also explores darker themes such as betrayal and suicide.
Unlike the first staging, the 2017 version did not have the comforts of a happy ending.
What's the story behind such deep emotion?… She's no ordinary village woman in that quaint little town in the south of…
The production highlights an all-Filipino cast led by Grupo Nuevo Flamenco with special participation from Spanish artists to honor Spain, the birthplace of Flamenco.
Said artists include Javier Martos, who has also performed in the 2017 run of the show, Isaac Barbero, Ruben Campos, among others.
Tickets are available via TicketWorld online and TicketWorld outlets nationwide.
Details
What: La Luna Roja
Where: Carlos P. Romulo Auditorium, 4/F RCBC Plaza, Ayala Ave., cor. Gil Puyat Ave., Makati City
When: November 23 to 24, 2019
November 23 – 8 p.m.
November 24 – 3 p.m.
Ticket Information: Tickets are available via TicketWorld.
Price Zone 1 – Php 2,000
Price Zone 2 – Php 1,500
Price Zone 3 – Php 1,000
Website: centroflamencophil.com
Facebook: facebook.com/LaLunaRojaPhilippines