Catch Being Leonardo da Vinci, An Impossible Interview Play in Manila
While Leonardo da Vinci is recognized for his contributions in the fields of art, science, engineering, architecture, and anatomy, many might not know the story of the man behind the Mona Lisa, The Last Supper, and Vitruvian Man. That's where Being Leonardo da Vinci, An Impossible Interview comes in!
The play aims to showcase da Vinci's true story, happening on November 21, 2019 at the CCP Little Theater, Pasay City.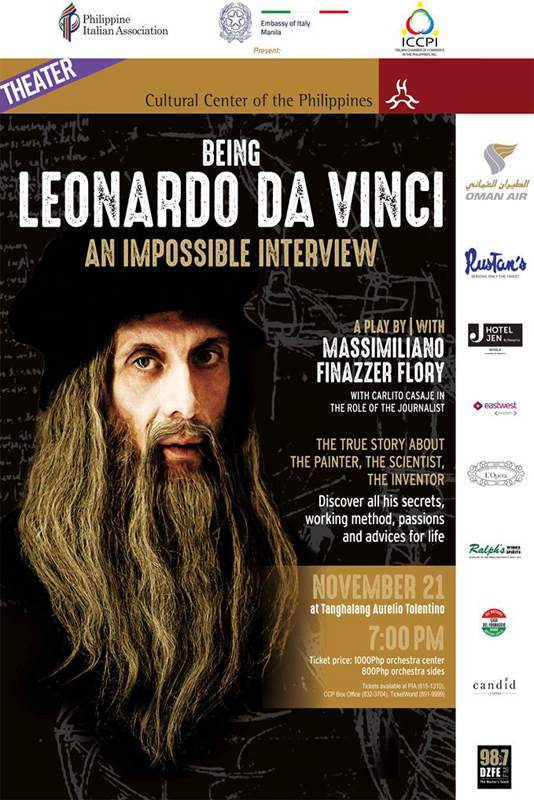 The play culminates Leonardo in Manila, an event series that celebrates the life of da Vinci.
Renowned Italian director and actor, Massimiliano Finazzer Flory, will play the role of da Vinci. Clad in period clothes and make-up that reconstruct da Vinci's face, Finazzer Flory will perform in Renaissance language with original texts written by da Vinci himself.
This impossible interview will be conducted by Filipino actor and director Carlito Casaje, who takes the role of a journalist. Together, the two will go through the vibrant life of da Vinci from his childhood to his paintings.
Leonardo da Vinci will offer maxims and aphorisms to live by in these modern times.
LEONARDO IN MANILAAll the activities, one by one!!
Also expect a series of talks, masterclasses, film screening, and even a cook-off that will take place from November 13 to 21, 2019.
Now on Roxas Boulevard, in front of the Cultural Center of the Philippines, the teaser of Being Leonardo da Vinci, an impossible interview – The Play!#LeonardoInManila#Leonardo500Manila

Leonardo in Manilaさんの投稿 2019年10月30日水曜日
The play is performed in English and Renaissance Italian (with English subtitles). Take note that, as this is a one-act play, there will be no intervals or breaks.
Before being presented in the Philippines, Being Leonardo da Vinci has been staged in other countries such as Switzerland, Russia, Japan, France, and Italy, da Vinci's home country.
Tickets are available at TicketWorld online and Ticketworld outlets nationwide.
Details
What: Being Leonardo da Vinci, An Impossible Interview – The Play
Where: CCP Little Theater, CCP Complex, Roxas Blvd., Pasay City
When: November 21, 2019, 7 p.m.
Ticket Information: Tickets are available via TicketWorld online and TicketWorld outlets nationwide.
Price Zone 1 – Php 1,000
Price Zone 2 – Php 800
Website: philippineitalianassociation.org
Facebook: facebook.com/leonardoinmanila