Learn More About Philippine Animation at Animahenasyon 13
Many Filipinos have been acknowledged worldwide because of their talent in animation, and Animahenasyon continues to celebrate this for 13 years now.
Animahenasyon 13 is happening on November 8, 2019 at the Samsung Hall, SM Aura Premier, Taguig City.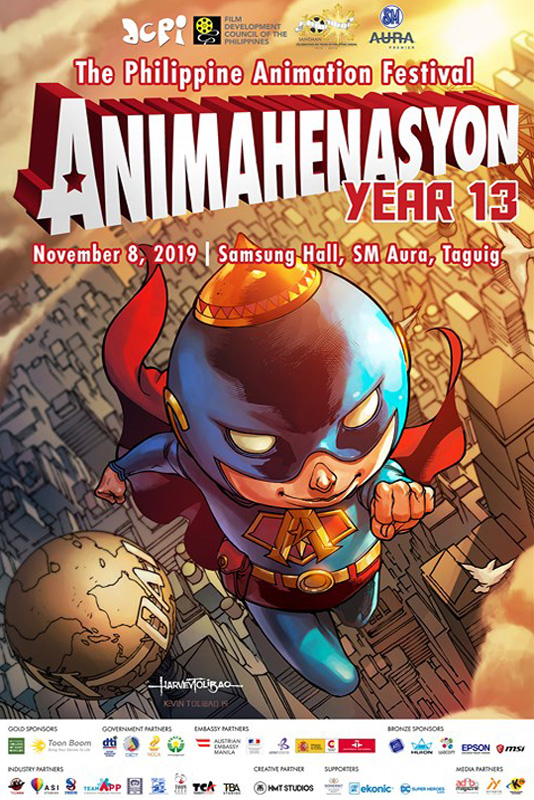 With the theme Our Stories Matter, Animahenasyon 13 aims to explore the beauty and complexity of the Filipino culture. Stories and ideas from the culture can inspire content that could help propel the country's animation industry towards a future of shows and movies .
This year's events include a series of film screenings that feature entries for the animation contest, works from the members of the Animahenasyon association, as well as selected works from around the world.
Animation Council of the Philippines, Inc. proudly presents Animahenasyon 13, an annual Philippine animation festival. This year's theme is "Our Stories Matter". This year, we aim to show how Filipino culture is just as complexed and multilayered as its people. Their stories and ideas can be developed into unique content that could propel the Philippine animation industry forward towards a future of locally produced films and TV series that connect with both local and global audiences.Join us on November 8, 2019, we will be at Samsung Hall, SM Aura with our guest speakers: Kitaro Kosaka, Mikki Crisostomo, Pancho Burgos-Goizueta, Carl Papa, Harvey Tolibao, Avid Liongoren, and Gomesh KarnchanapayapTicket prices:Students are Php 400Individuals are Php 500To purchase tickets, please visit http://www.animahenasyon.com/registrationLike and follow us on Facebook and Twitter for updates at fb.me/animationcouncilPH | fb.me/AnimahenasyonPH | twitter.com/animahenasyonPoster design by HMT StudiosFor questions and concerns, please feel free to contact us at secretariat@animationcouncil.org or dial 88172727.. . . . . . . . . .Animahenasyon 132019 Philippine Animation FestivalNovember 8, 2019Samsung Hall, SM Aura#Animahenasyon13 #PhilippineAnimation

Animahenasyon PH: The Philippine Animation Festivalさんの投稿 2019年10月30日水曜日
There will also be a conference that is composed of plenary sessions, workshops, and breakout sessions on the concerns, issues, and topics on animation. Some of the topics covered include new approaches and trends, animation education, and copyright issues.
Further, speakers for this year's conference are Kitaro Kosaka who is known for his works with Studio Ghibli, Mikki Crisostomo who currently works as a staff writer for Disney TV Animation, and Pancho Burgos-Goizueta who is known for his work on music scores for films and the likes.
Kosaka, Crisostomo, and Burgos-Goizueta are just three of the many speakers that will appear at Animahenasyon.
Additionally, Animahenasyon will hold a competition to find the best of Filipino animation from professionals and students. Victors of this competition will receive trophies and cash prizes.
Tickets for Animahenasyon are available on-site and via their website.
Details
What: Animahenasyon 13
Where: Samsung Hall, 6/F SM Aura Premier, 26th St. cor. McKinley Pkwy., Taguig City
When: November 8, 2019, 9 a.m.
Ticket Information: Tickets are on-site and at Animahenasyon's website.
Students – Php 400
Individuals – Php 500
Website: animahenasyon.com
Facebook: facebook.com/AnimahenasyonPH