Catch Sam Tsui's The Gold Jacket Tour LIVE in Manila
Sam Tsui fans are in for a treat as he takes the stage with his The Golden Jacket Tour on November 25, 2019 at the SM Sky Dome, SM North EDSA, Quezon City.
Known for his arsenal of amazing YouTube covers, Sam Tsui has long made a name for himself and is considered as a pioneer for paving the way for a generation of YouTubers to gain a massive audience.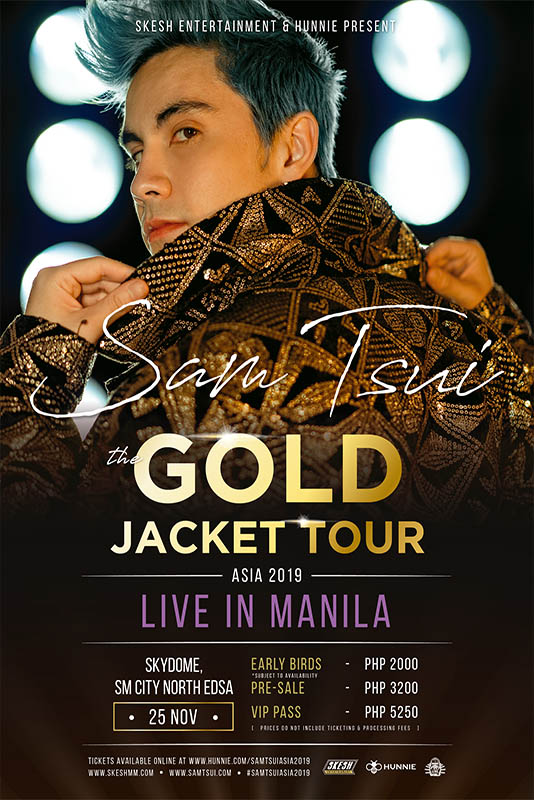 Sam Tsui is known for covers of songs by artists such as Adele, Britney Spears, Lady Gaga, Bruno Mars, and Justin Timberlake, among others.
He became a prominent figure during the "Golden Era" of YouTube, which allowed his popularity and that of his fellow YouTube singers to rise immensely.
Many of his fans may remember Tsui's collaborations with various YouTubers such as Kurt Hugo Schneider and the late Christina Grimmie.
In 2015, Tsui and Schneider got nominated at the Dahsyatnya Awards for the Outstanding Guest Star category. Their nomination not only showed their impact but also their influence as rising internet stars.
At present, Tsui's videos have amassed over 500 million hits on YouTube alone, while his subscriber count hit three million in August 2018.
His popularity has allowed him to appear in various TV programs and magazines including The Ellen DeGeneres Show and the Ophrah Winfrey Show. Tsui has also partnered with brands like Coca Cola and Samsung.
Tsui's musical journey is not limited to YouTube alone. In fact, he released his first cover album in 2010 and a full-length album in 2013. His latest release is his 2010 album titled Trust, which was warmly received by his worldwide fan-base.
Witness exceptional performance as Sam Tsui serenades you for the night! Tickets are available at Hunnie's website. Note that gates open at 6 p.m.
Also read: Ella Mai Is Coming to Manila for the First Time This November
For more information, you may visit Hunnie's official website and Facebook page. You may also visit PULP Live World's official website and Facebook page.   
Details
What: Sam Tsui: The Golden Jacket Tour Live in Manila
Where: SM Sky Dome, SM North EDSA, North Ave., Bago Bantay, Quezon City
When: November 25, 2019; Gates open at 6 p.m. and the show starts at 8 p.m.
Ticket Information: Tickets are available at Hunnie.
Early Bird – Php 2,000 (subject to availability)
Pre-Sale – Php 3,200
VIP Pass – Php 5,250 (includes Meet and Greet and Photo Opportunity)
Website: hunnie.com
---
This is a press release. Edits were made prior to publishing. 
Images courtesy of PULP Live World.