Explore J-Culture at the Cosplay Matsuri 2019
Experience joyful festivities of the Japanese culture at the Cosplay Matsuri 2019, which will take place on December 28 to 30, 2019 at the SMX Convention Center Manila, MOA Complex.

For its fourth year, the annual event of Cosplay.Ph continues to introduce the unique features of anime, gathering J-Culture fans, cosplayers, and artists together.
On top of that, Cosplay Matsuri 2019 highlights diverse activities to further appreciate the beauty of anime and cosplay, including the Anisong It Singing Contest and Dokuen Cosplay Competition.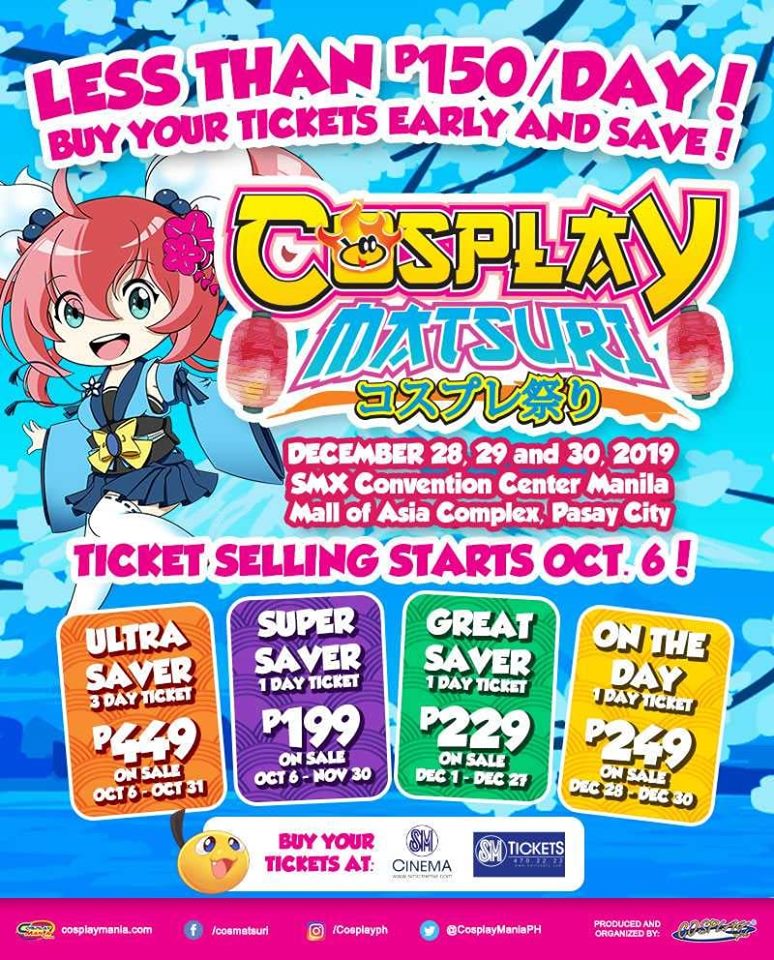 Participate in the Doujin Cosplay Competition if you've been wanting to create your own Doujin Story. Showcase your imaginative ideas and perform it on stage for the audience to enjoy!
Apart from the cosplay competitions, challenge yourself at the "That Name is…" Name Game, and test your familiarity with different anime shows. Moreover, you can score great deals at the Cosplay Auction!
Hong Kong-based cosplayer Olivie will also be present on the awaited year-end cosplay festival. She portrayed characters like Nero Claudius and Scathach of Fate Grand Order, Sword Maiden of Goblin Slayer, and Saki Nikaido of Zombieland Saga.
Further, participants can witness interactive booths like Sumo Skirmish, Cosplay Diorama, and Charms Wall!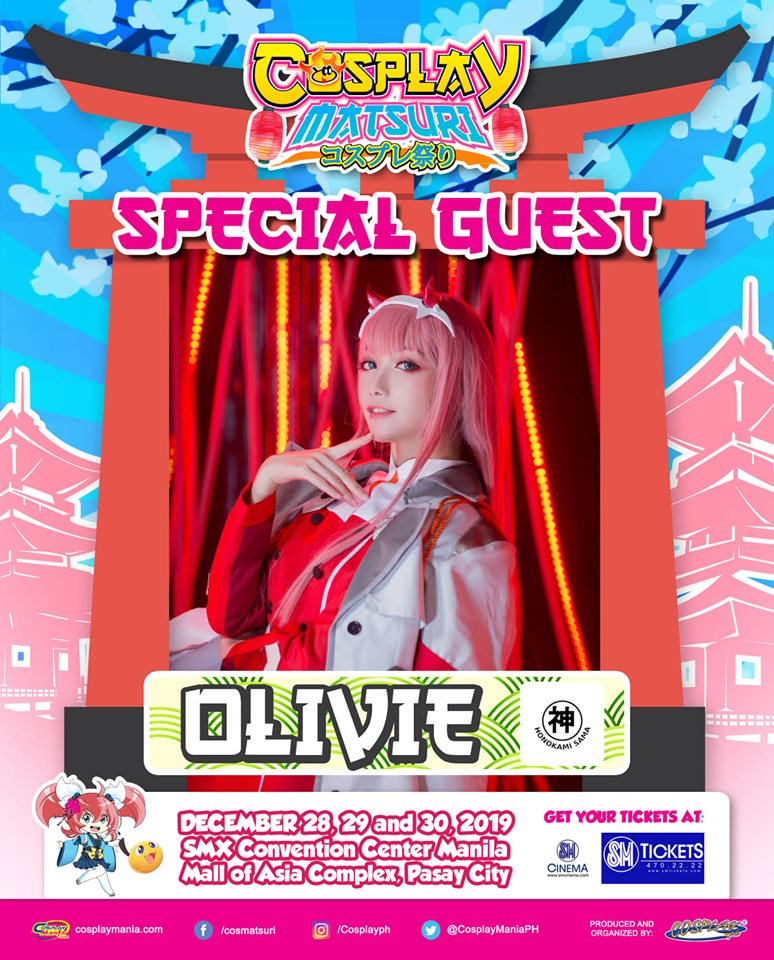 Buy your ticket now and explore the world of anime! Tickets are available at all SM Tickets outlets nationwide.
Details
What: Cosplay Matsuri 2019
Where: SMX Convention Center Manila, Mall of Asia Complex, Pasay City
When: December 28, 29, and 30, 2019
Ticket Information: Tickets are available at SM Tickets Outlets nationwide and SM Tickets Online.
Ultra-Saver 3-day ticket- Php 449 on sale October 6-October 31
Super Saver 1-day ticket- Php 199 on sale October 6- November 30
Great Saver 1-day ticket- Php 229 on sale December 1- December 27
On the day 1-day ticket- Php 249 on sale December 28- December 30
Facebook: facebook.com/cosmatsuri

---
Source: Cosplay Matsuri