U2 Brings The Joshua Tree Tour to Manila This December
The "world's biggest band" is coming to Manila for the first time ever! U2's The Joshua Tree Tour is happening on December 11, 2019 at the Philippine Arena, Bulacan.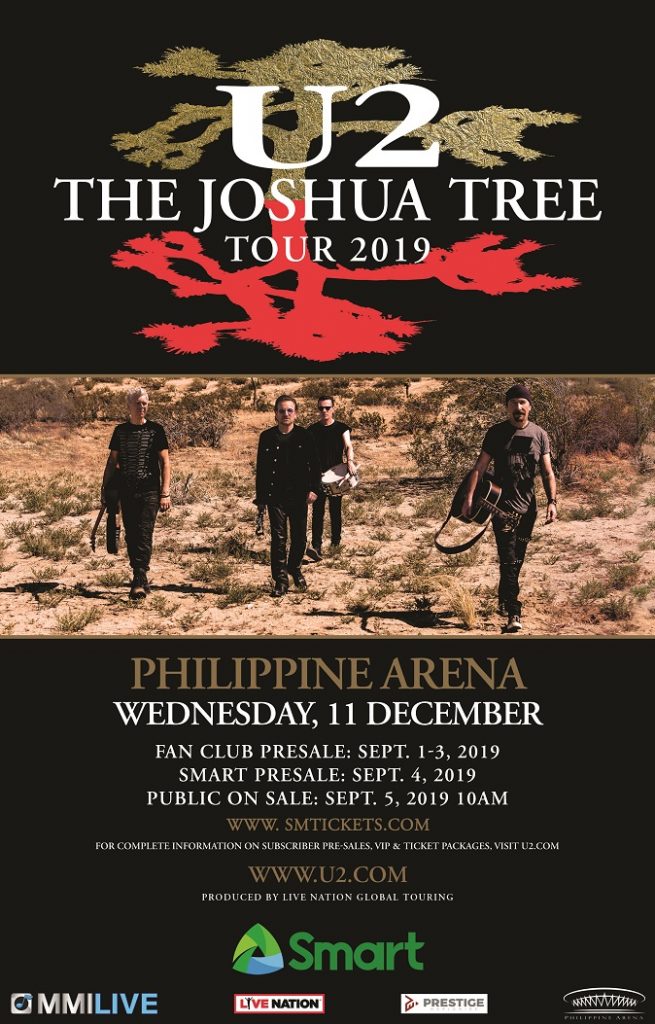 The Joshua Tree, released in 1987, is arguably U2's best album. With the perfect combination of heavy guitar riffs, politically powered lyrics and beautiful rhythms, the quintessential record propelled the band to where they are right now.
And of course, it has With or Without You, one of the band's biggest songs ever.
Tickets are already on sale on smtickets.com. Check out the prices below:
VIP Floor –  Php 5,250
Red Zone – Php 17,950
Lower Box A Premium –  Php 20,499
Lower Box A Regular –  Php 19,499
Lower Box B Premium – Php 17,999
Lower Box B Regular –  Php 16,999
Upper Box A Premium – Php 15,999
Upper Box A Regular – Php 14,499
Upper Box B Premium A – Php 8,499
Upper Box B Premium B – Php 7,499
Upper Box Regular – Php 4,499
Upper Box Side – Php 2,499
The first show for The Joshua Tree Tour 2019 is happening in Auckland on November 8, followed by shows in Brisbane, Adelaide, Melbourne, Sydney, and Perth.
Aside from Manila, they will have three more stops in Asia, namely Singapore, Tokyo, and Seoul.
For more information, you may visit MMI Live's website.
Details
What: The Joshua Tree Tour 2019 in Manila
Where: Philippine Arena, Ciudad de Victoria, Santa Maria, Bulacan
When: December 11, 2019
Tickets: On sale at smtickets.com
Contact: 02-846-9450
Website: mmilive.com/u22019
Facebook: facebook.com/mmilive
---
Sources: LiveNation, MMI Live
Images grabbed from MMI Live