Coslandia Continues to Celebrate J Culture on Their 2nd Year
Mark your calendars for the return of Coslandia, the ultimate Japanese culture (J Culture) festival! It's happening on November 1 to 3, 2019 at the SMX Convention Center, SM Aura, Taguig.
This three-day event is packed with activities, entertainment, and guests that showcase the latest trends in J Culture—specifically in the areas of idols, manga, anime, cosplay, e-sports, and gaming.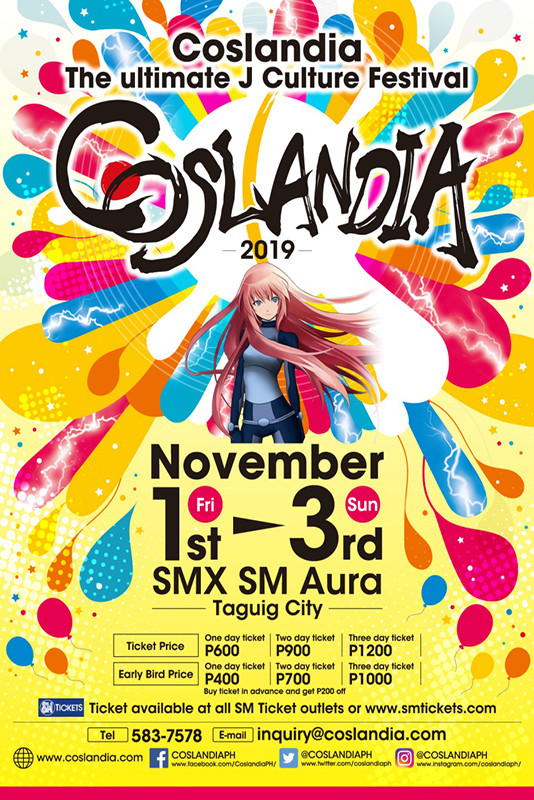 Spearheaded by Hallohallo Entertainment Inc., Coslandia aims to bring Japan closer to J culture enthusiasts in the Philippines and the world, allowing guests to experience authentic pop culture that includes food, entertainment, fashion, and more.
The success of last year's Coslandia paved the way for it to return this year, and this time, with more exclusive content.
Coslandia 2019's announcement was kicked-off with the reveal of their initial line-up of guests, including the country's own idol group MNL48 and J-Pop idols namely 1-Girl, Reverse Tokyo, Samero, Hazuki Tsubasa, Yuasa Michiru, Gracorex, Fairytales, "TJ" Hirotoshi Maeda, and Pastel Mix.
Brace yourselves for our first announcement today! Catch Philippines' idol group @MNL48 onstage as they perform at #Coslandia2019 with their hits. That's not all, battle the MNL48 girls out in online games and snag their special merchandise from the MNL48 Booth. See you on November 1, 2 and 3, 2019 at SMX Convention Center, SM Aura Premier! Follow our social media accounts for more updates: Facebook/Twitter: @CoslandiaPH Instagram: @coslandiaph Website: http://coslandia.com/ See you there! #Coslandia2019 #MNL48OnCoslandia #IkawAngMelodyMNL48 #4thSingleMNL4

Coslandiaさんの投稿 2019年7月31日水曜日
Otakus are in for a treat as the creator of the manga series Seikimatsu Blue Shintaro Hirota will be gracing the event. Also expect director Tetsuya Hashi and the cast of the Seikimatsu Blue film adaption for a special activity and appearance.
Leading international Cosplay magazine COSplay Mode, meanwhile, will offer fun and exciting activities. They are also bringing Japanese cosplay star Charisma Cosplay with them.
Further, the World Cosplay Summit Team Philippines will grace the event as they share their knowledge and expertise for aspiring cosplayers who wish to be a part of the team.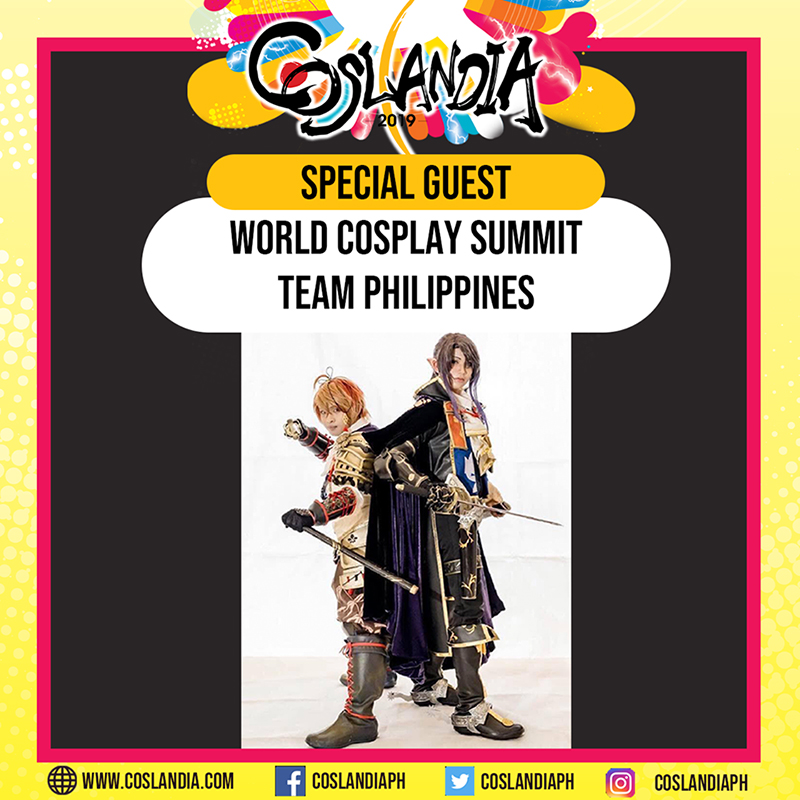 Other exciting updates and announcements including those of sponsors, partners, exhibitors, talents, and activities are expected to be revealed in the coming weeks.
These include more idol performers, anime voice actors, singers, international & local cosplayers, manga & anime artists, e-sport tournaments, among many others.
Whether you're an otaku, cosplay fanatic, or interested in J Culture, you wouldn't want to miss out on the second Coslandia! Tickets are available at all SMTicket outlets nationwide and SMTicket online.
Details
What: Coslandia 2019
Where: SMX Convention Center Aura, 3rd and 4th Levels, SM Aura Premier, 26th St. Cor. McKinley Pkwy., Taguig City
When: November 1 to 3, 2019
Ticket Information: Tickets are available at SMTicket Outlets nationwide and SMTickets Online.
Early bird ticket prices (Until October 15, 2019)
One-day ticket – Php 400
Two-day ticket – Php 700
Three-day ticket – Php 1,000
Regular ticket prices
One-day ticket – Php 600
Two-day ticket – Php 900
Three-day ticket – Php 1,200
Website: coslandia.com
Facebook: facebook.com/CoslandiaPH
---
This is a press release. Edits were made prior to publishing.
Images courtesy of Coslandia.