10 Films to Catch at the Tingin ASEAN Film Festival
It is undeniable that Southeast Asia is one of the world's culturally diverse areas. For the past years, depicting social issues on the big screen has been an effective avenue to educate viewers about a specific country. 
One of the most awaited film festivals in the Philippines, Tingin ASEAN Film Festival, is happening on September 26 to 29, 2019 at the Shangri-La Plaza Red Carpet Cinema.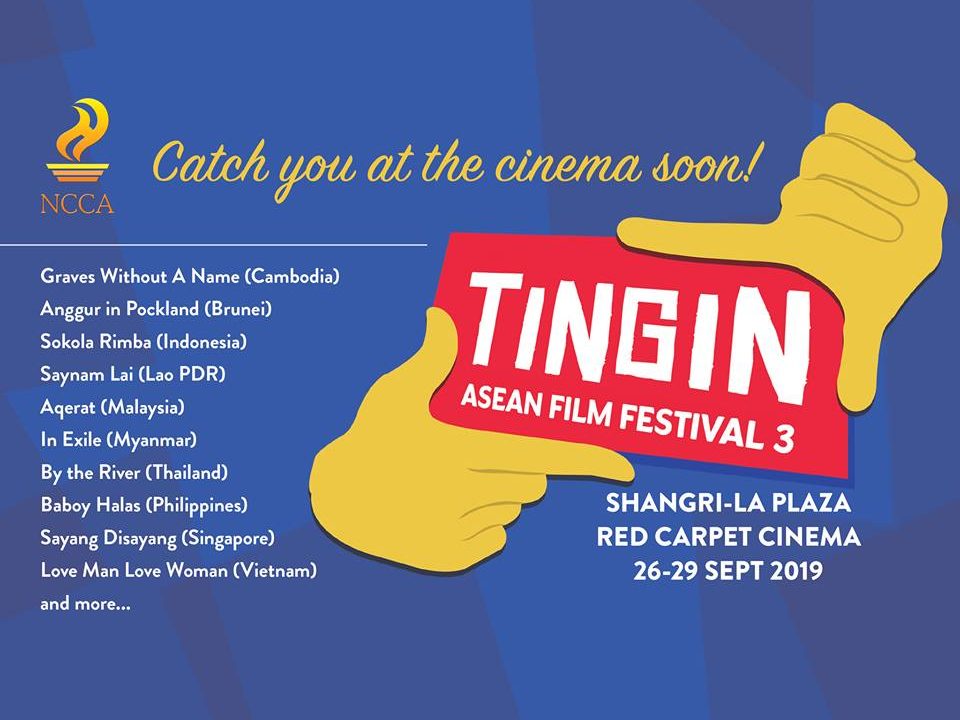 The National Commission for Culture and the Arts (NCCA), together with the Film Development Council of the Philippines (FDCP) and the Shangri-la Plaza Red Carpet Cinema, is bringing together 10 films from participating ASEAN countries, including Indonesia, Malaysia, Philippines, Singapore, Thailand, Brunei Darussalam, Laos, Myanmar, and Cambodia.
This event highlights the true beauty of cinematic works—how it can change an individual's perception regarding rampant issues around the globe. Here is the lineup of films included in the film festival:
Featured Films
By the River (Thailand)
By the River is a feature documentary about the deep forests of Kanchanaburi in Klity Village, wherein locals' way of living is spearfishing from a river contaminated with lead due to a close-by factory.
Sayang Disayang (Singapore)
Sayang Disayang is a local Malay film that revolves around an Indonesian caregiver and a disabled Singaporean master. The master is rude to anyone who tries to have a conversation with him. These two people had no choice but to live together due to circumstances that they can't control such as poverty and disability.
Baboy Halas (Philippines)
Baboy Halas is a story about an indigenous family, one of the oldest forest people, tries to cope up with the rapid change in their community including the impressive lifestyle and more sociable indigenous tribes.
In Exile (Myanmar)                                     
Exile revolves around migrants who are desperate during the Myanmar civil war and went to Thailand, where they worked as slaves.
Sokola Rimba (Indonesia)             
SAVE THE DATES: 26-29 Sept 2019Sokola Rimba (Indonesia) will be screened at the Shang Cineplex for theTingin ASEAN Film Festival 3.

Tingin ASEAN Film Festivalさんの投稿 2019年8月2日金曜日
Sokola Rimba is a story about a young woman who explores the jungles of Indonesia to educate the local children.
The River Flows (LAO PDR)               
SAC ASEAN Film Festival ศูนย์มานุษยวิทยาสิรินธร (องค์การมหาชน) ปี 2018 นี้ มีหนังดีจากประเทศลาวมาฉายให้ติดตามกันด้วยค่ะ"THE RIVER FLOW" เป็นหนังจากประเทศลาวที่ได้ร่วมทุนสร้างกับประเทศญี่ปุ่น โดยผู้กำกับ มาโคโตะ คุมาซาว่า นำแสดงโดย Yuta Note และ Thida Sithisay ความยาว 112 นาที #ฉายวันที่9กันยายนนี้ เวลา 14.00 – 16.00 น. ที่ หอประชุม ศูนย์มานุษยวิทยาสิรินธร (องค์การมหาชน)สำรองที่นั่งโดยไม่เสียค่าใช้จ่ายได้ที่ http://www.sac.or.th/activity/register/264สอบถามรายละเอียดโทร. 0-2880-9429 ต่อ 3834"ปี 1960 วิศวกรหนุ่มชาวญี่ปุ่นนามว่า คาไว ได้เดินทางไปยังประเทศลาวเพื่อทำการวิจัยก่อสร้างเขื่อนที่นั่น อย่างไรก็ตาม หลังจากประสบอุบัติเหตุร้ายแรงระหว่างทำงาน ก็ไม่มีใครได้ยินเรื่องราวของเขาอีกเลย ตัดมาที่ปี 2015 ช่วงเวลาที่ประเทศลาวกำลังพัฒนาอย่างรวดเร็ว น้อย เด็กสาวคนหนึ่งได้พบกับเหตุการณ์มหัศจรรย์ที่พาเธอย้อนกลับไปในปี 1960 และได้พบกับเพื่อนต่างยุคชาวญี่ปุ่น"

SAC – Bank of Anthropological Dataさんの投稿 2018年8月17日金曜日
The River Flows revolves around a girl who travels back to 1960 and meets a Japanese surveyor working on a hydropower project.
Agerat (Malaysia)                   
Agerat is a story about a woman who works in a restaurant in order to earn enough money to go to Taiwan. Her money is stolen and she ends up working in a human trafficking syndicate.
Graves Without a Name (Cambodia)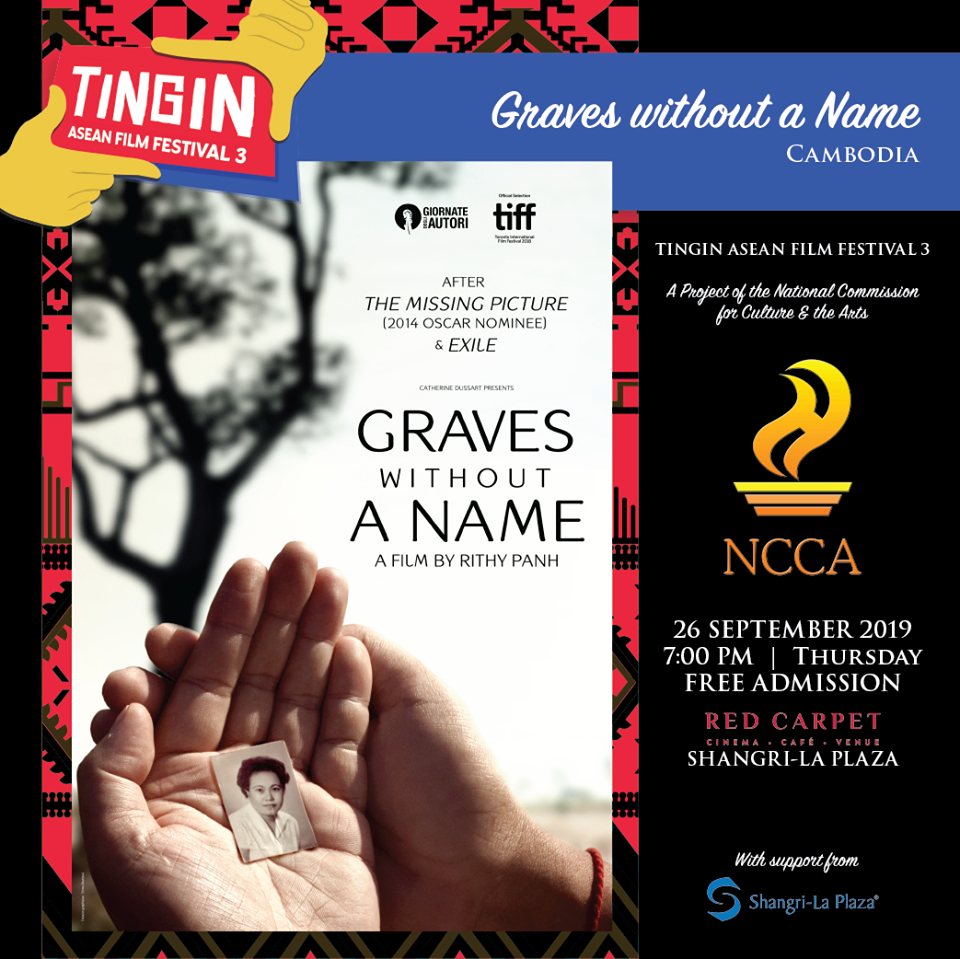 Graves Without a Name is a documentary about a 13-year-old boy who loses most of his family members in the 1970s during the Khmer Rouge's tyrannical rule and begins to search for their remains.
Anggur in Pockland (Brunei)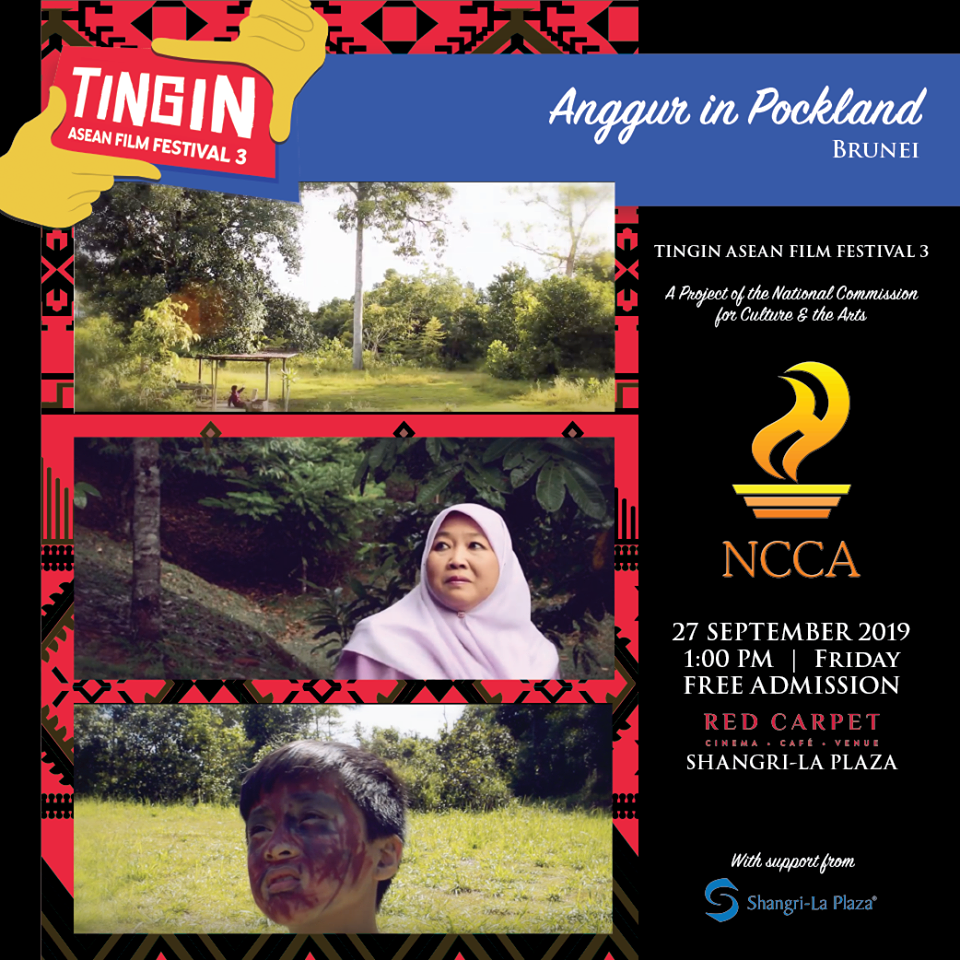 Anggur in Pockland is about individuals who don't know their purpose. They find these magical grapes to escape and stay in the worry-free place, Pockland, and forgets about the realities of life.
Love Man, Love Woman (Vietnam)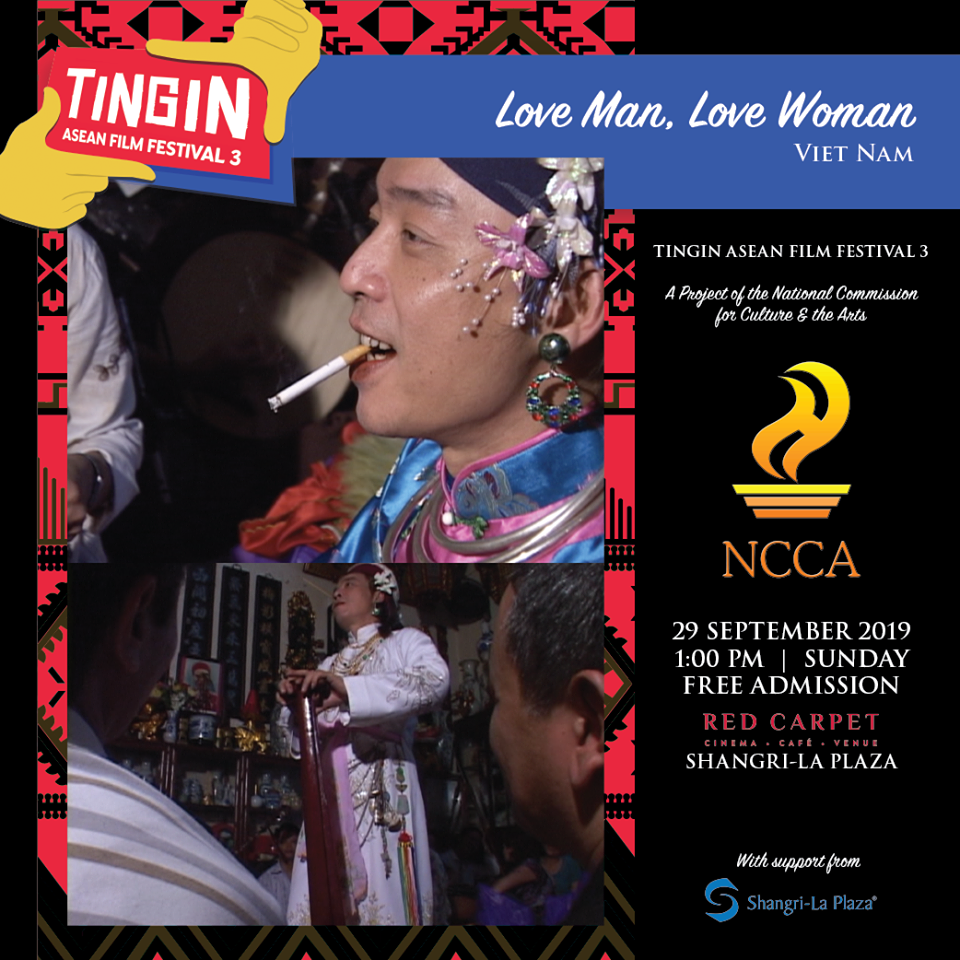 Love Man, Love Woman explores how gay men in Vietnam express themselves in the country's popular God, Dao Mau.
Also read: Japan Fiesta Celebrates The Vibrant Japanese Culture This November
Aside from the award-winning films to watch, you should not miss out on learning from renowned artists like Bagane Fiola, Nontawat Numbenchapol, and Edmund Yeo!
Admission will be on a first-come, first-entry basis so make sure that you come early!
Details
What: Tingin ASEAN Film Festival 3
When: September 26 to 29, 2019
Where: Red Carpet Premier Theater, 6/F Shangri-La Plaza, EDSA cor. Shaw Boulevard, Ortigas Center, Mandaluyong City
Facebook: facebook.com/TinginASEANFilmFest
Admission: Free
---
Images grabbed from Tingin Film Festival