Get Lost in Music, Art, and Dance at the HUEniverse Music Festival 2019
An out-of-this-world music festival is happening on September 28, 2019 at the Filinvest City Events Grounds!
HUEniverse Music Festival wants you to forget about your troubles for a night by dancing and singing your hearts out to the hippest homegrown and international artists included in their stacked line-up.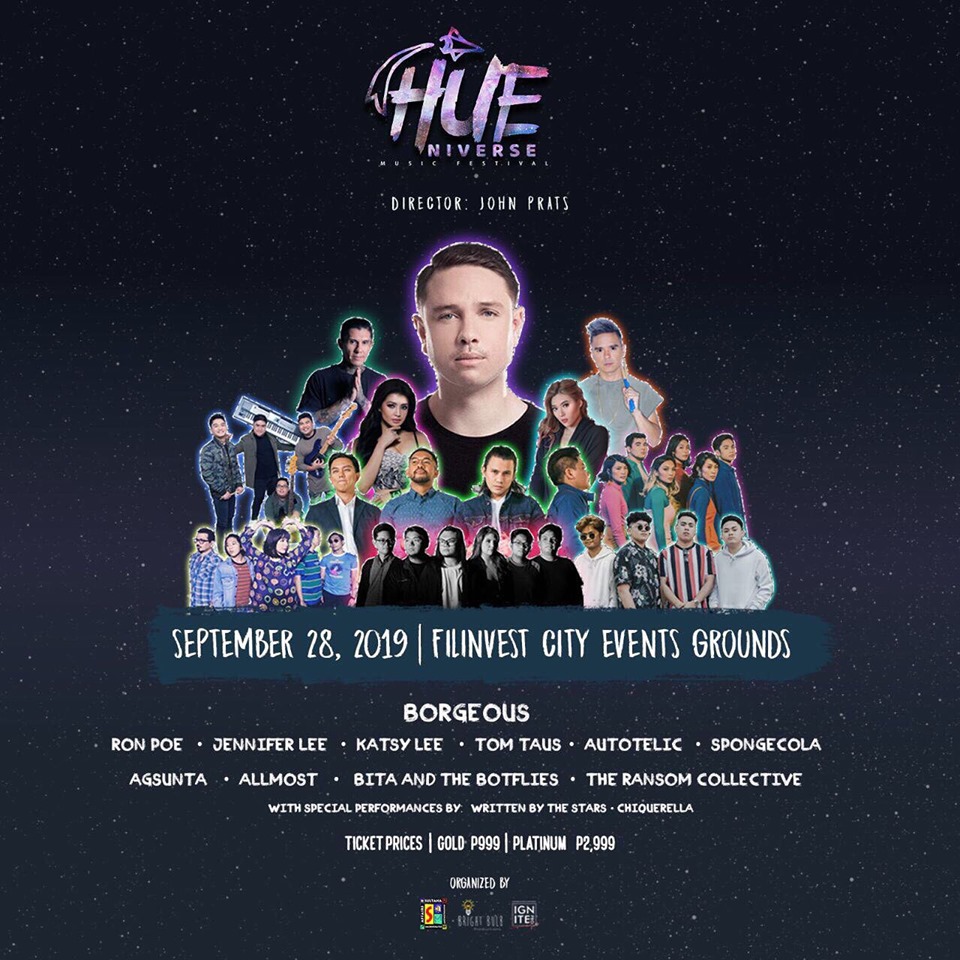 Headlining the festival is highly-acclaimed international DJ BORGEOUS, who produced one of the sickest beats that rocked the world back in 2013, Tsunami.
Local DJs Ron Poe, Jennifer Lee, Katsy Lee, and Tom Taus will also be there to hype the crowd from start to finish so make sure you have all the energy to rave!
Buckle up as we get ready to launch to the HUEniverse and escape the whirpools of the world at the Filinvest City Events Grounds on September 28, 2019 and experience explosive bursts of tunes and beats like TSUNAMI by the massive world class and award winning DJ/ producer — BORGEOUS! 🚀🌟#Hueniverse2019 #areHUEready

HUEniverseさんの投稿 2019年7月30日火曜日
The line-up for performing bands is a mix of varied genres and styles, making it perfect for all kinds of festival-goers.
Spongecola, a long-time favorite Filipino rock band, will make the crowd of festival-goers nostalgic, happy, and sad at the same time with their classic hits.
On the other hand, fresh indie bands Autotelic, Agsunta, Bita and the Botflies, and The Ransom Collective, alongside special performances by up and coming bands Written by the Stars and Chiquerella will give a taste of the current landscape of Filipino music.
Don't forget Almo$t, the group that sang about Filipina beauty and falling in love with it in their hit song Dalagang Filipina.
Prepare your suits and ignite your rockets as we journey through the cosmos this September 28,2019 at the Filinvest City Events Grounds by these stars.🚀#HUEniverse2019 #AreHueReady

HUEniverseさんの投稿 2019年7月20日土曜日
Party with a cause as proceeds of the festival will go to the HUEniverse Foundation for the elderly.
Fun fact: the organizers of HUEniverse, Bright Bulb Productions, is founded by Filipino celebrities John Pratts, Angelica Panganiban, and Sam Milby. Pratts will also direct the show.
Just for fun, festival-goers are advised to wear the color of their relationship status. Check out their website for the complete event guideline.
The festival will run from 3 p.m. to 4 a.m., with registration starting at 1 p.m.
You can buy tickets now at any SM Tickets outlets nationwide or online. The tickets are priced at Php 999 for Gold and Php 2999 for Platinum.
Details
What: HUEniverse Music Festival
Where: Filinvest City Events Grounds, Bridgeway Ave, Alabang, Muntinlupa City
When: September 28, 2019 from 3 p.m. to 4 a.m.
Tickets: Php 999 for Gold / Php 2999 for Platinum
Website: hueniverseph.com
Facebook: facebook.com/hueniverseph

---
Source: HUEniverse's website and Facebook page
Images grabbed from hueniverseph.com