Icon Manila Returns with An Exciting Lineup of Artists
Calling all aspiring and professional digital artists! Icon Manila is once again happening this September 20 to 21, 2019 at the Samsung Hall, SM Aura Premier, Taguig City.
This two-day event is perfect for students and professionals in the entertainment design industry who want to learn more in the fields of animation, film, games, illustration, and visual effects.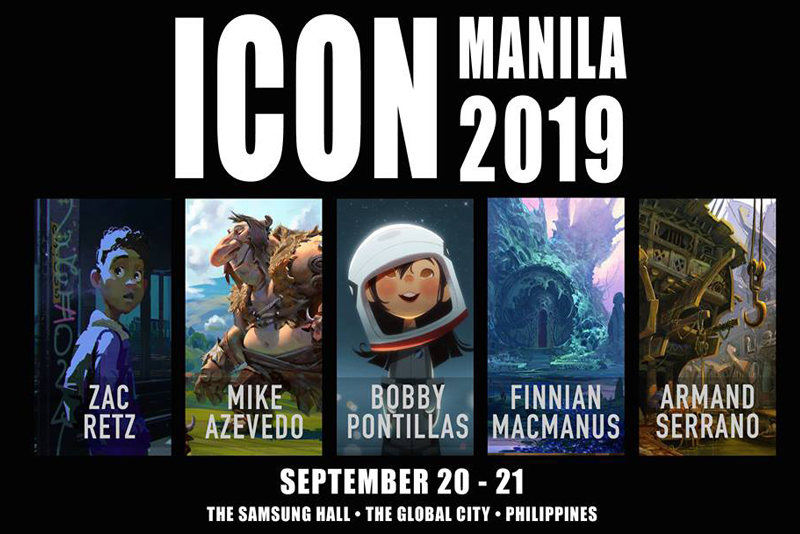 Icon Manila Entertainment Design Gathering is an annual event held by the De La Salle-College of Saint Benilde and The Animation Council of the Philippines.
The event gathers creatives in the field of entertainment design to share their experiences and expertise. This year's speakers are as follows:
Zac Retz, a visual development artist for animated feature films. He creates environment designs, story moment paintings, prop designs, color scripts, paint lighting keys, among others. His portfolio includes Spider-Man: Into the Spider-Verse.
Hailing from Brazil, Mike Azevedo is a freelance illustrator and concept artist. He's worked with companies such as Tencent, VOLTA, Riot Games and Valve, among others. He is currently the CEO and art director of Mar Studio. 
Just wow! Icon Manila 2019 speaker Mike Azevedo ladies and gentlemen! Get your tickets now! www.iconmanila.com

Icon Manilaさんの投稿 2019年3月18日月曜日
Bobby Pontillas, at present, is an art director at Taiko Studios and co-director of their first short film titled One Small Step. He's worked as an animator and character designer for studios, which include Disney Animation, Blue Sky, and Arena Net.
Guess our next speaker for another chance to win a 2 day pass to Icon Manila 2019. We will pick one winner tomorrow. (Hint: Oscar nominee) Get your tickets at www.iconmanila.com

Icon Manilaさんの投稿 2019年3月22日金曜日
Finnian Macmanus works in the film and game industries as a senior concept designer. Some of his recent contributions include The Lion King, Rogue One, and God of War. He finds his inspiration from architecture, history, science fiction, and natural landscapes. 
AscomycotaA creature concept for Creatanuary !! You can find the assets /high res…
Armand Serrano, who currently works at Marvel Studios, is a visual development artist and production designer for animated movies and games. Some of his works include League of Legends, Hotel Transylvania, Zootopia, World of Warcraft, and Big Hero 6. 
Icon Manila speaker Armand Serrano. Get your super early bird tickets now at www.iconmanila.com before it's too late!

Icon Manilaさんの投稿 2019年4月16日火曜日
Icon Manila attendees will each receive a Certification of Participation after the event. It's also worth noting that all the proceeds of Icon Manila will be given to humanitarian and medical missions in the country.
Gear up and join Icon Manila to discover more about the entertainment design industry! Register until August 15 to avail their early bird ticket promo.
For more information, you may visit Icon Manila's official website and Facebook page. 
Details
What: ICON Manila
Where: The Samsung Hall, 6/F SM Aura Premier, 26th St. cor. McKinley Pkwy., Taguig City
When: September 20 to 21, 2019; Program starts at 9 a.m.
Ticket Information: You may purchase tickets and register on their website. They have an early bird ticket promo until August 15.
VIP (Dinner with speakers, 2 days; limited to 50 tickets only)

– Php 10,500

(Regular rate: 12, 500)

Individual (1 day)

– Php 4,000

(Regular Rate: Php 4,500)

Individual (2 days)

– Php 5,500

(Regular Rate: Php 6,000)

Student (1 day)

– Php 2,500

(Regular Rate: Php 3,500)

Student (2 days)

– Php 4,000

(Regular Rate: Php 4,500)

Group; 4 or more (1 day)

– Php 3,500/head

(Regular Rate: Php 4,000/head)

Group; 4 or more (2 days)

– Php 4,800/head

(Regular Rate: 5,500/head)
Website: iconmanila.com
Facebook: facebook.com/iconmaniladesign
---
Images grabbed from Icon Manila's official Facebook page