Watch and Be Inspired by Dani Girl: A Musical About Hope
The Sandbox Collective is bringing back Dani Girl: A Musical About Hope to Manila for their 5th year! The show will run from August 10 to September 1, 2019 at the Carlos P. Romulo Auditorium, RCBC Plaza. 
A musical by Michael Kooman and Christopher Dimond, Dani Girl aims to remind audiences that humans are capable of overcoming life's biggest obstacles.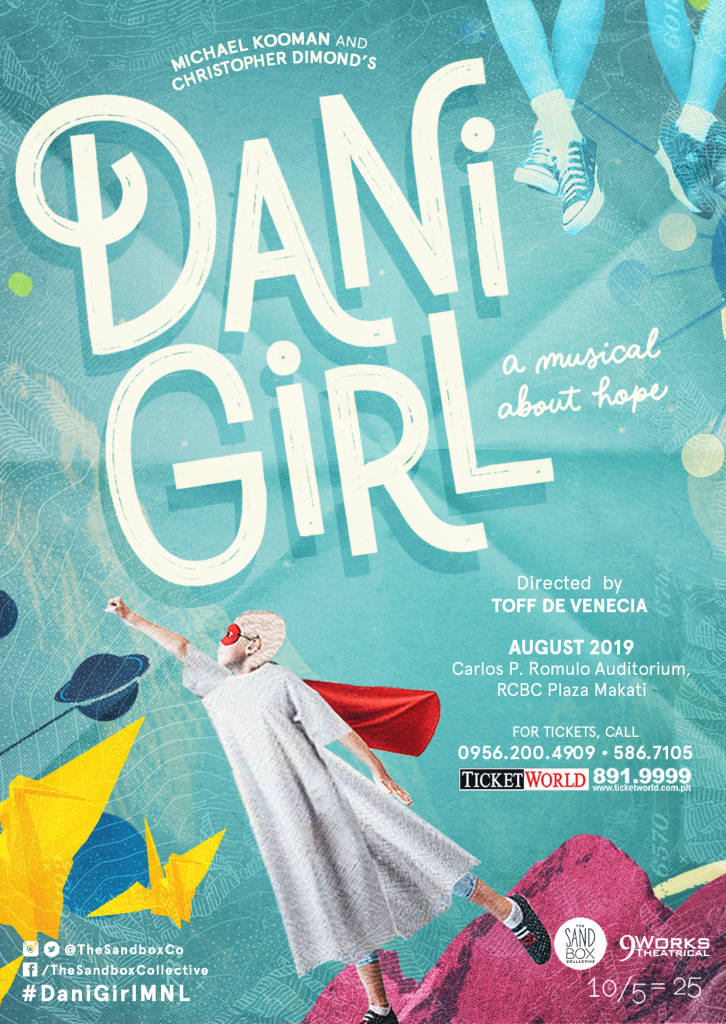 First staged in the Philippines in 2014, this inspiring musical revolves around the character of Dani Lyons, a 9-year old battling acute lymphoblastic leukemia (A.L.L). Dani loses her hair to chemotherapy and sets on a magical quest to find it.
She then embarks on a journey of lightsaber duels, game shows, outer space, and all the silly games in between with her best friend Marty, who is also a cancer patient, and her "guardian angel" Raph. Aside from Dani's hair, the trio also tries to seek the answer to the question "why cancer?" 
Despite her obvious dilemma, Dani's character is stark proof that there is no limit to a child's imagination and determination amidst the most difficult times. 
Cast of Dani Girl: A Musical About Hope
Philstage Gawad Buhay awardee Rebecca Coates will play the title role of Dani alternating with Kyle Napuli. Sharing the role of Marty with Daniel Drilon is Luigi Quesada, who originally played the character in the first run. Raph, on the other hand, will be played by Lorenz Martinez and new cast member Juliene Mendoza.
Finally, Katharine Lyon takes the role of Dani's religious mom, together with Awit award-winning actress Shiela Valderrama-Martinez and Pam Imperial.
Dani Girl: A Musical About Hope is directed by Toff de Venecia and co-produced by 9 Works Theatrical.
For more information, email Sab Jose of The Sandbox Collective or Jonjon Martin of 9 Works Theatrical. You may also visit TicketWorld.
Details
What: Dani Girl: A Musical About Hope
Where: Carlos P. Romulo Auditorium, 4F Tower II, RCBC Plaza,  Ayala Avenue, Makati City
When:

Aug 10 – 3 p.m.
Aug 11 – 3 p.m.
Aug 17 – 8 p.m.
Aug 18 – 8 p.m.
Aug 24 – 3 p.m. & 8 p.m.
Aug 25 – 3 p.m.
Aug 31 – 3 p.m. & 8 p.m.
Sep 1 – 3 p.m. & 8 p.m.
Ticket Information: Reserved Seating
Price Zone 1 – Php 2,000
Price Zone 2 – Php 1,600
Price Zone 3 – Php 1,300
Price Zone 4 – Php 900
---
This is a press release. Minor edits were made prior to publishing.
Images courtesy of The Sandbox Collective.