Theatre Titas PH Presents Macbeth This November
One of the tragedies that William Shakespeare is most known for is Macbeth, with its tale being retold by many productions all over the globe.
This November, Theatre Titas PH presents their rendition of this Shakespearean classic from November 9 to 23, 2019 at the Power Mac Center Spotlight, Circuit Makati.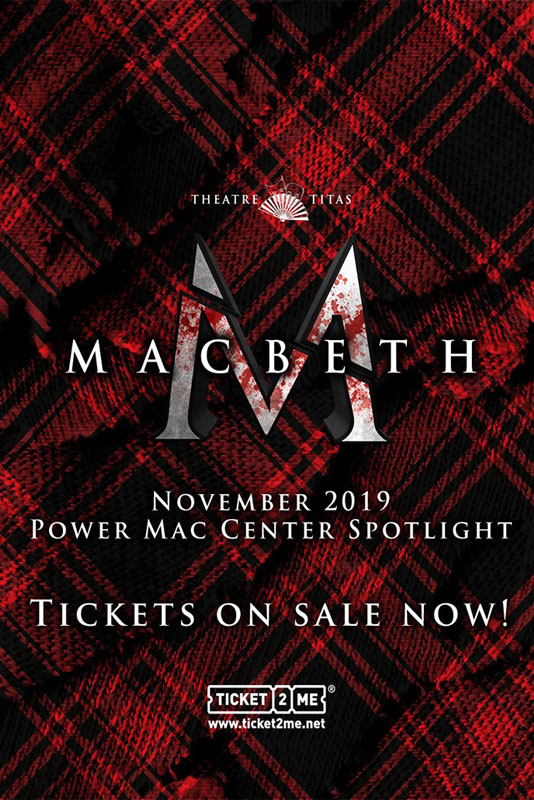 A tragedy written by William Shakespeare, Macbeth is about a Scottish general who was prophesized to become the King of Scotland by a trio of witches. Macbeth, galvanized by his wife and consumed by ambition, kills King Duncan and takes the Scottish throne.
Macbeth is then wracked with guilt and paranoia as he is forced to commit more murders to protect himself from opposition and suspicion. This turns him into a tyrannical ruler as a bloodbath while the civil war ensues—taking him and his wife Lady Macbeth into a dominion of death and madness.
Brace yourselves. The OG fight for the throne is coming. Reimagined. #MacbethTitas

Theatre Titas PHさんの投稿 2019年4月4日木曜日
Directed by Carlos S. Cariño, Theatre Titas PH's Macbeth stays true to Bard's rhyme and meter, with music by Andy Gruet and movement choreographed by Joanna Foz Castro, who is a former artist of the Philippine Ballet Theatre.
The cast will be led by Jeremy Domingo and Tarek El Tayech, who will play the titular Macbeth. His wife Lady Macbeth will be alternated by Anne Gauthier Das Neves and Issa Litton.
All hail, Macbeth, thou shalt be king hereafter!Jeremy Domingo and Tarek El Tayech alternate as MACBETH this November…
Catch Theatre Titas PH's rendition of Macbeth this November 9 to 23! Tickets are now available via Ticket2Me.
For more information, you may visit Theatre Titas PH's Official Facebook Page. 
Details
What: Macbeth by Theatre Titas PH
Where: Power Mac Center Spotlight, Circuit Lane, Circuit Makati, Makati City
When: November 9 to 10, 15 to 17, 22-23; they have shows at 3 p.m., 7 p.m., and, 8 p.m.
Ticket Information: Php 1,000; Tickets are available at Ticket2Me.
Facebook: facebook.com/theatretitasph
---
Images grabbed from Theatre Titas PH's Official Facebook page