Experience Les Nuits d'ete "An Evening of Operatic Love" This July
In celebration of the Manila Chamber Orchestra Foundation's (MCOF) 35th Anniversary and the relaunching of their Young Artists Development Program, world-renowned tenor Arthur Espiritu will hold a one-night concert titled Les Nuits d'ete "An Evening of Operatic Love". 
It's happening this July 27, 2019 at the Power Mac Center Spotlight of Circuit Makati.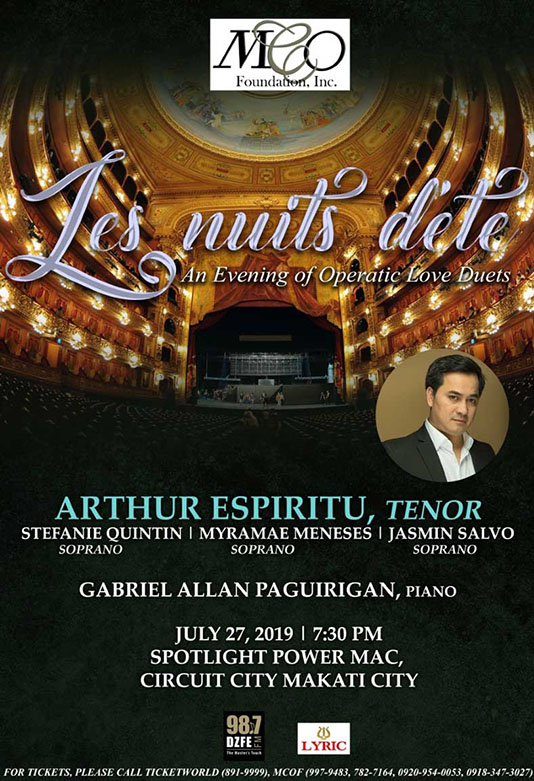 IMAGE TicketWorld's Official Website
Leading the concert is Arthur Espiritu, the only Filipino to be awarded the prestigious George London Award and the first Filipino in 80 years to perform at Milan's Teatro Alla Scala.
Espiritu has also won some of the most prestigious vocal competitions, including the Belvedere Vocal Competition in Vienna, Austria. Plus, he has performed at the Opera House of Versailles, Opera Australia, Sydney Opera, and Theatres des Champs-Elysee, to name a few.
Joining him are some of the country's budding sopranos like Stefanie Quintin, Myramae Meneses, and Jasmin Salvo, accompanied by Gabriel Allan Paguirigan on the piano.
The one-night-only concert will showcase scenes from some of the operas that Espiritu has performed in Europe. These include Gounod's Romeo et Juliette, Donizetti's Le Elixir d'Amore, and Puccini's La Boheme.
The proceeds from the concert will go to the aforementioned Young Artists Development Program of the Manila Chamber Orchestra Foundation, which promotes the growth of Filipino musicians through performances, endorsements and exposure.
What are you waiting for? Les Nuits d'ete is a theatrical experience you wouldn't want to miss out on!
For more information, you may contact the Manila Chamber Orchestra Foundation at 02-997-9483/0920-954-0053. You may also contact the Cultural Arts Events Organizer at 02-782-7164/0918-347-3027. For ticketing inquiries, you may also contact TicketWorld at 02-891-9999.
Details
What: Les Nuits d'ete "An Evening of Operatic Love"
Where: Power Mac Center Spotlight, Circuit Lane, Circuit Makati, Makati City
When: July 27, 2019
Ticket Information: Tickets are available at Ticketworld.
Orchestra Center – Php 2,500
Loge Center – Php 2,000
Orchestra Side – Php 1,500
Loge Side – Php 1,000