World's First Sesame Street Run Tour To Kick Off in the PH
Unleash your whimsical inner child as the world's first Sesame Street Run Tour is set to kick off in the Philippines!
Join your fave furry friends Elmo, Cookie Monster, Big Bird, and the rest of the gang from the children's longtime favorite TV show as they start the first leg of the tour at SM by the Bay in Pasay City on August 17, 2019.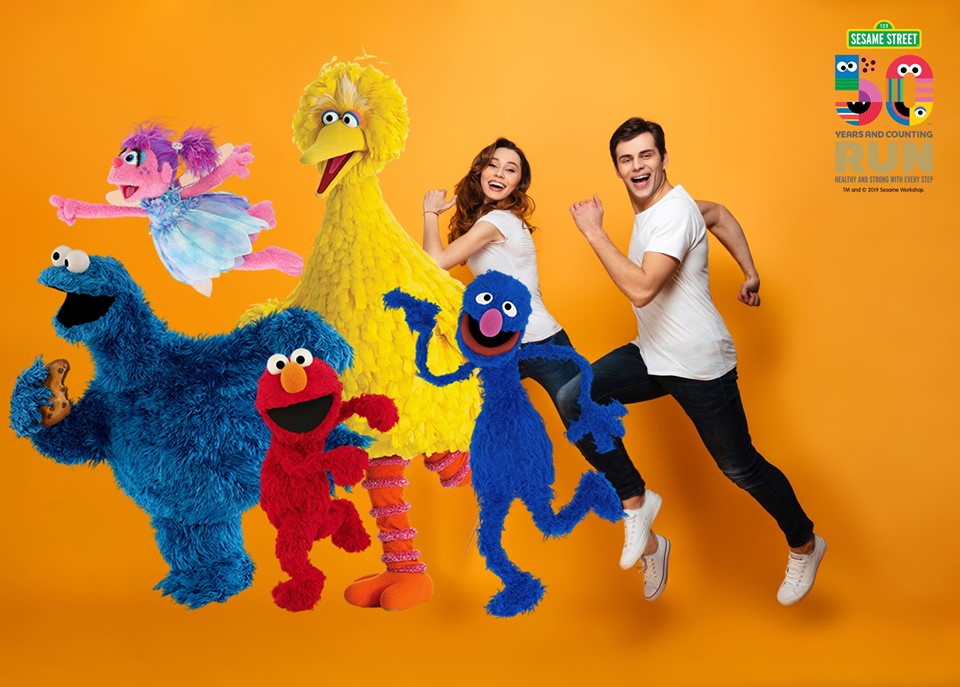 Organized by Heroes, in partnership with Sesame Workshop, the Sesame Street Run Tour will also bring the fun to Thailand, Malaysia, Indonesia, and Singapore. This is to celebrate Sesame Street's 50th year—and counting!
In the Philippines, Sesame Street Run Tour partners the Metropolitan Manila Development Authority (MMDA) to promote road safety and will take the
participants to an engaging, child-friendly obstacle course activities!
Joining the 5KM fun run entitles the runner to limited-edition Sesame Street Run merchandise—products – smart scarf which can be worn in different styles, light and breathable dry fit shirt, a functional bag, a trucker cap, and sunglasses!
Go Happy with Ernie at 3K (Php 1,100)
Go Cute with Elmo (Php 1,400),
Go Hungry with Cookie Monster (Php 2,300),
Go Magical with Abby Caddaby (Php 3,100), or
Go Big with Big Bird (Php 4,000).
During the event, don't miss out on the Sesame Street Giant Birthday Cake Blowout before the flag off, with a special countdown by vampire-like muppet Count Von Count. Plus, get showered with Abby's Magic Dust before running onto a fun-filled 5KM Sesame Street.
After the run, dance, play and learn with your loved ones at the line of interactive booths featuring Sesame Street characters.
Time to relive those childhood memories—bring the whole family and your circle of friends to this sure to be epic, fun run! Yep, this event caters to all ages, from first timers to seasoned athletes.
The fun doesn't stop there as you can score a special pen from Big Bird when you register before June 15! Sign up here.
Sesame Street Run Tour's on-site registration is now available at selected Garmin Philippines branches—SM Mall of Asia, SM Megamall, Glorietta 5, SM North EDSA, and Alabang Town Center.
Claiming of the race kits and limited-edition merchandise will happen one week before the event at SM by the Bay in Pasay City.
For more information, visit Sesame Street Run Tour on Facebook or visit their website to get updates about the rest of the tour. Otherwise, contact Ms. Veronica Ramos of Aldenver Marketing at 0927-848-4533 or 0998-956-5231 or e-mail her at aldenver.veronicaramos@gmail.com.
Also read: LIST: Activity Places for Kids in BGC
Details
What: Sesame Street Run Tour
Where: SM by the Bay, Seaside Boulevard Mall of Asia Complex, Pasay
When: August 17, 2019
Tickets: Php 1,400; Php 2,300; Php 3,100; Php 4,000
Early Bird Registration date: 1st June 2019 – 15th June 2019 (Entitled to an Exclusive Big Bird Feather Pen!)
Standard Registration date: 16th June 2019 – 17th July 2019
Group discount: Register 5 or more and get a 10% discount!
Free admission: For children who are born on 18 August 2015 and after (without any entitlement). They must be accompanied by a registered adult.