Fete de la Musique Celebrates 25th Anniversary with More Performances!
Update as of June 13, 2019: Fete de la Musique at the A-Venue Main Stage will be moved to June 21, 2019 from 5 p.m. to 1 a.m. Greenbelt Main Stage and all Makati pocket stages will still be held on June 22. 
Now on its 25th year, Fete de la Musique will once again entice both artists and music lovers this time with a grander festival! Attendees can expect more pocket stages and artists to perform, apart from the tradition of main stages across Metro Manila, happening throughout the month of June.
Fete de la Musique won't be known as the most popular free music event if not for the musicians who passionately share their passion for music, art, and culture. In fact, there will be more than 50 pocket stages to host a variety of music genres.
But there's more to it than that as a new annual tradition called Music Heals: Fete de la Musique Pop-Up will be introduced, featuring the healing power of music. Artists like nurse-rapper Fatima Palma-Loo will do a pop-up show on June 8 for the children of Virlanie Foundation in Makati City.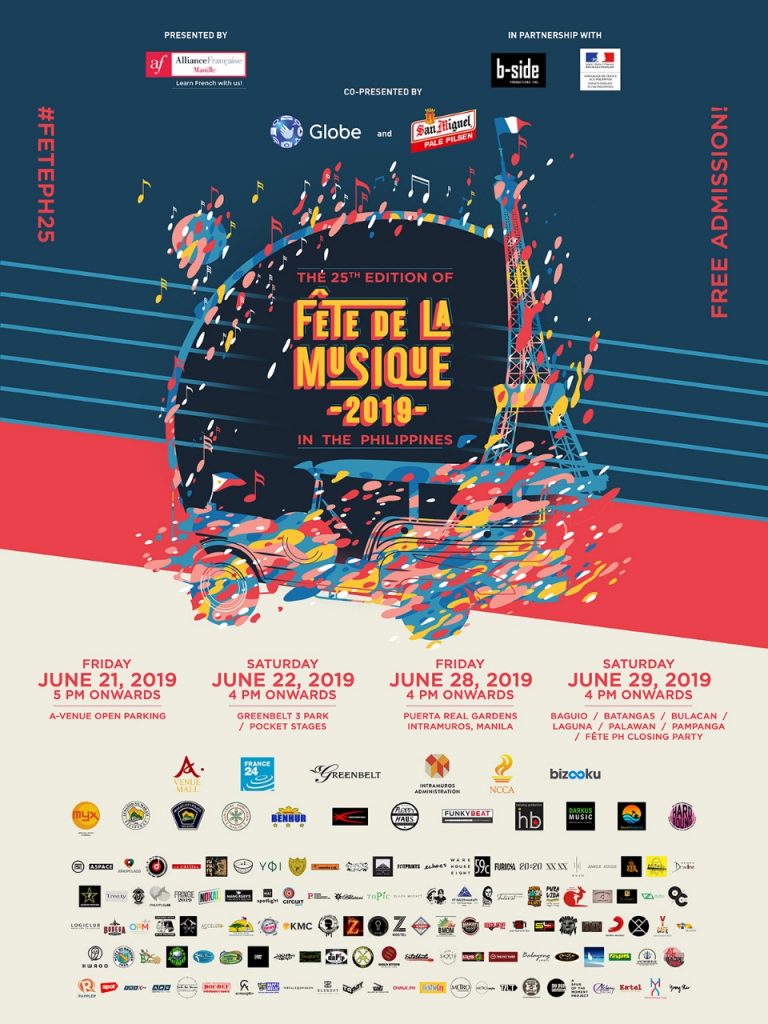 On June 15, meanwhile, three Pre-Fete de la Musique Parties will simultaneously happen: Sunset Collective Stage at KMC Skydeck in BGC; Rockeoke Stage at Salon de Ning at The Peninsula Manila in Makati; and SX Manila Stage at Rizel Open-Air Auditorium Luneta in Manila.
On June 22, attendees can expect the #GlobeFete Production Number at the A-Venue main stage, which is a special 25-minute multi-genre medley to be led by Francis De Veyra, Bituin Escalante, Aia de Leon, Cooky Chua, and so much more!
Further, it's time to empower women with the All-Female French-Filipino Medley happening on June 29 at the Intramuros main stage, led by local musician Radha, in collaboration with Vanessa Monot, Fatima Palma-Loo, among others.
Closing the festivities with a bang are DocDef and Gabi Na Naman Productions holding a closing party on June 29 at 20:20 La Fuerza Plaza, Makati City.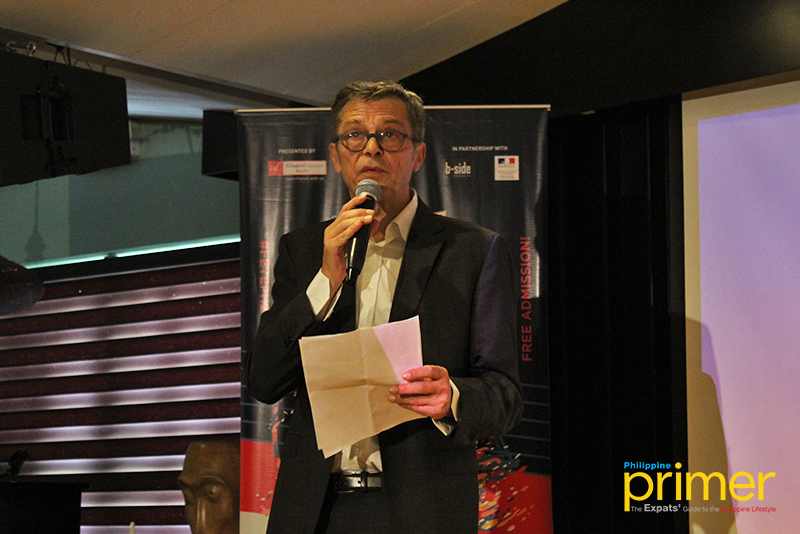 Jean-Pierre Dumont, Executive Director of Alliance Francaise de Manille
Once again organized by Alliance Francaise de Manille together with B-Side Productions and the Embassy of France to the Philippines, Fete de la Musique in Manila is undoubtedly one of the most-awaited events of the year. It's co-presented by Globe Telecom and San Miguel Pale Pilsen.
"Over the years, it has become a Filipino event with a strong French dimension," Jean-Pierre Dumont, Executive Director of Alliance Francaise de Manille, said during the press launch.
It's an exciting milestone year indeed as Fete de la Musique will also give fans a chance to win round-trip tickets to France! Join their #FeteStories social media contest by sharing a 25-second video of your most treasured Fete de la Musique memories through the years.
Fete de la Musique was first organized in Paris way back June 1982 by French composer and music journalist Maurice Fleuret with France's then-Minister of Culture Jack Lang. At present, over 700 cities in 120 countries celebrate it every year.
For the complete list of line up, download the Fete de la Musique app on Google Play.
---
This is a press release. Edits were made prior to publishing.