Experience Japan in Manila with EZOE's Cultural Event This June
Japan's rich culture has always piqued the interest of many, but not everyone has the means to visit the fascinating country to experience it themselves.
But worry not, because here's a chance for you to experience a piece of Japan minus the visa and the plane ticket!
One of the leading Japanese language school in the Philippines EZOE Japanese Language Institute Inc. is administering another Cultural Event & Free Trial at their office in Taft Avenue on June 8, 2019.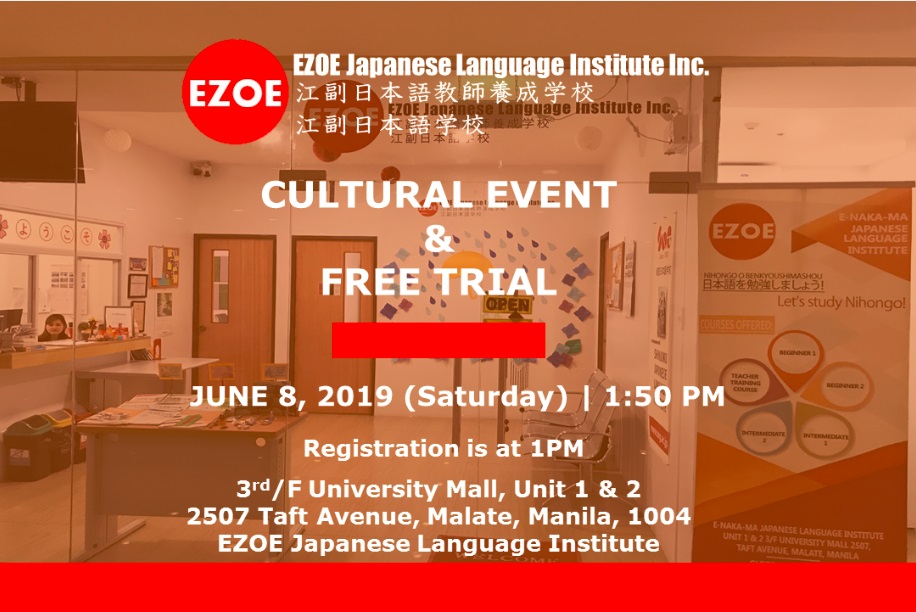 The cultural event will allow for more appreciation of the Japanese culture through activities like basic Japanese class, calligraphy, origami making, and food making. The best part is it's open to the public and is absolutely FREE of charge!
Said event is happening on June 8, Saturday at 2 p.m., but interested participants can begin registering as early as 1 p.m. until 1:50 pm.
EZOE Japanese Language Institute Inc. is a Japanese language school in the Philippines. It utilizes the "Ezoe Method" and combines it with technology, cards, and gestures to administer a unique and effective approach in teaching the Japanese language.
EZOE is located at the 3/F of University Mall in Taft Avenue, Malate, Manila. For more information, you may e-mail them at info@ezoe-ph.com or call them at 02-562-7797.
Details
What: EZOE's Cultural Event & Free Trial
When: June 8, 2019, Saturday, 2 p.m.
Where: 3/F University Mall, 2507 Taft Avenue, Brgy. 709, Zone 078, Malate, Manila
Ticket Information: FREE
Website: ezoe-ph.com
Facebook: facebook.com/ejliofficial