The Maine Is Back in Manila This September 14
American rock band The Maine is back once again in Manila for their first solo show in the country in seven years.
Presented by Pulp Live World, the comeback tour, in support of their 7th studio album, You Are OK, is set to happen on Saturday, September 14, 2019, at the New Frontier Theater in Quezon City.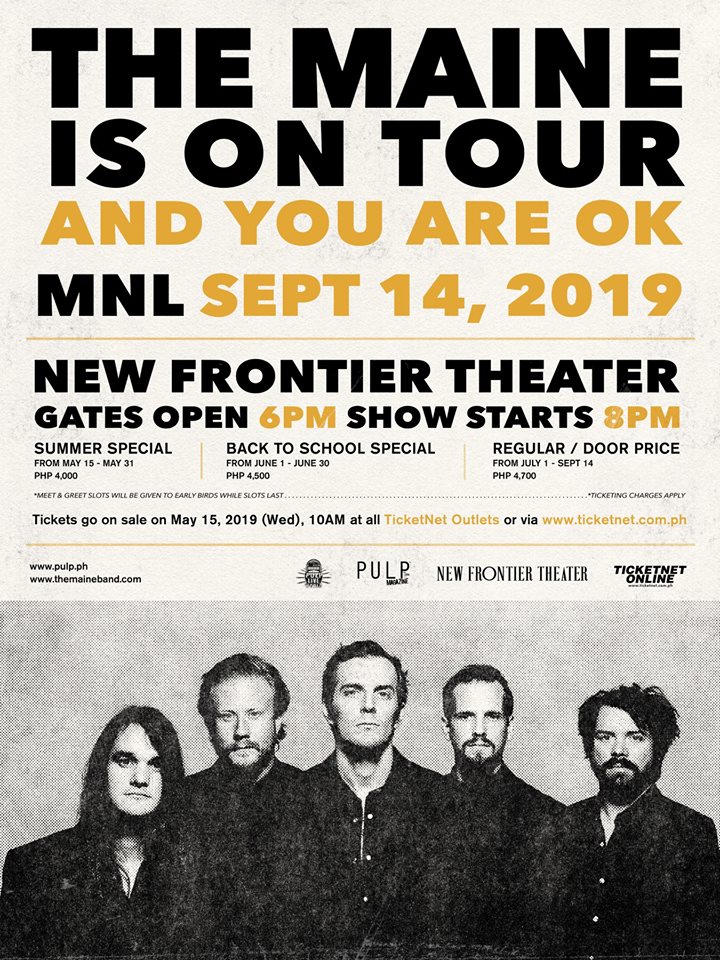 The Maine first performed solo in 2012 and has since charmed Filipino fans with their heartfelt and powerful songs. They were part of the Bazooka Rocks Festival by Pulp, Bazooka Rocks I and Bazooka Rocks V: A Pop Punk Weekend in 2012 and 2017, respectively.
It was in 2014 when they brought their 8123 Tour to Manila, playing alongside This Century and Nick Santino. A year after, they came back and shared the stage with All Time Low.
This year, following their memorable show in Manila during the Lovely Little Lonely era, The Maine are excited to play their Filipino fans new sounds from their best album yet. They are expected to play the tracks like "Numb Without You," "Broken Parts," and "My Best Habit."
"This is us in our most ambitious form to date. This is us at breakneck speed. This is us in a television show starring Mandy Moore. This is us, for the first time, fully realizing a vision that we had from conception to finished product. All hype aside, this is us making music, putting everything into it, and holding our heads up higher than we ever have before," vocalist John O'Callaghan said on their latest release.
You Are OK was released on March 29, 2019, and it was widely well received by local and global fans. It then has reached the top of the Billboard Independent Albums Chart—a momentous first for the Arizona's crew.
Tickets go on sale starting May 15, 2019, at TicketNet outlets and online. Ticketing charges apply. #YouAreOKMNL #TheMaineInManila2019
Also read: Boyzone: Thank You and Goodnight Farewell Tour in Manila This June 23
Details:
What: The Maine LIVE in Manila 2019
Where: New Frontier Theater, 7 General Malvar Ave, Cubao, Quezon City
When: September 14, 2019, 8 p.m.
Tickets: 
Php 4, 000 – (Summer Special from May 15 to May 31)
Php 4,500 (Back To School Special from June 1 to June 30)
Php 4,700 (Regular/Door Price).
*Only one section will be opened for this show and Meet & Greet slots will be given to early birds while slots last.

---
Source: pulp.ph