90s Shindig with Blackbox and Sybil on May 18 at The House Manila!
Take a break from new music with this throwback to the 90s! House Manila presents 90s Shindig featuring Blackbox and Sybil on May 18, 2019, at House Manila, Pasay City.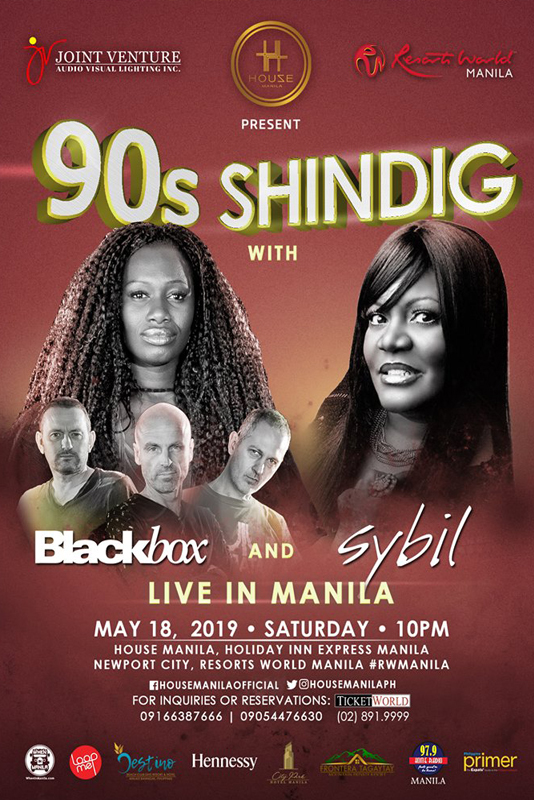 Have the ultimate throwback experience with music from Blackbox, an Italian house music group that made hits in the late 80s and early 90s. They became an international hit with their first single, "Ride on Time" that made Top 10 in many countries and No.1 in the United States. They're also known for their worldwide hits such as "Everybody Everybody", "I Don't Know Anybody Else" and "Strike It Up".
Blackbox included a trio composed of Daniele Davoli, a club DJ, Valerio Semplici, a classical clarinet teacher, and Mirko Limoni, a keyboard-electronic music artist. They made an image with Katrin Quinol, a French fashion model who appeared in their album and single covers and is supposedly the group's lead singer in their music videos.
Joining Blackbox is the American R&B and pop singer-songwriter, Sybil. She began recording in 1986 with "Falling in Love", her first single. The single became a hit in the R&B and Dance charts, this paved a way for the release of her debut album. "Let Yourself Go".
She attained crossover hits with cover versions of "Don't Make Me Over", "Make It Easy", "The Love I Lost" and "Walk On By" by Dionne Warwick that was released in 1989 and 1990.
Don't miss out on the ultimate throwback experience at the 90's Shindig at House Manila this May 18, 2019, at House Manila, Pasay City! Tickets are available at TicketWorld.
For more information, you may visit House Manila's official Facebook page. You may also call 0916-638-7666 or 0905-447-6630. You may visit TicketWorld's official website or call 02-891-9999.
Details
What: 90s Shindig with Blackbox and Sybil
Where: House Manila, Basement 1, Holiday Inn Express, Newport City, Resorts World Manila, Pasay City
When: May 18, 2019
Ticket Information: Php 2,500 (Early Bird Tickets)